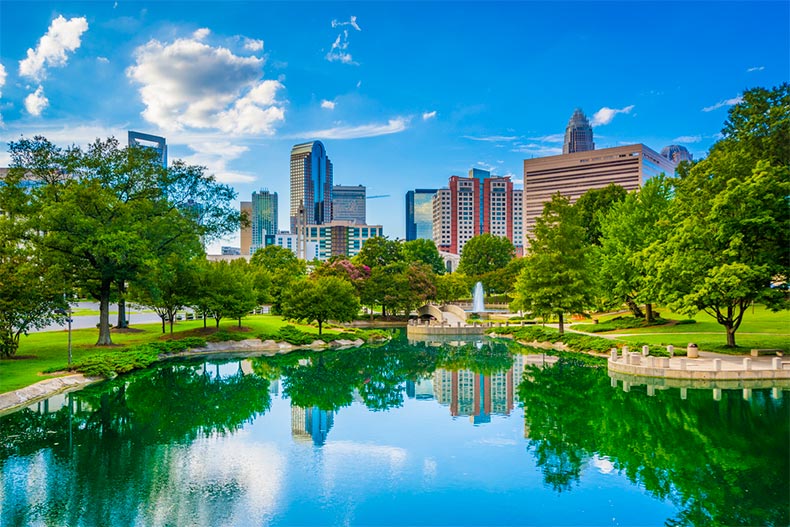 As more and more active adults choose the milder climates of the East Coast as a retirement destination, Charlotte is becoming a popular travel spot for those 55+. If you recently begun calling the eastern seaboard your home, Charlotte should be on your list of cities to visit soon.
We've compiled a list of some of the best things for active adults to do and experience when they're in the Queen City.
NASCAR and Other Sports
If NASCAR is your thing, then you probably already know this but Charlotte is its birthplace. Its heritage has been preserved at the NASCAR Hall of Fame. The museum provides a truly unique experience every racing fan should enjoy. You can always plan your trip around a race at the Charlotte Motor Speedway if you want to see live racing.
If you're a fan of other sports, Charlotte has nine professional and semi-professional sports teams, including the NFL's Carolina Panthers and the NBA's Charlotte Hornets. You can also find hockey, lacrosse, baseball, indoor soccer, women's soccer, and indoor football.
Museums and Performing Arts
Charlotte is steeped in culture with 18 museums and 16 theaters and performing arts centers. The Mint Museum and the Bechtler Museum of Modern Art provide visitors visual art collections and exhibitions from around the world. And the Charlotte Ballet offers a discount for seniors.
If you like history, the Museum of the New South showcases a comprehensive post-Civil War history of southern society from 1865 to the current decade. Carolina's Aviation Museum, located at the Charlotte-Douglas International Airport, is a Smithsonian affiliate with exhibits featuring commercial aviation, military aircraft, and more.
If grandkids are visiting, the Discovery Place is a science museum like you've never seen. The Yiasou Greek Festival is a family-friendly Mediterranean festival held each year in September that offers traditional Greek music, food, art, and dance.
If you like the symphony, there's the Charlotte Symphony Orchestra and Opera Carolina. Or, if you just like going to the movies, Studio Movie Grill is the place to grab a meal and watch a flick at the same time.
Botanicals, Gardens and Sanctuaries
If your idea of fun is touring beautiful gardens and wildlife, then Charlotte is the place for you. At Wing Haven Gardens you can enjoy the natural beauty and spend time learning about southern horticulture and observing the wildlife around you. And the Carolina Raptor Center offers you the chance to learn about and see more than 30 species of birds, including eagles, hawks, falcons and more. Immerse yourself in beauty as nature shows off the best of its flora and fauna at the McDowell Nature Center and Preserve, the Daniel Stowe Botanical Gardens, and the McGill Rose Garden.
Places to Eat
Charlotte has a lot of terrific restaurants and is known for its ever-growing collection of craft breweries. While there's plenty to choose from when it comes to meals and drinks, the dessert at FuManChu Cupcakes is a popular option. These aren't just ordinary cupcakes, these are cupcakes infused with beer and liquor. If you're looking for food, NoDa is the most popular neighborhood in the city for dining.