Enhanced Courtyard Villas are now available at Robson Ranch, a gated community for 55+ active adults in Eloy, Arizona. The new villas add to the five existing series of models and to the total of 4,600 attached and single-family homes.
The new models all have two bedrooms, a den, two bathrooms, and a two-car garage. They feature open-plan kitchens and range from 1,399 to 1,508 square feet. Each of the new villas also has a covered outdoor living space, taking full advantage of Arizona's warm climate. There's also a large private gated courtyard, ideal for entertaining and for pets. Prices start in the mid $200s.
Enhanced Courtyard Villas Construction
The new Enhanced Courtyard Villas have been built with the superior quality construction for which Robson Resort communities have become known. Particular attention is paid to the environmental impact and to making the homes as eco-friendly as possible. This is especially important in Arizona's sometimes harsh desert climate.
These include such desirable features as energy-efficient vinyl windows with Low-E glass coatings to keep the almost-constant sunlight from fading furnishings. The new villas are all ENERGY STAR-certified homes, meaning they are extremely energy-efficient. They also all have PEX Piping for their plumbing, which is much longer-lasting and less expensive than traditional copper piping. It also doesn't allow mineral scaling to build up, an important factor in Arizona where many homeowners need to install water softeners to deal with the hard water.
Lock-and-Leave Living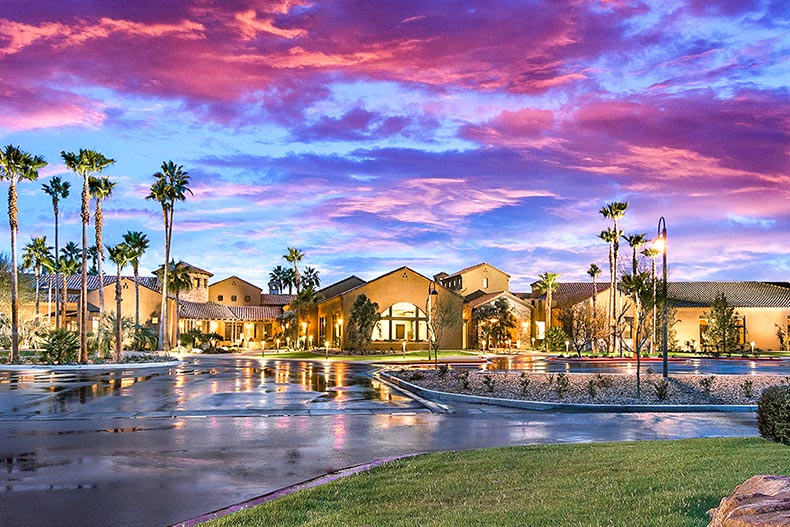 The Enhanced Courtyard Villas have been built very much with lock-and-leave living in mind. This doesn't only make life easier for snowbirds, who want to lock and leave their homes safely over the summer, it's also helpful to those full-time residents who enjoy travel and may want to head off to explore Arizona and nearby states including New Mexico, Nevada, Utah, Colorado, and California.
Two things make this possible. The homeowners' association (HOA) for the new villas has been set up so that it will take care of maintaining the front yard landscaping and the exterior maintenance. Anyone buying one of the Enhanced Courtyard Villas can go away any time, secure in the knowledge that their front yard will be maintained to HOA requirements, and any exterior problems that might occur will be spotted and dealt with. Also, Robson Ranch is in an ideal location for those who like to travel and explore.
Robson Ranch Location
Robson Ranch is eight miles northwest of the center of Eloy, a city of about 20,000 people in Central Arizona. The nearest entrance to Interstate-10 is a little over five minutes away, putting both Phoenix and Tucson within easy reach.
Residents can be in downtown Phoenix or at Phoenix Sky Harbor International Airport in less than an hour. Tucson is a similar distance in the opposite direction, bringing attractions like the Saguaro National Park and the Arizona-Sonora Desert Museum within reach. Those keen to explore Arizona's great outdoors can also be at Picacho Peak State Park in 25 minutes or at the Grand Canyon in less than five hours.
Robson Ranch Amenities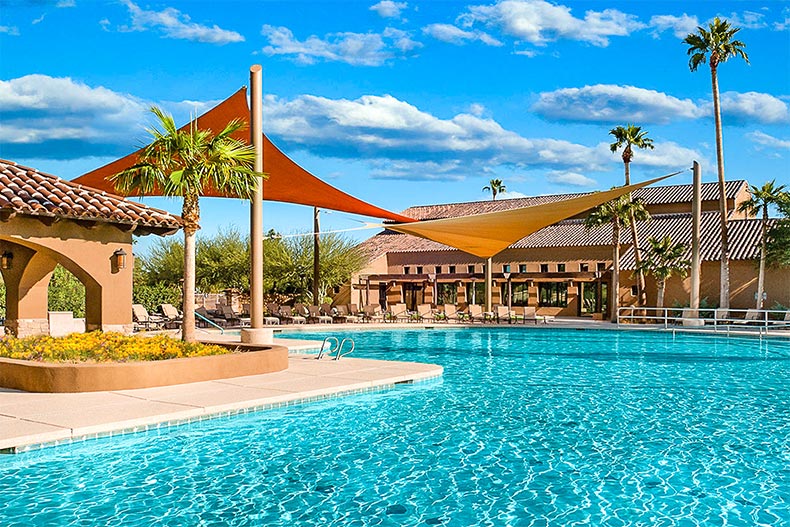 Robson Ranch residents enjoy amenities such as an 18-hole golf course, a fitness center, a creative arts center for arts and crafts, a ballroom, an auditorium, a billiards room, indoor and outdoor pools, an extra pool for visiting grandkids, a softball field, tennis courts, and a pickleball center.