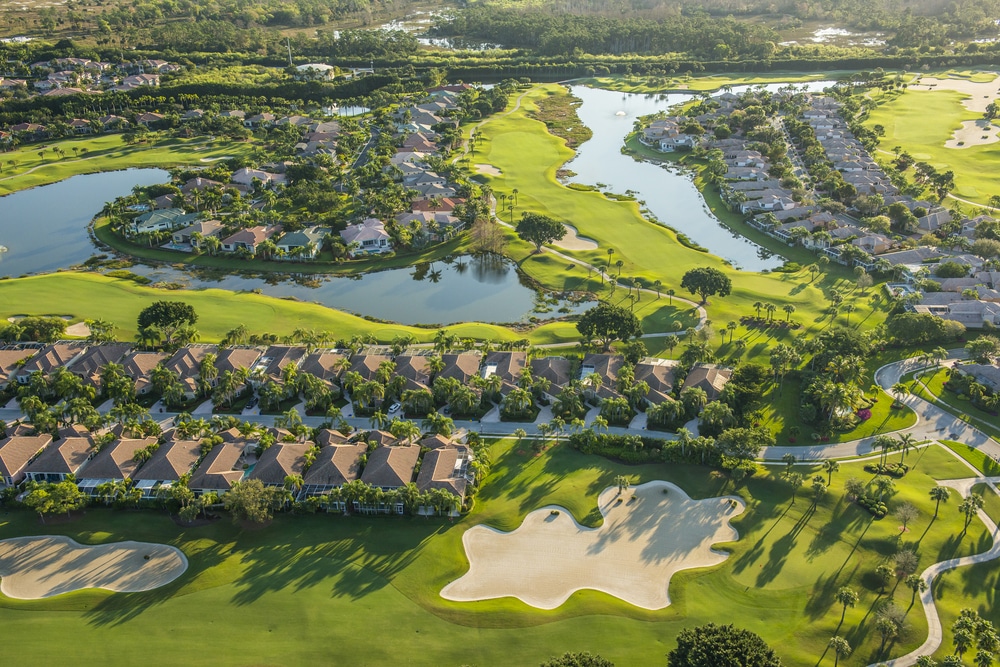 With a growing Baby Boomer market, active adult builders are always trying to keep up with the demand and provide retirees with the perfect homes in 55-plus communities that fit their needs and complement their active lifestyles.
Although there are plenty of active adult communities to choose from that come in different styles and sizes, many builders are keeping up with emerging housing trends that appeal to empty nesters.
Many new active adult communities feature common characteristics that cater to the 55-plus crowd such as low-maintenance living, single-story home designs, and world-class amenities. According to McKnight's Senior Living, here are the newest trends in 55+ housing. Read on below to see what these trends are and which active adult communities keep up with them.
One-Story Home Designs
It's no surprise that many builders design one-story homes for active adults. Single-story floor plans and master suites on the main floor have been a popular trend among active adult builders over the years because they offer retirees an easy and comfortable lifestyle no matter what stage in life they are in.
And because these homes don't have stairs, it makes it convenient for homeowners to have everything they need on the same floor. In addition to one-story homes, builders also provide home personalization options. Retirees like to choose optional features like modern finishes and luxurious fixtures to make their home tailored to their style.
Builder Kolter Homes offers buyers a wide selection of single-family home designs that feature elegant master suites, gourmet kitchens, spacious layouts, inviting great rooms, and luxurious fixtures throughout.
Low-Maintenance Living
Another benefit to living in an active adult community is the low-maintenance lifestyle. Many 55+ communities are managed by a homeowners' association (HOA), which handles the exterior home maintenance duties for a fee. Typically, HOA fees include lawn maintenance, clubhouse upkeep, security monitoring, trash removal, snow shoveling (depending on the location), and amenities.
Communities with low-maintenance living also allow residents to enjoy a turn-key lifestyle where they can come and go as they please without having to worry about yard work or security.
Thanks to the HOA that handles these tedious chores, retirees have fewer responsibilities to worry about and instead have more time to pursue fun hobbies and socialize with neighbors. Active adult communities like Valencia Bay in Boynton Beach or Encore at Fishhawk Ranch in Lithia both have HOA fees that cover lawn maintenance on all homes.
Location
Location has always been an important factor for active adults when deciding on where they want to settle in for their Golden Years. Boomers who want a quiet and tranquil retirement may opt for small-sized communities located farther away from big cities.
A recent trend also shows that some active adults are relocating to college towns for their retirement. Communities near college towns offer retirees the calm vibe typical of a small town while also providing plenty of things to do like continuing education opportunities, college sporting events, restaurants, and shopping.
Developers have also built communities near major metro areas for retirees who want easy access to urban attractions yet be far enough from hustle and bustle of city life. Another top priority when choosing a retirement location is proximity to medical facilities.
Retirees want to have easy access to healthcare centers, doctors' offices, and hospitals in order to get their medical needs met quickly. Some communities like Cresswind Charlotte in Central North Carolina and Jess Ranch in Southern California are within walking distance from medical facilities.
There are also large-scale 55+ communities that have healthcare facilities on-site like the original Sun City in Arizona that has an on-site hospital and The Villages in Florida that has a medical center and other healthcare centers offering numerous services.
Amenities and Lifestyle
Retirees are drawn to 55+ communities because of the active and social lifestyle and resort-style amenities. It's probably one of its biggest selling points that attract empty nesters to these age-restricted communities.
Active adult communities are known to have well-appointed clubhouses, state-of-the-art fitness centers, outdoor pools, walking and biking trails, hobby and game rooms, sports courts, and social clubs.
These top-notch amenities allow residents to maintain an active and healthy lifestyle while the events and activities help neighbors mingle and develop new friendships.
Many active adult communities also have on-site lifestyle directors who help plan and organize events, trips, and activities that bring residents together to foster a sense of community. New 55+ communities offer some of the best new clubhouses that feature world-class amenities like on-site restaurants, spas, large event spaces, dog parks, multiple sports courts, bars, and scenic nature preserves.