So, what do Sun City, Arizona, and the New York Yankees baseball team have in common? Well, the New York property developer Delbert Eugene Webb was co-owner of the Yankees and was also the visionary who built Sun City, the first active adult community in the United States. Prior to building Sun City, Webb had worked on several other projects in Arizona, including San Manuel, now a resort town but originally built for the Magma Copper Company's employees in 1953.
Everything changed when Del Webb began building Sun City in July 1959, with work beginning on the roads and the first nine holes of the golf course. In September they started work on the homes themselves, a shopping center, and a pro shop. Del Webb even built a hotel, Hi-way House, so that people would have somewhere to live while awaiting the completion of their new homes. It stayed open for many years, also housing people coming from around the country to look at potential homes.
A Community Never Built Before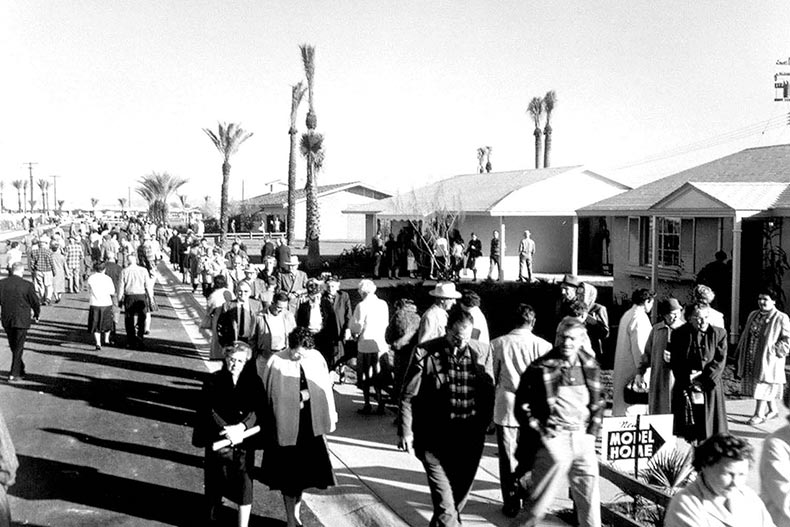 Sun City finally opened on January 1st, 1960. In those days, retirement meant that you put your feet up, maybe played more golf, but you more or less enjoyed a peaceful old age. Del Webb, who was himself 60 when he started work on Sun City, put a stop to such thinking. He made it possible to uproot from your old home, buy a stylish new place in the sun, and have all the recreational facilities you wanted right on your doorstep.
It was an experiment, but it was a huge success, and today there are 59 Del Webb active adult communities all over the country—almost one built every year since the success of Sun City. On the day before Sun City opened, Del Webb and his business partners met at a Mexican restaurant called Manuel's Place in nearby Peoria. The question they asked each other was—Will anyone turn up this weekend? After all, they were building the kind of community that had never been built before, in the middle of the Arizona desert.
A New Style of Living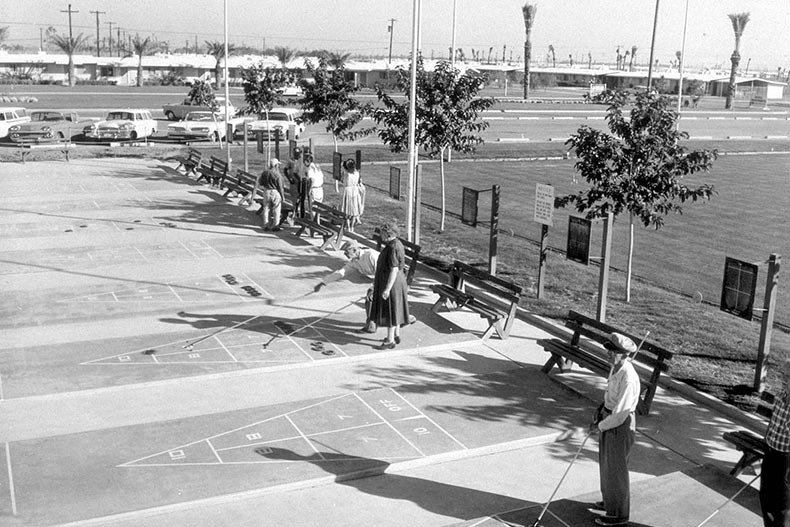 The partners anticipated that if things went well, they might get about 10,000 visitors. In fact, over 90,000 people did turn up, clogging the streets and queuing to see the model homes, such was the level of interest in this new style of living. Some 237 homes were sold that weekend at an average price of $10,500, a good revenue boost for Del Webb. A total of 2,000 homes were sold in the first year, exceeding what the company had expected to sell in the first three years. They bought another 10,000 acres of desert above the original area of Sun City, and another 10,000 below, an option they had had the foresight to set in place if things went well.
The first people to move in were Wendell and Emilie Fraser, who settled into their new home in April 1960. It must have been a strange experience, not being just the new kids on the block but the only kids on the block. By May 1960, new home models were being built so the Frasers knew they would soon have company, but if they were golfers they had the greens to themselves. They would also have found it easy to shop as the first grocery store, Safeway, opened for business even before the Frasers moved in.
Sun City Makes a Name for Itself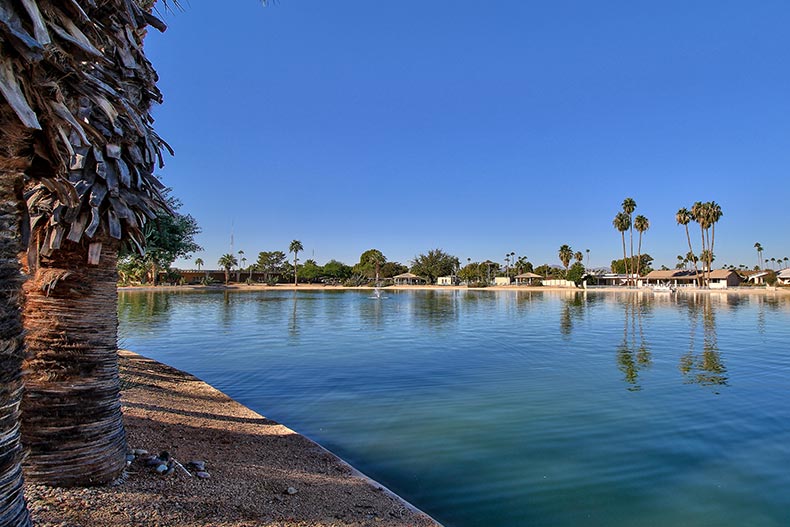 The name Sun City, incidentally, was the result of a competition held by Del Webb. They placed an ad in the "Saturday Evening Post" asking readers to "Name This Active Arizona Retirement Community." The winners were a Mr. and Mrs. Britton from Eugene, Oregon, and their prize was a home in Sun City, at 12801 West Augusta Drive, right by the golf course. Sun City clearly wasn't their thing, though, as they sold their home in March 1961 and returned to Eugene.
Del Webb was no slouch at publicity, as he spread the word about Sun City by inviting celebrities like Bob Hope to play golf there, resulting in plenty of newspaper coverage. He also invited John F. Kennedy to give the first pitch at Sun City's baseball stadium, although these days baseball is one of the few sports not available in Sun City. By 1962, Del Webb himself was on the cover of "Time" magazine.
When it opened, Sun City had just five home models, compared to the several dozen that were eventually designed. One of those original model homes now houses the Sun City Museum, a fact that would no doubt have delighted Del Webb, who wasn't sure whether Sun City would even take off. That house is now on the National Register of Historic Places.
The amenities when Sun City opened were pretty simple and included one shopping center with a Safeway grocery store, one recreation center, and one golf course. Today, there are 19 shopping areas (the Safeway's a little bigger), 7 recreation centers, and 11 golf courses serving over 27,000 homes and a population of about 40,000.
Sun City Amenities Over the Years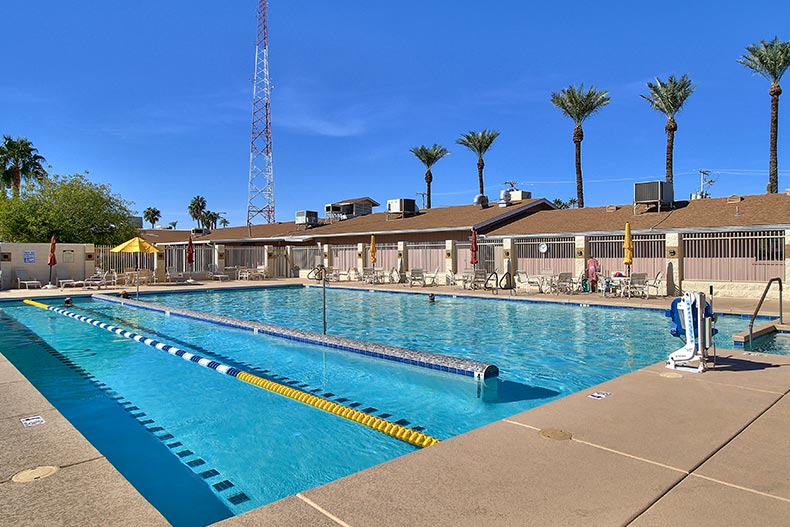 Back then, the leisure activities were very much of their time. Lawn green bowling was popular, and there was an amateur radio club. There's still a lawn bowling club but as new sports have become fashionable, Sun City has incorporated them, and now there are courts for tennis, pickleball, shuffleboard, racquetball, softball, and bocce, among others. The amateur radio club has gone but now there are hundreds of clubs, groups, classes, and activities for residents to enjoy, with a wealth of arts and crafts groups, a focus on health and wellness, and everything from politics to playing the ukulele.
Sun City's expansion meant that Del Webb had to provide all the facilities that he envisioned for his new style of community. The United Church of Sun City was the first church to be built, and today, there are 30 churches and a synagogue catering to the religious needs of residents. A retirement home was built in 1965, Sun Valley Lodge, while the Boswell Hospital opened in 1970, saving people a journey of several miles to Glendale. In 2008, Boswell Hospital had a multi-million dollar expansion and today, it ranks among the best 100 hospitals in the country.
In 1966, the Sun Bowl Amphitheatre was added to Sun City's amenities. It was formally opened by Liberace, and over 7,000 people attended the performance. It remains Sun City's premier entertainment venue, and many stars have appeared there over the years, from Jimmy Durante to Tamla Motown artists, The Miracles.
The design of Sun City was radical too. Look at a street plan of Phoenix and the surrounding cities, and you'll see a typical American city grid plan, with streets running north-south and east-west. Del Webb threw such plans out of the window. Instead, he designed streets that ran in curves and circles, radiating out from community buildings at the center, such as churches, shopping areas, or recreation centers. The handful of straight roads that do exist are there to enable residents to quickly get from one side of Sun City to the other and into the neighboring cities like Peoria and Surprise.
Sun City Today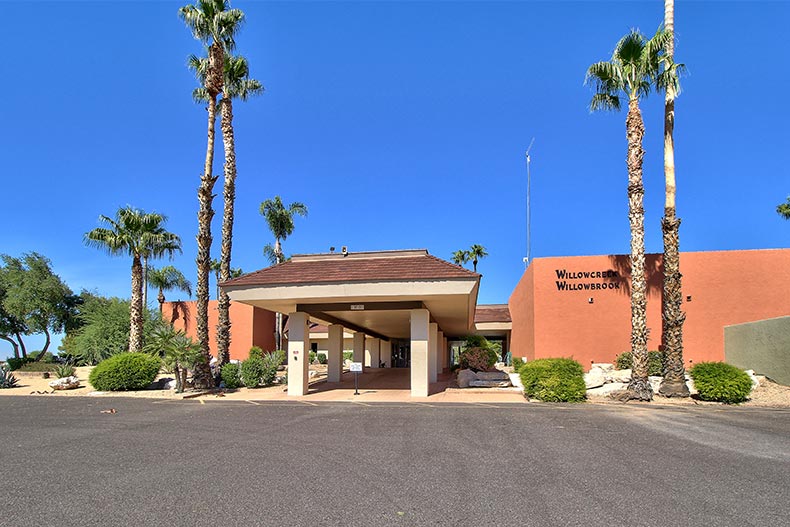 One huge change in Sun City since it was built is in the demographics of the people who live there. In 1960, it was assumed that everyone who lived in Sun City, which has a 55+ age restriction, would be in the 50-70 age range and fully retired. Today, the age range is much wider, and people's circumstances are different. Only one spouse has to be 55+ to buy a home in Sun City, so some residents are still in their 40s while others, thanks to the active lifestyle and good climate, are 100+. Some residents are also still employed, working part-time, or past retirement age but still running a business.
There has also been a huge increase in the number of snowbirds who are buying a second home and only spending winters in Sun City. Sun City may be 60 years old, but its ability to adapt to changing circumstances ensures that it remains forever young.