Many retirees dream of moving to a scenic beach setting or an ideal countryside landscape, but those looking for a mountainside retirement have plenty of options to choose from. Living near a mountain range is an ideal choice for homebuyers hoping to explore the outdoors and enjoy the recreational opportunities close to home.
Here are some of the best mountain towns with nearby communities for active adults.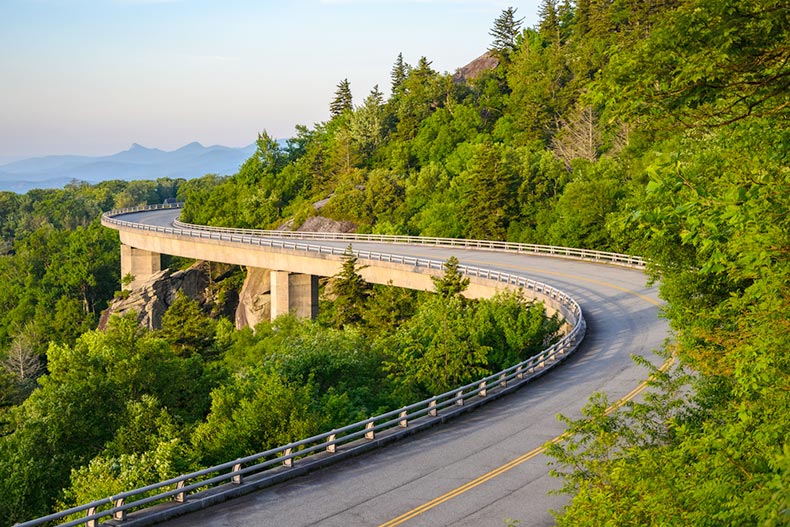 Asheville, North Carolina is located in the midst of the Blue Ridge Mountains, a part of the larger Appalachian range. This city is known for its vibrant art scene, historical sites, and architecture such as the Biltmore Estate and the Basilica of St. Laurence. Residents of the city and the surrounding area can easily visit the Blue Ridge Mountain Range, which is home to the Blue Ridge Parkway, Mount Mitchell, as well as several waterfalls, hiking trails, and waterways.
The city's location is an ideal setting for homebuyers hoping to take advantage of the outdoors while still getting to enjoy the perks of living near an urban city. Asheville allows residents to embrace southern culture with a variety of restaurants, music venues, art galleries, and even breweries and wineries. Those looking to explore everything the Appalachian Mountains have to offer will enjoy living in Asheville.
Communities Near Asheville: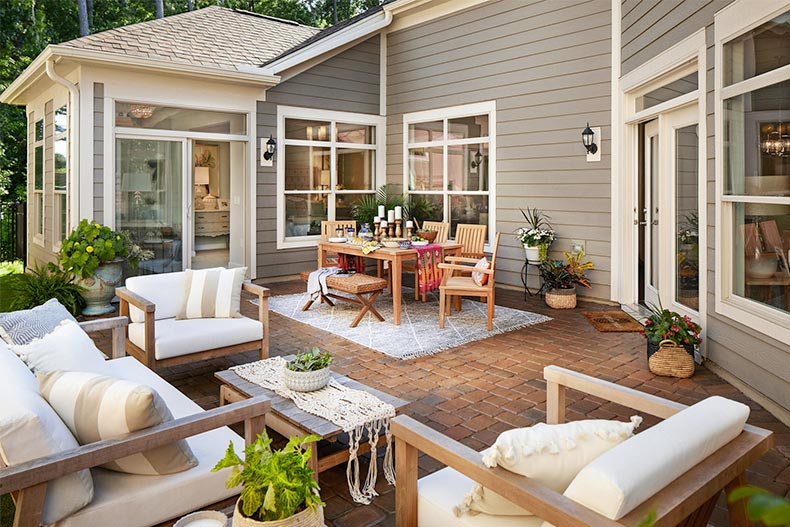 Knoxville, Tennessee is the third-largest city in the state and is located only an hour away from the Great Smoky Mountains National Park. The city offers ample outdoor recreation opportunities as well as metropolitan amenities. The city's Market Square Downtown District hosts an expansive list of restaurants, retailers, parks, and greenspaces. Knoxville is also bordered by the Tennessee River on the southern end of the city, providing residents and visitors alike with access to the waterfront and scenic views.
Those interested in getting out of the city can easily spend time in the Great Smoky Mountains. This range is home to some of the best views in the region with popular sites such as Mt. Le Conte and Clingmans Dome. Another popular attraction in the area is Dollywood, a theme park modeled after Dolly Parton and her early life growing up in Tennessee. Homebuyers hoping to find their ideal Tennessee mountain home should consider looking to Knoxville.
Communities Near Knoxville: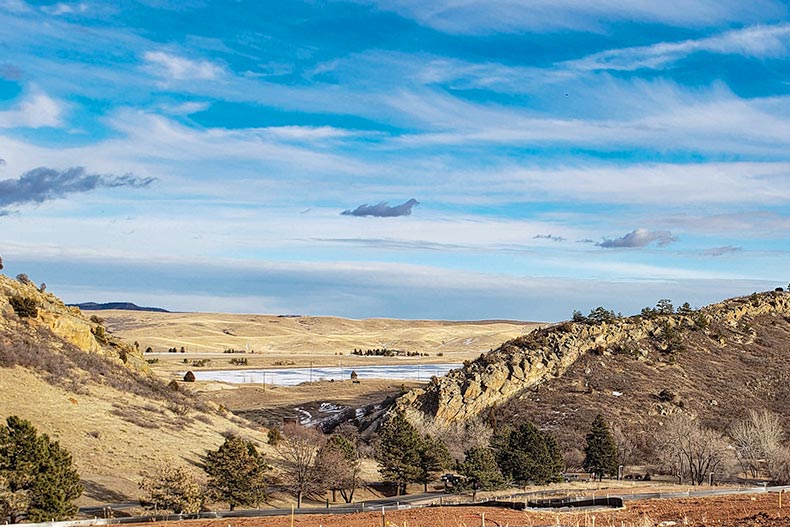 When homebuyers think of living mountainside, Colorado may be one of the first places on their list, and for good reason. Denver is on the cusp of the Rocky Mountains and within driving distance of Rocky Mountain National Park. Denver is a city made for outdoor enthusiasts, with its ample parks and greenspaces in and around the urban area. Some popular attractions within city limits include the Denver Art Museum, Coors Field, and The Denver Central Market.
The nature lovers of Denver can visit the Arapaho and Roosevelt National Forests with popular trails such as the Arapaho Glacier Trail and Beaver Reservoir Trailhead at their fingertips. There are also several white-water rafting opportunities around Denver and plenty of lakefront views to explore at Barr Lake and the Cherry Creek Reservoir. Anyone hoping to find a traditional mountain town to retire to can find plenty do to in Denver.
Communities Near Denver: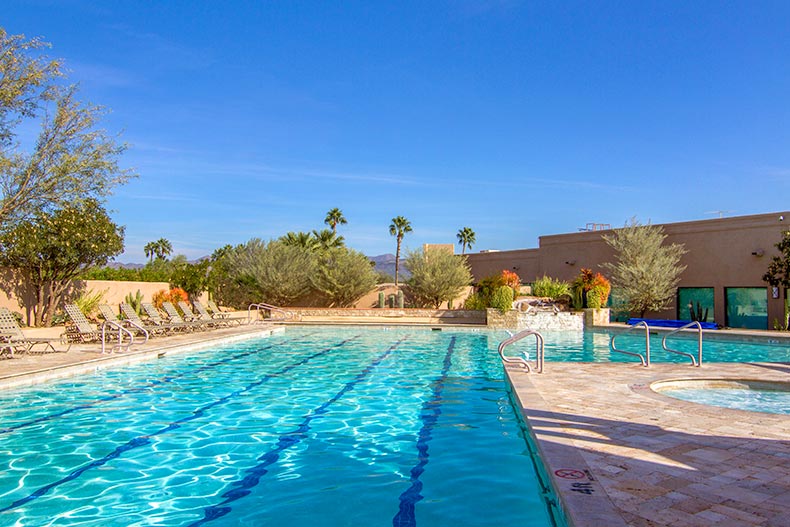 Phoenix, Arizona is a prime location for retirees interested in relocating to the mountains. The city has its very own range, the Phoenix Mountains. The Phoenix Mountains Preserve is located about 10 miles from the city's downtown region. The expansive park provides plenty of opportunities for hiking, picnicking, and sightseeing.
Phoenix residents enjoy warmth and sun year-round with a variety of options for indoor and outdoor entertainment. Many active adults looking for where to retire to include Arizona in their search since homeowners in Phoenix also enjoy the state's tax-friendly policies and affordable home prices.
Communities Near Phoenix: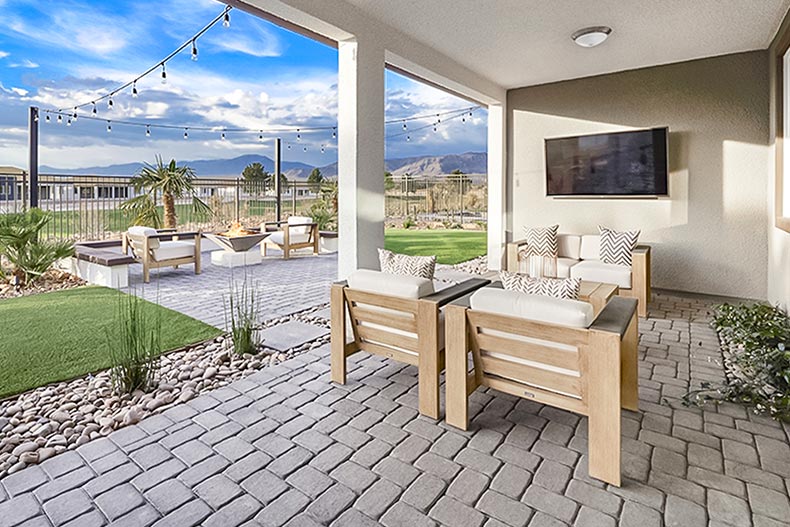 Las Vegas may not be the first city on the list when it comes to mountain views, but Sin City's location along Red Rock Canyon National Conservation Area puts homeowners within reach of the McCullough Range and the Spring Mountains. Las Vegas is not only home to some of the country's most popular resorts and casinos, but also plenty of opportunities for outdoor recreation.
Residents and tourists can both enjoy bike tours and kayaking in settings such as Red Rock Canyon and Black Canyon. Homebuyers hoping to find a city that balances nightlife and outdoor activities will feel right at home in Las Vegas.
Communities Near Las Vegas: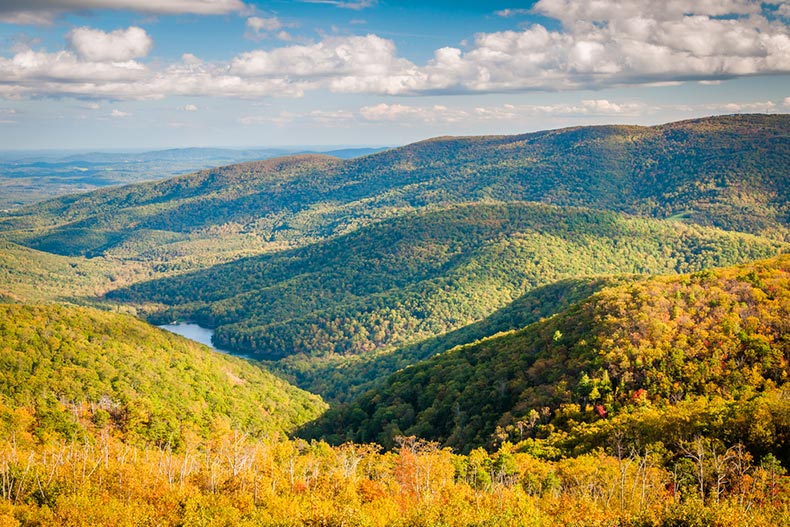 The historic city of Charlottesville, Virginia is located near the Southwest Mountains and Shenandoah National Park. Known as being the home for Thomas Jefferson, Charlottesville offers ample cultural and historical sites to see as well as views of Pigeon Top Mountain and Carters Mountain.
Some of the city's most popular attractions include the Michie Tavern which was established in 1784 and Monticello, which was Thomas Jefferson's plantation. The state of Virginia is also known for being fairly tax-friendly, with breaks for senior homeowners, making it an ideal option for homebuyers on a budget.
Communities Near Charlottesville: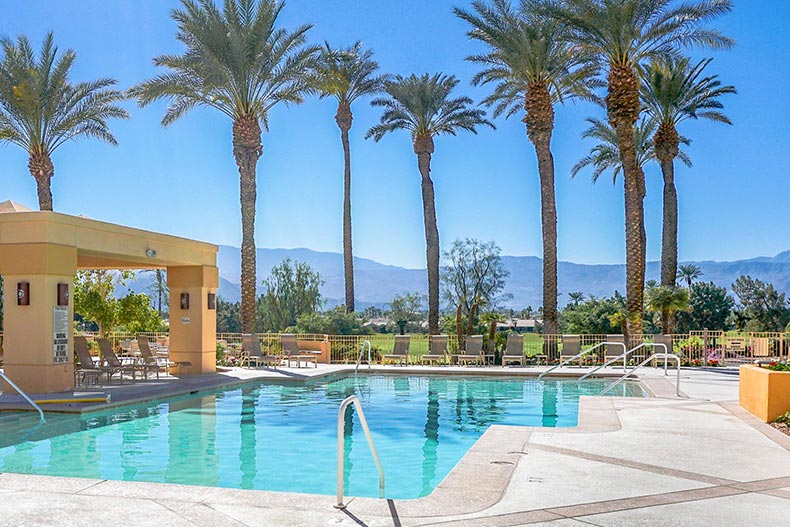 Southern California is a dream location for many active adult homebuyers for a variety of reasons such as warm weather and close proximity to San Diego and Los Angeles. Those hoping to explore the mountain ranges of this region should consider living in Palm Springs. This city's location in the Coachella Valley area provides access to both Joshua Tree National Park and the San Jacinto Mountains.
Palm Springs has many natural attractions as well as dining and shopping for homeowners to take advantage of. The hot springs in the area provide a retreat for relaxation while the area's plentiful golf courses and hiking trails allow residents to easily stay active. Some of the popular spots to visit include the Cactus to Clouds Trail, Thomas Mountain, and Tuscan Springs Hotel & Spa which features hot springs.
Communities Near Palm Springs: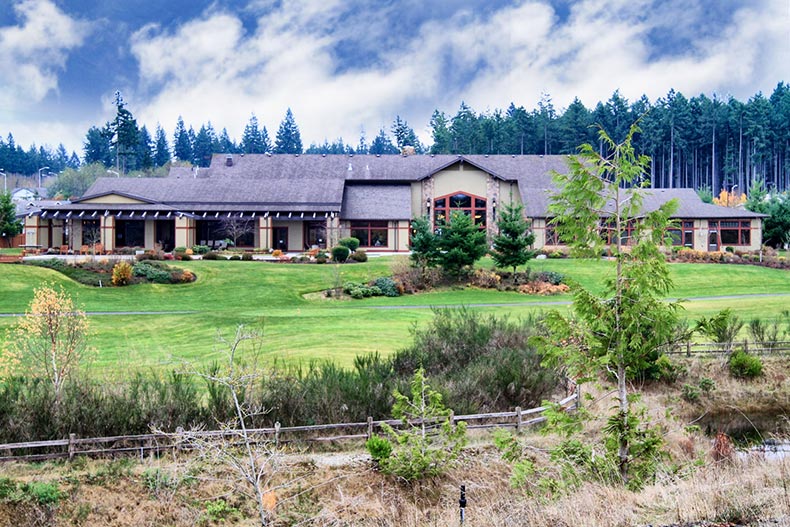 The state of Washington is known for being a picturesque place for nature lovers, and it's also home to some of the country's most popular peaks, such as Mount Rainier. Seattle is nestled in the Northeastern region of the state near Olympic National Park and the Cascades Mountain Range. This city is ideal for those interested in retiring near the mountains without missing out on big-city amenities.
Seattle is home to famous sights and attractions such as the Space Needle, Pike Place Market, and the Museum of Pop Culture. The attractions of the city aren't the only advantage of living in Seattle. Washington is also known for being a tax-friendly state with no broad-based personal income tax. Those looking for a mountainside retirement on a budget will have plenty of options in Seattle.
Communities Near Seattle: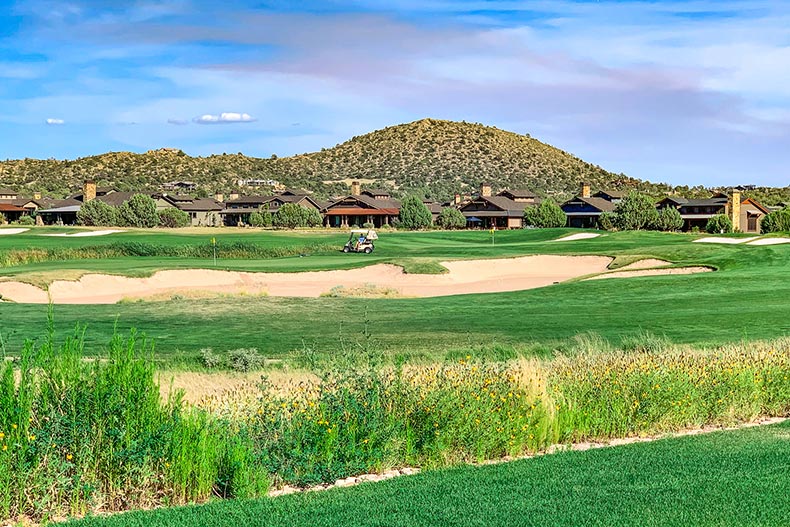 Another popular mountain town in Arizona is Prescott. This intimate city of approximately 43,300 people is located between the Prescott National Forest and the Tonto National Forest. This location allows for easy access to the Bradshaw Mountains, which are about an hour away from Prescott. Some of the city's sights to see include Watson Lake and the Watson Woods as well as Lynx Lake Recreational Area.
Prescott is a quaint destination with a charming historic downtown that's home to a variety of cafes, restaurants, bars, and history museums like the Sharlot Hall Museum. This mountain town's location also allows residents and visitors to easily take a day trip to Phoenix, making it a breeze to see the expansive mountain ranges Arizona has to offer.
Communities Near Prescott: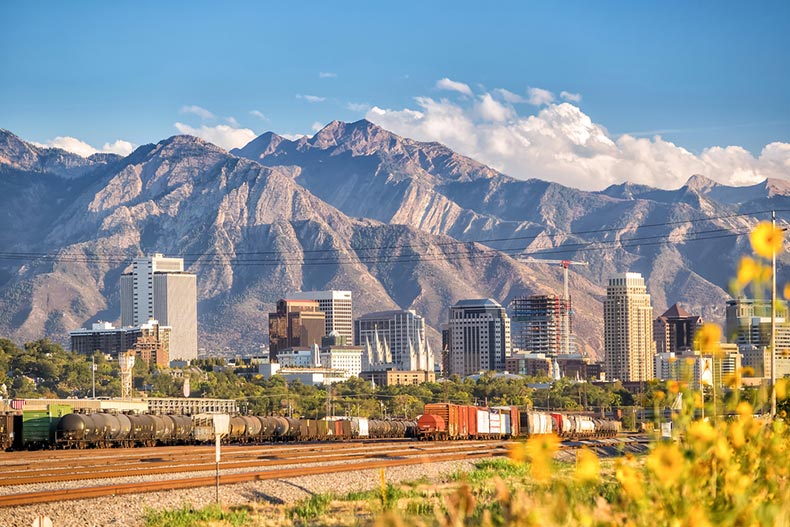 Salt Lake City in Utah is one of the country's most prominent mountain towns as it is located along the border of the Oquirrh Mountains. Some of the areas most popular peaks include Grandview Peak, O'Sullivan Peak, and Gobblers Knob. Of course, living in this scenic city wouldn't be complete without taking advantage of Great Salt Lake, the largest salt lake in the Western Hemisphere.
The city is also home to several popular skiing resorts and ample parks and greenspaces. Active adults hoping to find a unique city for their retirement should consider everything Salt Lake City has to offer.
Communities Near Salt Lake City: