While there's plenty to do in Sun City Grand, and within the city of Surprise where it's located, there are also lots of good road trip options around Arizona. Some of the best road trips from Sun City Grand include the Grand Canyon, Tucson, historic mountain towns like Jerome and Prescott, Flagstaff on Route 66, and outdoor activity options in wonderful places like the Tonto National Forest and Picacho Peak State Park.
Request more information about Sun City Grand.
Here are the best road trips from Sun City Grand, in strictly alphabetical order.
Flagstaff
Driving Time From Sun City Grand: 2 hrs 15 mins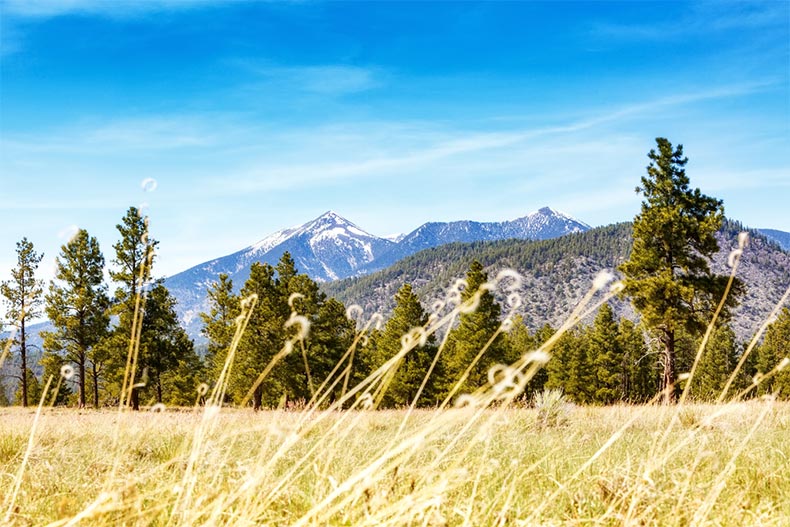 Flagstaff in Northern Arizona is also the quickest way to get from Sun City Grand to the famous Route 66 (see below). You'll notice a distinct change in climate and temperature, as Sun City Grand stands at an elevation of about 1,200 feet, while Flagstaff is up at 6,910 feet. If you want a day trip from Sun City Grand to escape the summer heat of Central Arizona, then Flagstaff fits the bill.
Flagstaff has numerous attractions, and you might want to consider an overnight stay if you want to make the most of it all. For a start, it's been dubbed the Beer Capital of Arizona, so beer aficionados will want time to visits its craft breweries, several of which can be easily visited on foot in the downtown area.
Other attractions include the Lowell Observatory, where Pluto was discovered. This spot makes for a terrific night-time tour with views over the city. Also in and around Flagstaff, you'll find the superb Museum of Northern Arizona, The Arboretum at Flagstaff, Walnut Canyon National Monument, Sunset Crater Volcano National Monument, and Wupatki National Monument.
Grand Canyon
Driving Time From Sun City Grand: 3 hrs 30 mins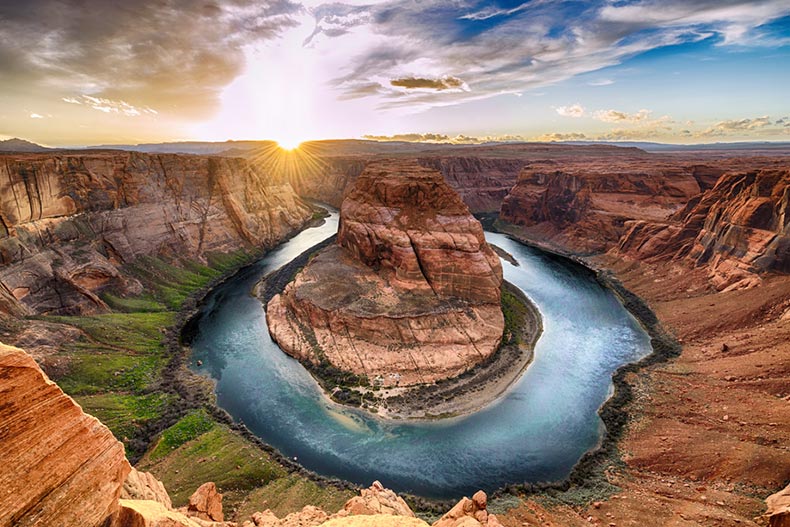 Although it's a long drive from Sun City Grand to the Grand Canyon, it's a road trip worth making as you pass through parts of the Coconino National Forest, through Flagstaff, along Route 66 to Williams, and then head north to the mighty Grand Canyon itself.
An overnight stay is recommended, but if you make an early enough start, you can still enjoy several hours at the Grand Canyon on a day trip from Sun City Grand before you have to drive home. If you opt to stay, there's a choice of lodgings, from inexpensive to historic lodges on the canyon's edge, but booking ahead is advisable. Access roads to the Grand Canyon can be closed in winter, with its elevation of 6,800 feet bringing snow and cold conditions.
Jerome
Driving Time From Sun City Grand: 2 hrs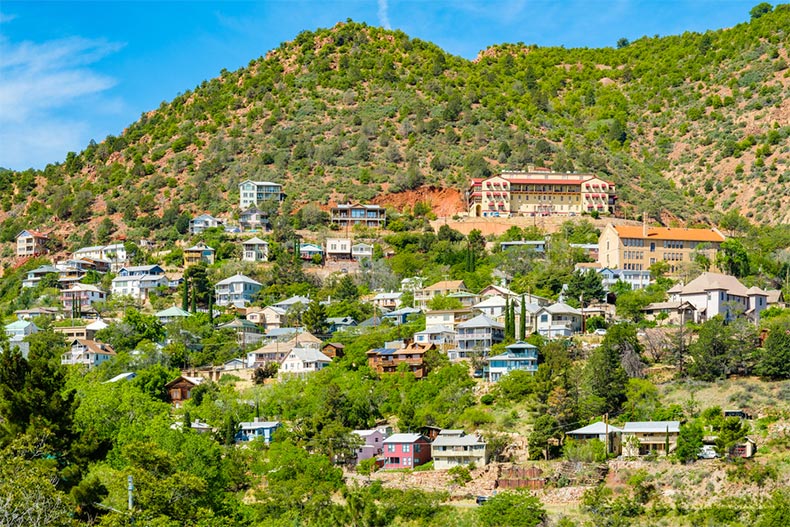 At an elevation of 5,066 feet, Jerome makes for a good road trip from Sun City Grand if you want to find a cooler place during the summer. In fact, Jerome is cool in more ways than one, as it's a former mining town that's now a thriving artistic community, with numerous galleries to visit. It has lost none of its historic feel though, as many old downtown buildings remain, and there are plenty of lively bars and restaurants to enjoy. On the edge of town, the Gold King Mine and Ghost Town is just the kind of quirky roadside attraction that make for the best road trips.
Picacho Peak State Park
Driving Time From Sun City Grand: 1 hr 30 mins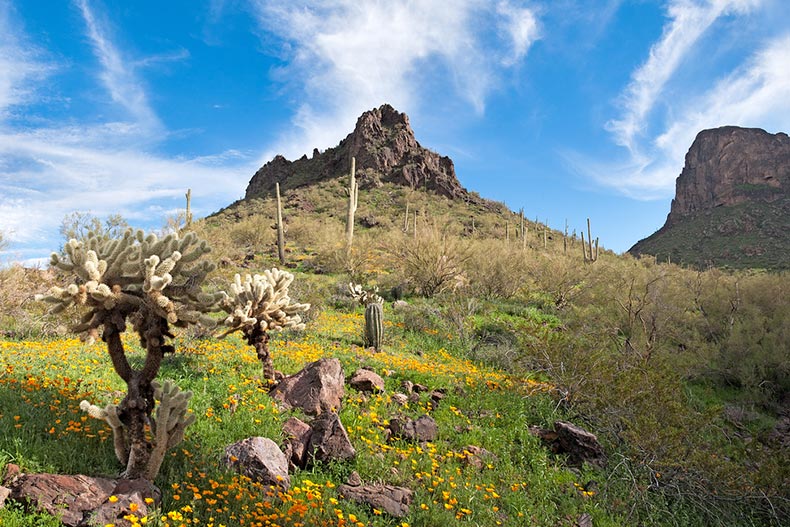 Situated between Casa Grande and Tucson, a visit to Picacho Peak State Park can be either a day trip in its own right or part of a longer road trip. You could take in Tucson (see below), the National Observatory at Kitt Peak, the intriguingly-named town of Why, and the historic buildings in Gila Bend before completing the circular trip with an hour's drive back to Sun City Grand.
Picacho Peak itself is 3,374 feet high and makes for a tough but rewarding climb. At the top, you can see all the way to Tucson, which is 40 miles away. In places, you have to haul yourself up on cables, but if that sounds too challenging for you, there are plenty of other hiking trails within the state park. There's an easy Children's Cave Trail and a short Nature Trail, best enjoyed in the spring when the mountain is covered in wildflowers.
Prescott
Driving Time From Sun City Grand: 1 hr 45 mins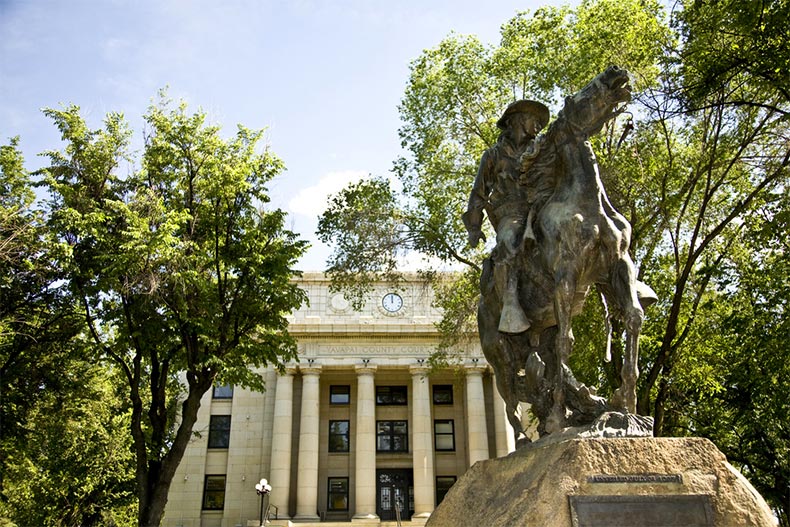 Another enjoyable road trip from Sun City Grand is to the mountain town of Prescott, in Northern Arizona, and at an altitude of over 5,300 feet. It was once a prosperous mining town and was the capital of the Arizona Territory for a time before Tucson and later Phoenix became the capital of the state of Arizona.
As a result of its early prosperity, Prescott has a lot of impressive historic buildings downtown, some now turned into hotels, bars, and restaurants. There are numerous art galleries, some attractive hiking trails and watersports in the Prescott Lakes area, and several museums including the Phippen Museum featuring art from the American West.
Route 66
Driving Time From Sun City Grand: 2 hrs 15 mins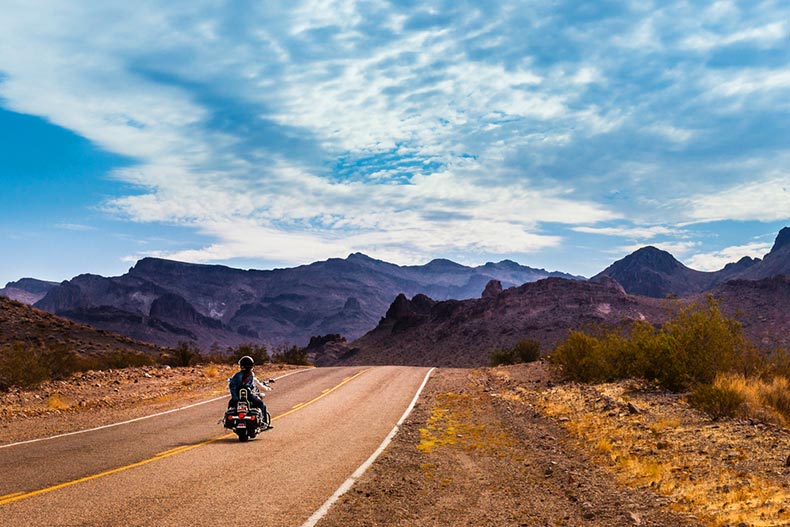 The best way to start an Arizona road trip that takes in parts of Route 66 is to drive from Sun City Grand to Flagstaff, and begin there. The Flagstaff Visitor Center is right on what was Route 66 and has lots of literature, maps, and souvenirs of the Mother Road.
A 20-minute drive east from Flagstaff is Winona, a small town featured in the lyrics of the song "Route 66" ("don't forget Winona"). A 40-minute drive further east and you're in Winslow, also on Route 66 with its other claim to fame being a mention in an Eagles song, "Take It Easy ("standing on a corner in Winslow, Arizona"). From Winslow, you can complete your road trip back to Sun City Grand by driving through the Coconino National Forest.
Tonto National Forest
Driving Time From Sun City Grand: 1 hr 30 mins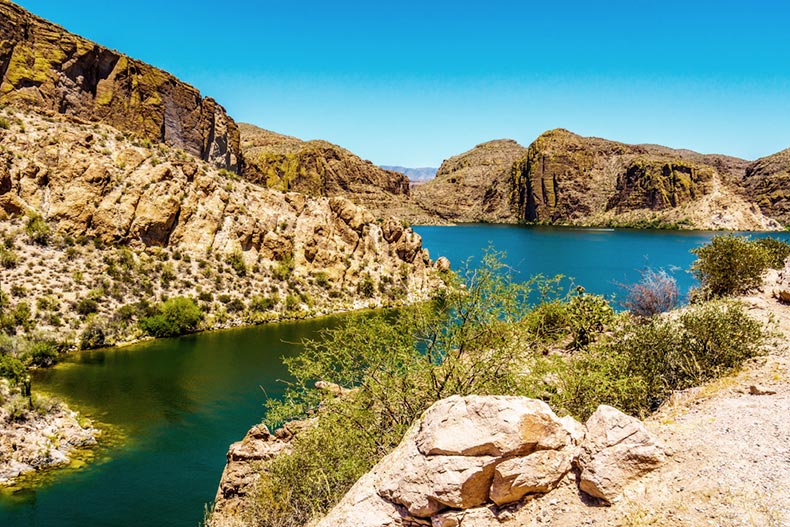 For those who think Arizona is all desert, it's a surprise to discover that over a quarter of the state is covered in forest. There are six national forests in Arizona, and Tonto National Forest is the largest at 2,873,200 acres. That's almost as big as the state of Connecticut. A road trip to the Tonto National Forest from Sun City Grand would take you around the Greater Phoenix Metropolitan Area via the McDowell Mountain Regional Park, which has over 21,000 acres of outdoor activities.
Head north from the Tonto National Forest and you reach the Coconino National Forest with another 1.856 million acres to explore. A loop back to Sun City Grand could take in the red rock country around Sedona and the mountain towns of Jerome and Prescott.
Tucson
Driving Time From Sun City Grand: 2 hrs 15 mins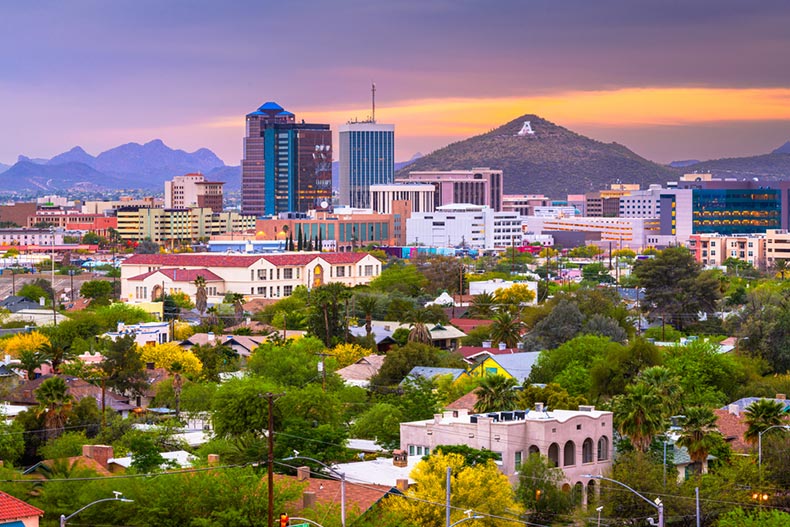 One of the best road trips from Sun City Grand is to Tucson, Arizona's second-largest city after Phoenix. You can be in Tucson in a little over two hours by driving directly on Interstate-10, with perhaps a stop-off to hike around Picacho Peak on the way. Or you can make more of a road trip of it by driving via Gila Bend, Why, and Kitt Peak (see above).
In Tucson, you can spend hours hiking in the Saguaro National Parks East and West or spend all day in the Arizona-Sonora Desert Museum with its collection of native plants and animals. Having driven through Why, you could complete your road trip by driving north from Tucson to take in such places as Mammoth (which is tiny), Christmas (which is a ghost town), and Superior, which claims to have the World's Smallest Museum. Isn't that just the kind of roadside attraction that the best road trips are all about?