It's getting close to that time of year when 55places.com chooses its active adult Community of the Year. There are always many contenders for this prestigious award, and making our final decision is never easy. We look for 55+ neighborhoods that are dedicated to providing a vibrant quality of life for their residents through offerings like thoughtfully-designed homes, enriching lifestyle activities, state-of-the-art community amenities, and sought-after locales. Communities that open new clubhouses, offer new home models, or are substantively expanding their clubs and activities always make the final cut for our COTY.
As we near our 2020 verdict, now is a good time to look at the past six COTY winners. These stellar communities offer the best of everything; they are the kinds of places that meet—and exceed—the needs of today's active adults. As you learn more about these properties, you'll be pleased to discover that these winners also have homes that are surprisingly affordable.
2014 and 2015
Mid $100s – High $1Ms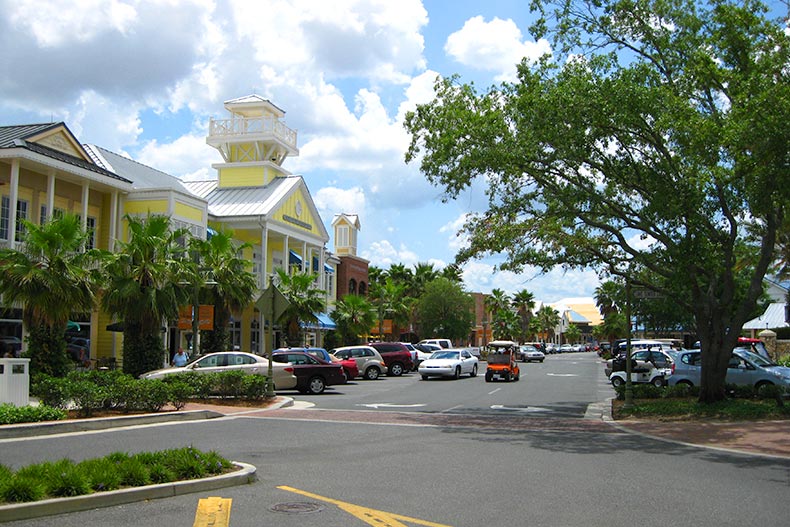 The Villages is much more than a neighborhood; it's an active adult town, with 70,000 new and resale attached, manufactured, and single-family homes. They're priced from the mid $100s to the high $1Ms, and there are cozy villas, cottage homes, and designer homes with 100 floor plans ranging from about 1,100 to over 4,700 square feet.
Aside from all the choices, there are many more reasons why The Villages won top COTY honors two years in a row. Compared to the rest of the country in 2015, The Villages had more amenities per person than any other city, including 40 golf courses and 50 recreation centers. It really is a golfer's paradise; residents use golf carts to run errands in the community, visit friends, and stop at cart-friendly drive-movie theaters.
There are three town squares at The Villages, so homeowners can hit up Target, Petco, ACE Hardware, and other retail stores without leaving the grounds. You'll also find restaurants, fitness centers, performing arts theatres, musical entertainment, boat tours, fishing lakes, swimming pools, pickleball, and crafts studios here. The Villages also has a Regional Medical Center as well as smaller healthcare centers that provide services to residents.
Another reason why people are so drawn to The Villages is its extensive list of community groups and activities. There are more than 1,800 offerings, so no one is left out. There are groups for those who are originally from other regions (Brooklyn, Pennsylvania, etc.), arts & culture lovers, sports, support groups for health concerns, crafts, music, and more.
The Villages is located in Central Florida, 58 miles from Orlando and 82 miles from Tampa.
Request more information about The Villages here.
2016
Low $300s – High $600s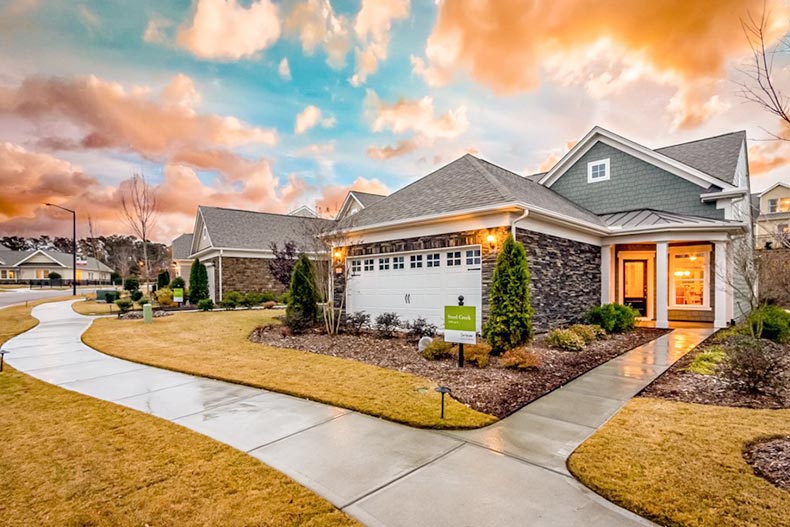 Next, we have the highly-rated Carolina Arbors, a Del Webb 55+ community completed in 2019 in Durham, North Carolina. This is a prime location; US News voted it the fourth best place to live in the country.
The distinctive single-family resale homes are priced from the low $300s to the high $600s and range from 1,152 to 2,562 square feet. There are 13 models, with one to four bedrooms, two to four bathrooms, and two- or two-and-a-half-car garages. Some of these gracious homes have upgrades like gourmet kitchens, plank wood floors, solar panels, sunrooms, and fenced-in yards. Its stellar location, quality floor plans, and wonderful clubhouse helped Carolina Arbors win the 2016 COTY.
In 2016, Carolina Arbors unveiled Piedmont Hall, their beautifully appointed 37,000-square-foot clubhouse, and it serves at the heart and soul of this active adult neighborhood. Inside, you'll find a pool and spa, a top-drawer fitness and recreation center, a ballroom, and activity rooms. There's an outdoor pool as well, plus bocce courts, pickleball courts, tennis courts, a garden, and a dog park. Residents also enjoy taking part in the community's many group activities, like the motorcycle club, garden club, bowling, hiking, and movie nights.
Carolina Arbors is only 10 minutes away from Raleigh-Durham International Airport, and it's also close to two major hospitals, UNC Hillsborough, and Duke University Medical Center. Since Durham is in NC's "Triangle" area, you can rest assured that there are more than enough shops, services, and entertainment in the area to keep you busy year-round.
Request more information about Carolina Arbors.
2017
Low $200s – Mid $600s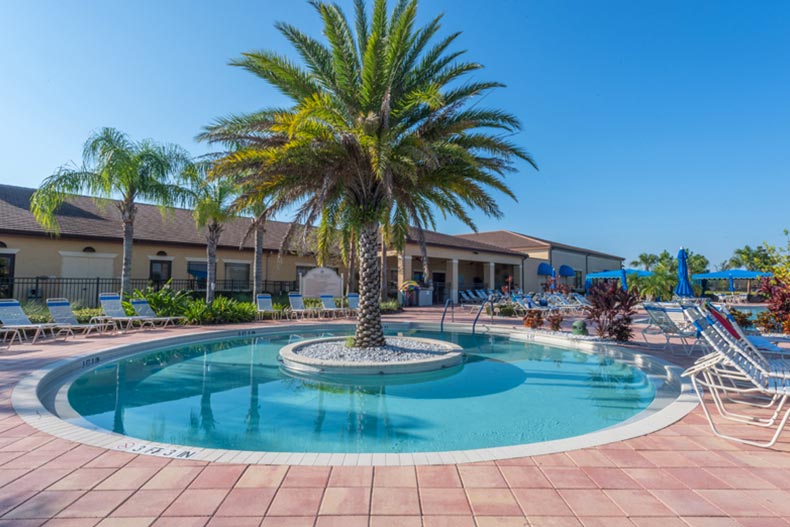 Valencia Lakes earned our vote in 2017 and also showed up on our 55 best 55+ communities for 2017 list. It's also located in the Tampa Bay Area, which garnered it extra bonus points for value and affordability. This gated 55+ community was completed by GL Homes in 2019 and has over 1,600 resale attached and single-family homes, priced from the low $200s to the mid $600s.
This builder showed a desire to continually improve and innovate. Valencia Lakes had a 40,000-square-foot clubhouse and upgraded it substantially in 2017. They built a state-of-the-art fitness center, with new cardio machines, a sauna, and steam rooms. On top of that, homeowners can use the resort-style pool, Har Tru tennis courts, pickleball courts, community garden, and dog park. A full-time activities director was also hired to help residents take full advantage of the amenities and coordinate events like wine tastings, softball games, and line dancing.
Request more information about Valencia Lakes.
2018
Low $200s – Low $500s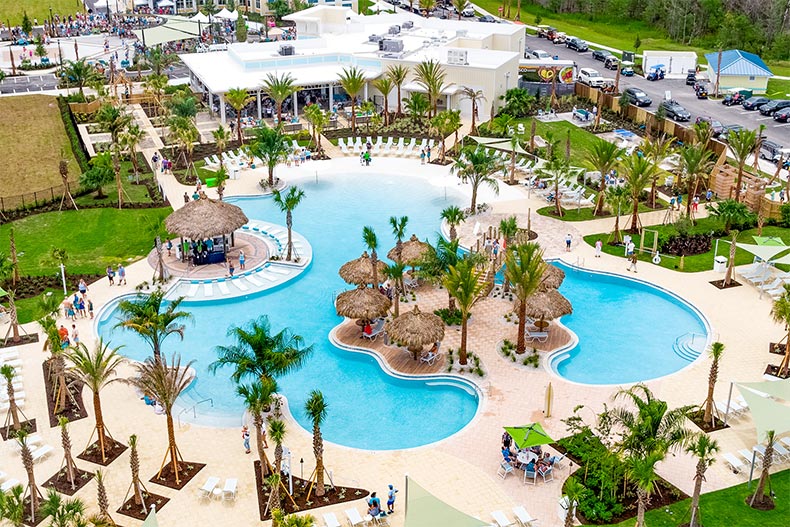 You don't have to be a Jimmy Buffett fan to appreciate why Latitude Margaritaville won the 2018 COTY. Buffett's love of laid-back lifestyles translates into his brand, and homeowners here have a high quality of life through amenities like the Paradise Pool, Fins Up! Fitness Center, and the Latitude Bar & Chill Restaurant.
Priced from the low $200s to the low $500s, Latitude is a gated active adult community with almost 3,100 new and resale attached and single-family homes. There are 25 innovative floor plans, featuring two to three bedrooms, two- to three-and-a-half baths, and two- to three-car garages.
One of the biggest perks of living here is that it's in Daytona Beach, and residents have use of a continuous community shuttle that can take them right to the community's private beachfront club. There's also a Town Square, sports courts, a performance theater, a business center, a fitness center, a resort-style pool, and, wait for it…a pet spa.
If you're a golfer, the closest courses are Pelican Bay and the Daytona Beach Golf Club. Don't like to golf? Other nearby attractions include Daytona International Speedway, Ormond Beach Mainstreet, and the Riverfront Shops of Daytona Beach.
If you can picture yourself enjoying a margarita at Latitude's poolside bar, this community could be your dream come true. When you do need to attend to life's necessities though, it's easier than you might think. The Latitude Landings retail center is being built right outside the neighborhood, and plans call for 200,000 square feet of retail space, including a grocery store (It is also golf-cart accessible).
Request more about Latitude Margaritaville.
2019
Below $100k – Low $400s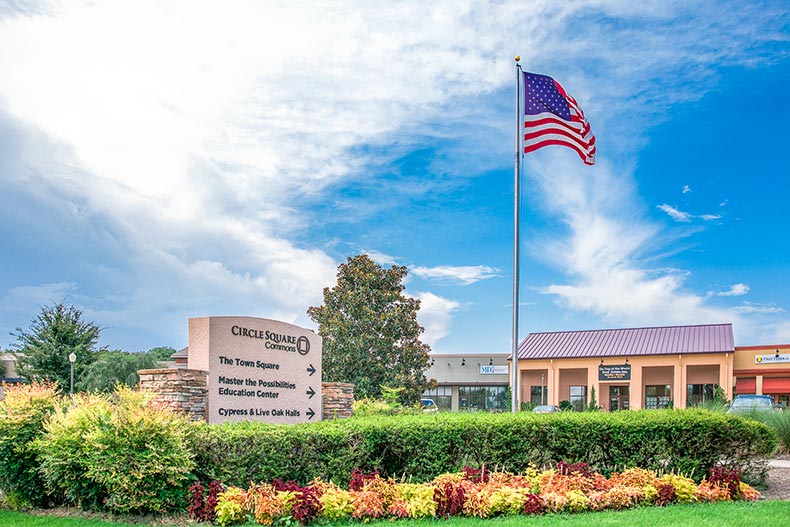 Our 2019 COTY winner also has a musical name (the 1972 song by the Carpenters), and when its final stages are completed, this gated active adult neighborhood will have more than 10,000 new and resale attached and single-family homes on a property in the beautiful Ocala area region of Central Florida.
One reason why 55places.com chose this winner is the affordable price points, which range from below $100k to the low $400s. There are dozens of floor plans offered, ranging from a two-bedroom, two-bath, 1,092-square-foot Olympia model up to the Stonehaven, which has three bedrooms, a den, two-and-a-half bathrooms, and a two-and-a-half-car garage.
No matter which model meets the homebuyer's needs and budget though, all are entitled to enjoy On Top of the World's resort-style amenities. Circle Square Commons Cultural Center and The Ranch Fitness Center and Spa provide a performance auditorium, a state-of-the-art fitness center, a day spa, a salon, and also a hobby building. The main recreation center offers an outdoor pool, sports courts, a restaurant, and mini-golf. Also, On Top of the World has three 18-hole golf courses: Candler Hills, The Tortoise & The Hare, and The Links.
This community certainly deserved our accolades, and it has been hailed by homeowners for its bright and clean pool area, wide range of community activities, and exceptional value.