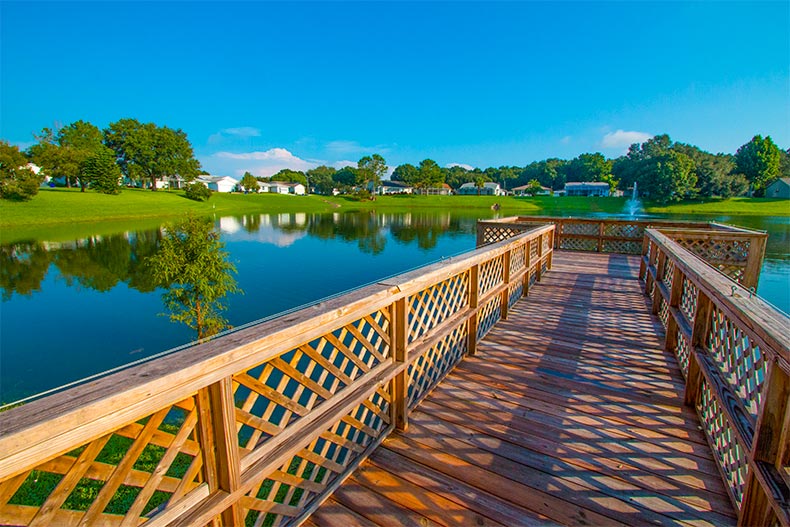 There's a lot to love about living in Florida, and one of those things is the reasonable cost of living. You can buy a spacious and comfortable home with plenty of amenities and you won't have to break the bank. Whether you're purchasing a second home or selling it all to move to the sunny side of life, there's no need to feel bogged down by debt. There are plenty of 55+ communities in Florida that cost less than $150,000. Take a look at these seven.
Lakes of Carriage Hills – Tamarac
It's hard to beat condo living when you're trying to keep expenses low. At Lakes of Carriage Hills in the Broward County city of Tamarac, you can buy a condo with two bedrooms and two bathrooms for under $100,000.
An active homeowners' association takes care of exterior maintenance at this 55+ community, so you won't have to worry about mowing lawns or trimming trees. Instead, you can relax at the pool or play some shuffleboard or tennis. There's a clubhouse, a library, and a garden. Residents enjoy scenic ponds, an outdoor patio, and community events such as bingo and potlucks. Plus, Fort Lauderdale is less than half an hour away.
Summertree – New Port Richey
At Summertree in New Port Richey, single-family and attached homes are not only affordable, but they're also surrounded by lush oak and pine trees that provide plenty of shade and an excellent habitat for birds. Interested buyers can find more than a dozen resale homes available for under $150,000, most of them with two or three bedrooms and a private garage. This gated, 55+ community has a total of 800 homes.
Amenities include a recreation center, exercise room, and two pools with spas. There's shuffleboard, tennis, bocce, and horseshoes. There is an annual picnic and a long list of other social events and activities. New Port Richey is just outside of Tampa and about an hour from St. Petersburg.
Palm Cay – Ocala
When you're looking for a home in Central Florida, it's easy to be enthralled with some of the larger communities, but for an affordable and small-town feel, consider Palm Cay in Ocala. All of the 795 single-family homes are attractive to home buyers on a budget, and you can get over 1,000 square feet of space with two or three bedrooms for under $100,000.
At Palm Cay, residents enjoy The Oasis – a clubhouse that includes a fitness center and a billiards room. There's an indoor and an outdoor pool, a tennis court, six shuffleboard courts, and horseshoe pits. There's plenty of parking for RVs at this gated, 55+ community, as well as trails for walking, jogging, or biking. Ocala offers lots to do, such as horseback riding, golfing, fishing, and outdoor exploration at Ocala National Forest.
Seven Lakes – Fort Myers
Not only does Seven Lakes in Fort Myers have affordable homes for sale, but there's also an 18-hole championship golf course which is free to play for members of this gated, 55+ community. Condo units start at less than $100,000 and range in size from 700 square feet to 1,600 square feet. They have one or two bedrooms. Attached villas with more square footage and at least two bedrooms, also come in models that are under $150,000.
In addition to golf, residents at Seven Lakes enjoy six outdoor pools and six shuffleboard courts. There's an exercise room, a woodworking shop, and a library. The community also offers community transit if you want to get out to Fort Myers and run some errands without taking your car.
Las Verdes – Delray Beach
Palm Beach County is one of the swankiest regions in Florida, but there's affordable 55+ housing to be found. At Las Verdes in Delray Beach, you can buy a condo or an attached villa for less than $150,000. There are 10 condo buildings with between one and three bedrooms and one-story attached villas with three bedrooms.
This 55+ community has a generous number of parks, walking trails, and biking paths. There's a pool, a sauna, an exercise room, and even a handball court. Residents get together for card night and wine and cheese parties. Las Verdes is close to the beach and in the neighborhood of two excellent golf courses.
Highland Fairways – Lakeland
Resale homes are available at attractive prices in Lakeland, at Highland Fairways. This gated, 55+ community has single-family homes for sale with views of the gorgeous 18-hole golf course. Residents also have a clubhouse, an outdoor pool, 10 courts for shuffleboard, and scenic lakes and walking trails all over the community.
There's a travel club, a yoga class, pool volleyball, and coffee socials. Participate in the regular blood drive or sign up for a cruise with a bunch of your neighbors. Lakeland is conveniently located right between Tampa and Orlando, giving potential residents plenty of opportunities to travel within Florida.
Colonnades at Fort Pierce – Fort Pierce
Affordable living right on the waterfront can be found at Colonnades at Fort Pierce. This 55+ community is a collection of condos on Florida's gorgeous Treasure Coast. There are 250 units in this neighborhood, allowing residents to really enjoy their neighbors and a strong sense of community. The resale properties are available in sizes that start at 564 square feet and go up to over 1,300 square feet.
In addition to maintenance free living along the water, you can enjoy amenities such as a pool, a dock, boat slips, and RV parking. There is shuffleboard and tennis, and residents enjoy kayaking and fishing.