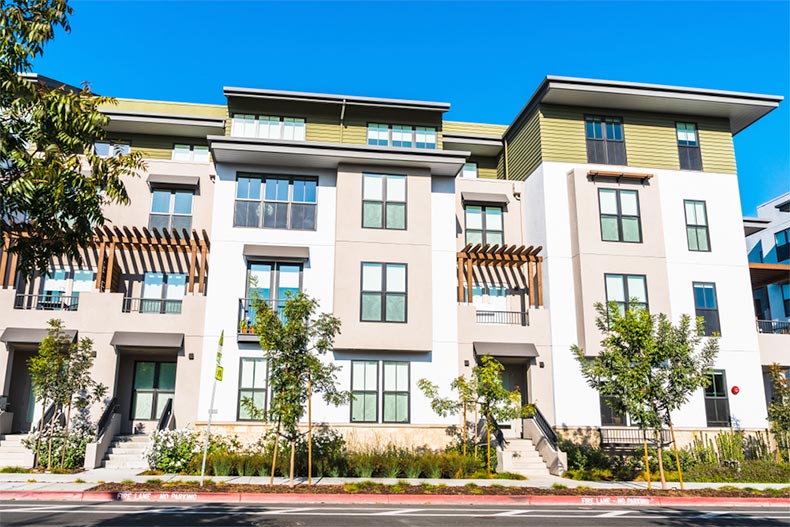 Condominium living has many appealing benefits, especially for retirees looking for less maintenance and more freedom in a 55+ community. Choosing a condo means less maintenance of your property as there's often no yard work to worry about, and many repair costs are shared or covered by the homeowners' association (HOA). Another major benefit of condo living is that it can feel less lonely than single-family home living as there are plenty of nearby neighbors to talk to.
Also, one of the biggest benefits of all is price. Most condos are cheaper to own than a single-family house. Plus, many condo communities are able to snag better locations as they take up far less real estate space than freestanding homes with yards.
So if you're thinking of taking advantage of active adult condo living, read on to learn about the four 55+ communities in the Bay Area that offer condo homes.
Low $300s - Low $1Ms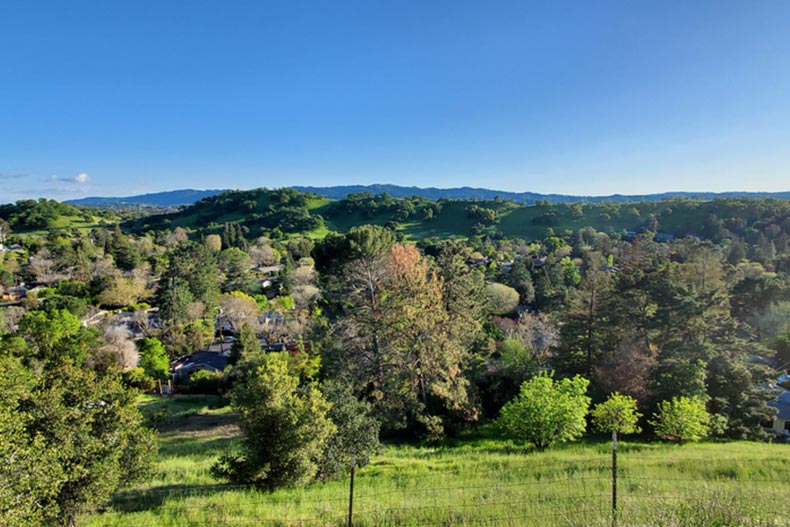 One of the first active adult communities in the San Francisco Bay Area, the award-winning Rossmoor in Walnut Creek continues to delight its residents with tranquil hillside views and natural beauty. This gated 55+ community is comprised of condos, single-family homes, and co-ops with over 50 floor plans.
Located in the sought-after-city of Walnut Creek, Rossmoor is right near downtown, which boasts one of the best open-air shopping malls in the Bay Area. It's also just 26 miles from San Francisco. Only minutes away from bustling downtown but tucked away in the pastoral hills, this community's peaceful and convenient location is ideal.
Amenities in Rossmoor are abundant and include a library, a fitness center, a movie theater, an auditorium, three swimming pools, eight tennis courts, bocce ball courts, bowling greens, and even a certified farmers market. Beyond that, there are miles of scenic hiking trails right in Rossmoor's backyard. Also, golfers will delight in the 27 holes of golf available.
Request more information about Rossmoor.
Mid $400s - Mid $1Ms
As its name implies, The Villages Golf & Country Club attracts many active adults with a love of golf. The 55+ community is tucked away from the thriving tech hub of San Jose, in the peaceful, natural setting of the Evergreen foothills. With over 500 acres of open space, hiking and horseback riding trails, and picturesque lakes nearby, the community is a nature lover's delight.
Resale home options include condos, attached, and single-family. This gated community was built on 1,200 acres and features 2,309 condos and townhomes as well as 227 single-family homes. Most condos offer two bedrooms and two bathrooms, although a few feature one to three bedrooms and range from 600 square feet to 2,256 square feet.
Beyond the impressive golf courses, The Villages Golf and Country Club offers plenty more in the way of an active, healthy lifestyle. Horseback riding, swimming, tennis, and hiking are popular activities among residents. There are also specialized rooms such as a photography darkroom, woodworking room, and craft room available to residents who have honed specialized hobbies as well as other common amenities such as a fitness center and on-site restaurant.
Request more information about The Villages Golf & Country Club.
Low $500s - Mid $600s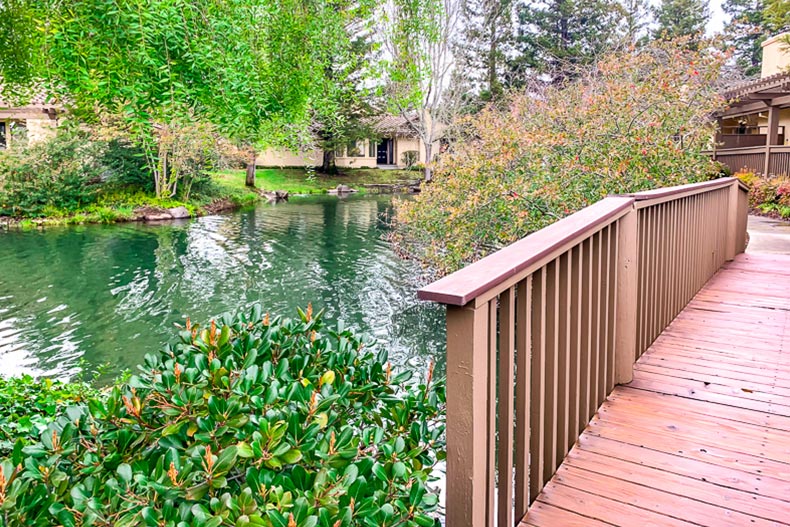 The natural beauty at Willowbrook makes for a serene setting.
In the heart of wine country, Willowbrook in Napa offers residents an intimate 55+ community, with 80 condo and attached resale homes. Homes range from 1,400 to 1,697 square feet with two to three bedrooms and two to two-and-a-half bathrooms.
The low-maintenance lifestyle available at Willowbrook leaves residents with plenty of time to take advantage of all of the wine tasting, fine dining, and natural beauty of Napa Valley. Downtown Napa is only three miles away, and nearby, residents can find a Whole Foods, a Trader Joe's, a Target, and a fitness club.
There's plenty to do on the property as well. A heated pool, whirlpool spa, and clubhouse keep active adults busy as well as miles of walking and biking trails nearby. The natural beauty at Willowbrook makes for a serene setting, with manicured landscaping and charming ponds.
Request more information about Willowbrook.
Low $1Ms - Mid $1Ms
Homebuyers looking for urban condo living with upscale, modern fixtures should consider Foster Square in thriving Foster City. This 55+ community is located near many restaurants, shops, entertainment venues, and medical facilities in a city that boasts a modern demographic.
The community is comprised of 200 new condo units with modern floor plans and modern finishes such as granite countertops and stainless steel appliances. Homeowners can choose from five floor plans ranging from 1,144 to 2,172 square feet. Homes have two or three bedrooms, two or two-and-a-half bathrooms, and covered parking spaces.
Some of the amenities available to residents include basketball and tennis courts, park and picnic areas, and a charming pond. In addition to the nearby shopping and dining offerings, residents of Foster Square will enjoy nearby Leo Ryan Park, which has scenic walking and biking trails, as well as a large lagoon where people can kayak, swim, and paddleboard. For some big-city action, residents need only drive 30 minutes to San Francisco.