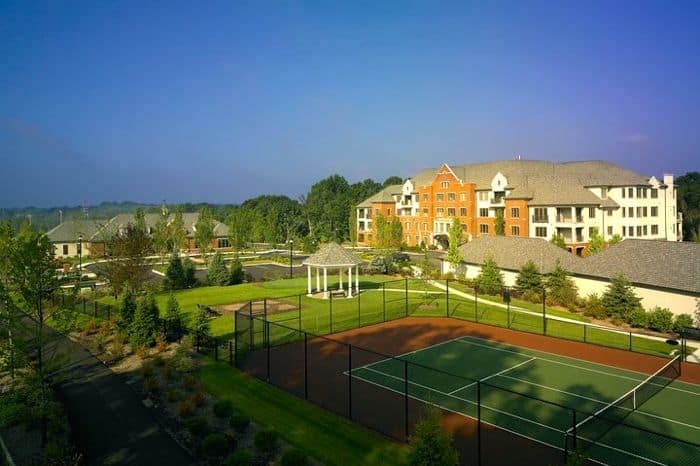 Not all retirement lifestyles are the same. Some retirees consider themselves more active than others, hence the term "active adults," and enjoy a vibrant and energetic way of life. And just because Boomers are heading towards retirement, that doesn't mean their active lifestyle should diminish. Many Baby Boomers are more active than ever and want to continue this momentum throughout their retirement. Active and athletic retirees look for communities that have some of the best workout facilities, pools, sports courts, physical fitness activities, and walking and biking trails that fit their needs.
Luckily, renowned builders like Del Webb, Lennar Homes, Shea Homes, and others are providing amenities that cater to athletes and active adults with state-of-the-art fitness centers and athletic clubs as well as hiring onsite lifestyle directors who plan different types of fitness and athletic programs like Zumba, basketball, aerobics, hiking, strength training, and water workouts. So if you're not looking to slow down or hang up your running shoes anytime soon, then check out these active adult communities that are great for athletic retirees.
As the first and largest 55+ community in Las Vegas, Nevada, Sun City Summerlin is the ideal retirement destination for energetic retirees who want to get the most out of life. This active adult community has four clubhouses sprawled across 2,400 acres surrounded by majestic mountain views and the famous Las Vegas Strip. Each clubhouse features a rich lineup of world-class amenities such as fully equipped fitness centers, outdoor and indoor pools, aerobics rooms, recreational rooms, and multiple sports courts.
Residents enjoy staying active outdoors by playing mini golf, horseshoes, racquetball, shuffleboard, tennis, basketball, softball, or pickleball. Sun City Summerlin also offers a long list of clubs and activities that cater to Boomers who wish to remain physically fit and active throughout their Golden Years. Some of those activities include aquacize, aerobics, dance class, men's softball, paddle tennis, bocce league, shuffleboard group, golf, tai chi, yoga, fitness classes, handball, and water aerobics. The community is also just an hour's drive away from Lake Mead where Baby Boomers can boat, fish, hike, and swim in this great outdoor recreational area.
Ideally situated between Boulder and Denver in Colorado, Anthem Ranch is an outdoor adventurer's paradise. This prime location is surrounded by mountains, hiking trails, ski resorts, and other open spaces that are perfect for staying active in a natural, outdoor environment. Residents who wish to stay closer to home can also remain physically fit and active within Anthem Ranch's boundaries.
The Aspen Lodge is a 32,000 square-foot clubhouse that boasts plenty of indoor and outdoor amenities that keep residents fit. It has a state-of-the-art fitness center, aerobics and dance studio, indoor lap pool, indoor walking track, outdoor pool, and 48 miles of walking and biking trails. And if that's not enough, the community also has a variety of sports courts for playing bocce ball, tennis, pickleball, shuffleboard, horseshoes, and softball field. Athletes can pick their game of choice and start a team to remain active and competitive throughout retirement.
With a 35,000 square-foot clubhouse, active adults will never run out of things to keep them physically fit or socially engaged in SunRiver St. George. Former athletes and active retirees love having access to a state-of-the-art fitness center, dubbed the NewLife Fitness Center, that is complete with workout machines, an aerobics and dance studio, and indoor lap pool, which make it easy to stay in shape no matter the season.
Outdoors, residents also have a resort-style pool, three tennis courts, four bocce ball courts, a basketball court, and 14 pickleball courts. A full-time activities director is also available to help plan programs for all residents to reach their fitness goals. In addition to the lavish main clubhouse, homeowners also have access to the private clubhouse in the gated Reflections neighborhood within SunRiver St. George. Here, they can work out in the smaller exercise room or swim in the outdoor pool and avoid the crowds at the larger fitness center.
As the largest age-restricted community in Southern California, Laguna Woods Village has all of the world-class amenities that cater to Boomers with an athletic lifestyle. Situated on 2,100 acres of beautiful hillsides, residents have seven clubhouses filled with indoor and outdoor recreational areas. They can play on the multiple sports courts throughout the complex that includes bocce ball, shuffleboard, basketball, and tennis. Laguna Woods Village also provides lawn bowling and badminton, 27-hole golf course, and equestrian facilities for horseback riding.
Staying in shape is also easy in this lively environment thanks to its two fitness centers that are equipped with the latest in cardiovascular and strength-training machines. And if that's not enough, homeowners also have more than a dozen clubs, classes, and activities that they can join to help keep them active and physically fit. Whether they take a yoga or aerobics class, play tennis, or join the hikers and walkers group, there is something for everyone in Laguna Woods Village.
Del Webb's largest active adult community in South Carolina not only offers great housing options at reasonable prices, but it also has some of the best amenities that attract Baby Boomers from across the country. Retirees who want to remain active throughout their Golden Years can spend their days at the 45-acre Village Center, which is the central hub of physical activity and social recreation. With multiple fitness centers, indoor lap pools, and plenty of outdoor recreational spaces, residents will have no problem staying in shape in this lively age-restricted community.
Beginners and experts can sharpen their athletic skills by playing on one of the many sports courts and fields available that include volleyball, softball, tennis, bocce ball, croquet, and pickleball. Staying fit outdoors is also convenient with miles of trails that come equipped with exercise stations, making it easy to accomplish your next fitness goal. Avid or novice golfers can also take advantage of the three 18-hole courses that provide an exciting round of golf any day of the week.
Sun City Arizona was the first 55+ community in the country, making Del Webb the pioneer in the active adult concept. Del Webb built this lavish development between 1960 and 1978 and now has more than 27,000 homes. In addition to the massive size of this age-restricted community, Sun City Arizona also has numerous recreation centers and clubhouses offering countless indoor and outdoor amenities that are sure to appeal to active retirees.
Residents have eleven golf courses, several fitness centers, indoor and outdoor pools, indoor walking tracks, bowling alleys, as well as multiple tennis, bocce ball, shuffleboard, racquetball, and pickleball courts. After an invigorating workout or intense tennis match, residents can relax and soak their muscles in the spas that are located throughout the complex. Sun City Arizona is the ideal self-sustained community where all of these luxurious amenities are just a golf cart ride away.