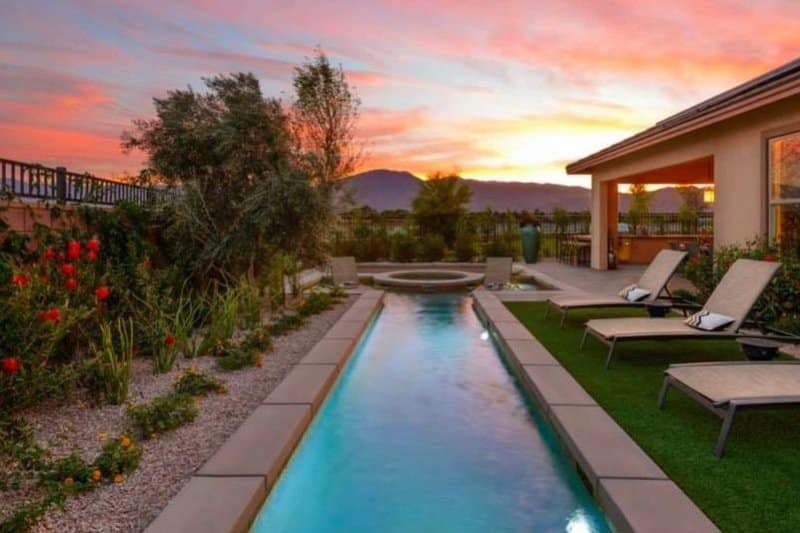 Trilogy at The Polo Club is a new active lifestyle community in Southern California's highly desirable Palm Springs area. Active adults and retirees will find that Trilogy at The Polo Club brings Shea Homes' distinctive style into the Coachella Valley, offering an assortment of sleek and modern homes around distinctive amenities that have made Shea Homes a household name.
Shea Homes began construction on Trilogy at The Polo Club in 2013 and, upon completion, this gated neighborhood will have approximately 1,000 homes, making this a more intimate and neighborly experience than most of the surrounding active adult communities in the area.
Trilogy at The Polo Club is being developed under the popular Trilogy brand, known for creating some of the most unique active adult communities throughout the country. Like other Trilogy communities, Trilogy at The Polo Club will have a beautiful clubhouse as its center and, in typical Southern California fashion, will seamlessly weave indoor and outdoor amenities to create an open-air environment.
The clubhouse will host a state-of-the-art fitness center and a yoga studio, meaning that homeowners can enjoy a varied work out routine. There are also several amenities to keep residents busy socially, including an events center, game room, billiards, and catering and demonstration kitchens. There will even be June Hill's Restaurant with a private dining suite, perfect for gathering friends or for an intimate dinner with your significant other.
Living in the Palm Springs area would not be complete without sterling outdoor amenities to make the most out of their 348 days of sunshine annually. Trilogy at The Polo Club delivers. The community will offer homeowners three outdoor pools, two patios, three tennis courts, and three pickleball courts. There will also be an outdoor amphitheater, exercise stations, and scenic ponds throughout Trilogy at The Polo Club.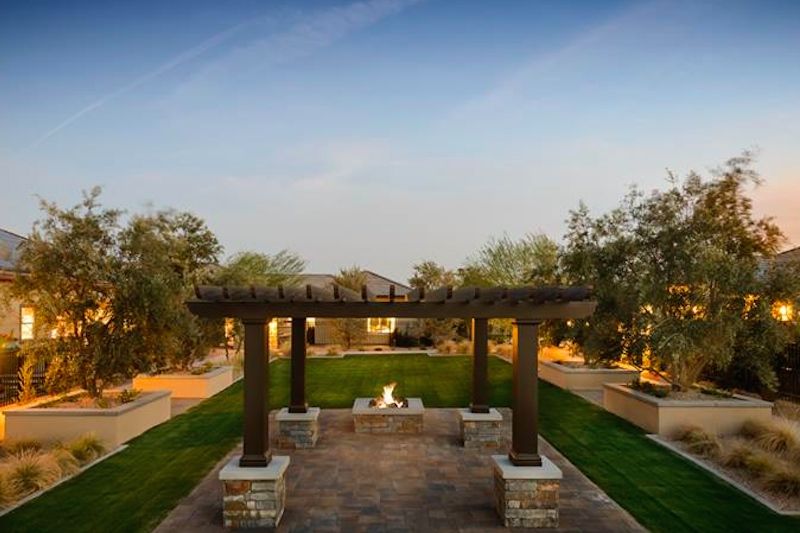 Perhaps the most unique outdoor amenity this neighborhood offers is the 19 community parks scattered across the community, providing natural outdoor meeting areas for homeowners to gather on a leisurely evening. Most of these parks feature well-manicured lawns, a fire pit and seating areas, giving everyone a space to meet new neighbors and socialize with friends.
Shea Homes is offering three home collections: the El Dorado, Empire, and O2. The El Dorado and Empire sections are 55+, while the O2 section is all ages, allowing each resident to live with like-minded neighbors.
The homes within Trilogy at The Polo Club start at 1,376 and go up to 2,549 square feet. With two or three bedrooms and up to two-and-a-half bathrooms, these homes are perfectly sized for the empty nester and active adult homebuyer.
Trilogy has developed a reputation for incorporating the needs of active adult homebuyers with modern architectural designs. The homes within Trilogy at The Polo Club are no exception. Sleek designs, open common areas, and plenty of natural light dominate the designs. Shea Homes has even constructed these homes with floor to ceiling rolling glass doors, blurring the distinction between your living room and patio and creating larger, more open spaces for entertaining neighbors.
Clubs and events are the bedrock of any successful active adult community and Trilogy at The Polo Club provides. The community plans wine and cheese nights, progressive dinners, and holiday parties. Once completed, the clubhouse will be the place where neighbors meet for card games, billiards, exercising, and yoga classes.
Trilogy at The Polo Club is paradise for snowbirds. Indio gets virtually no snowfall with annual temperatures averaging in the high 80s to the low 60s. Most days are warm with sunny skies.
Palm Springs and the surrounding areas became known as Hollywood's Playground due to this fantastic climate and its two-hour proximity to Los Angeles. Resorts abound, vintage shops are nestled in small courtyards, and plentiful museums invite the curious.
Indio is known as "The City of Festivals," hosting annual events that are as diverse as the National Date Festival, the Indio International Tamale Festival, Wine and Brews Festival, and the Coachella Music Festival. The region is also highly regarded for its wineries, restaurants, and its outdoor recreation, including the gateway to Joshua Tree National Park. This park covers nearly 800,000 acres of land, which is an area larger than the state of Rhode Island.
For active adult homebuyers looking to get away from snow yet desire an affordable, modern, and exciting area to live need to look no further than Trilogy at The Polo Club.