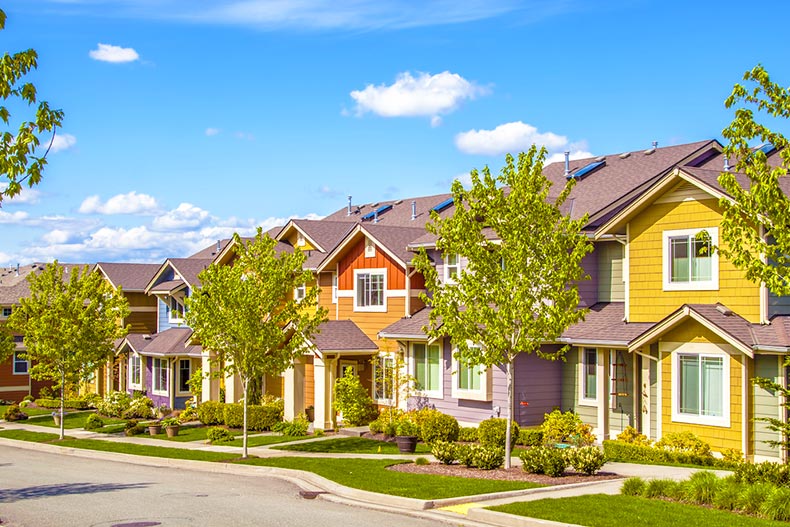 There are plenty of reasons for active adults to look at attached homes, such as condos and townhouses, when moving to a 55+ community. As an empty nester, more space isn't just unnecessary, it's a hindrance. All that empty space means higher energy costs and more time spent on maintenance and cleaning.
While it might be tough to give on that single-family home you've spent so many years in, the amount of money saved purchasing an attached home will make that easier to handle. If you're hoping to be near the excitement and entertainment of Philadelphia, here are some 55+ communities with attached homes that should be on your radar.
Hershey's Mill - West Chester
The largest 55+ community in the area, Hershey's Mill is made up of 1,720 attached homes. These homes in nine different floor plans which range from 1,158 to 3,153 square feet of living space. They include two or three bedrooms, two or three bathrooms, and one- or two-car garages. All homes are resale and some include dens.
This sprawling community includes several different amenity centers, including the community center, Hershey's Mill Golf Club, and Sullivan House. Throughout Hershey Mill's 800 acres you'll find outdoor pools, several sports courts, a pet park, and even a community television station.
Wildflowers at Hillview - Coatesville
About 40 miles west of Philadelphia is Wildflowers at Hillview. This 55+ community features attached and single-family homes. Attached options include villas and townhomes which come with 11 different floor plans. These homes range in size from 1,332 to 2,139 square feet and include two or three bedrooms, one-and-a-half to three bathrooms, and two-car garages.
Amenities in the community are spread throughout five different buildings that focus on specific activities. Residents have access to a fitness center, lounge space, sports and activity center, a meeting space, and a clubhouse for games and get-togethers.
Centennial Station - Warminster
Centennial Station is a 55+ community of 410 condo units. Homes in the community range from 456 to 1,412 square feet so they're great for downsizing. Residents don't have to worry about landscaping, common area maintenance, or snow removal, either.
Amenities in this resale community are largely focused at the clubhouse, which features an indoor pool, exercise pool, hobby and craft rooms, and several outdoor sports courts. The community also has an on-site professional center, meaning homeowners don't have to leave to do their banking, eat out, go to the dentist, or get their hair done.
Ridgewood - Royersford
With construction ongoing, Ridgewood is expected to have 356 attached homes upon completion. While the community invites all ages, it includes the features active adults desire, like first-floor master suites, elevators, and a low-maintenance lifestyle.
There are five floor plans for potential homeowners to choose from, they range from 1,990 to 2,400 square feet. Inside is two or three bedrooms, two-and-a-half to four-and-a-half bathrooms, and one- or two-car garages. The community doesn't have on-site amenities, which keeps homeowners' association fees low.