New Jersey is one of the most densely populated states in the country, and a huge draw for active adults. With quick access to multiple world-class cities, scenic small towns, and more than 300 active adult communities, it's no wonder why the Garden State attracts so many retirees. Plenty of these communities also have features attractive to single retirees.
To help our single readers, 55places.com analyzed more than 29,000 cities designated by the most recent census data and focused on major areas with populations of more than 20,000. We then broke each area down by the number of single and unmarried people making up the total population. Then, we added a median price to income ratio from the census data, to target areas with reasonably affordable homes. We used this data to curate this final list.
Read on to learn the top locations for single retirees in New Jersey.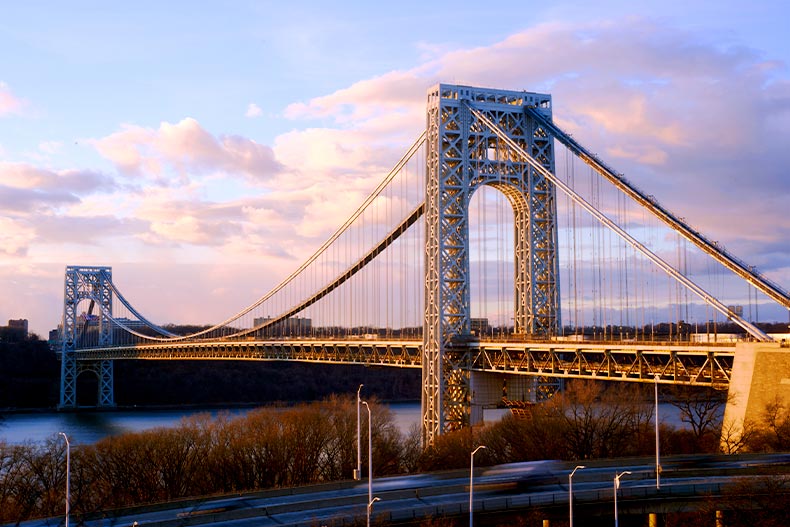 Fort Lee is a borough in Bergen County with a population of 39,220. This town is about a half-hour north of New York City and close to Palisades Interstate Park, shopping, and unique restaurants. Fort Lee is also home to multiple active adult communities for singles to consider
Fort Lee's second condo community, The Colony, is larger, with 410 resale units. Homes in this community range from 1,097-square-foot one-bedroom condos to penthouse homes with more than 8,000 square feet. Residents enjoy plenty of wonderful perks, like an indoor pool, a fitness center, a movie theater, saunas and massage rooms, and an outdoor pool.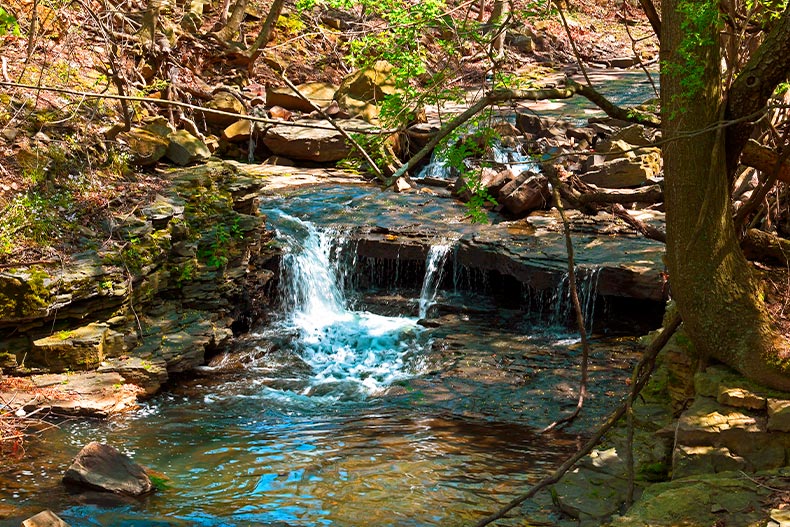 Cliffside Park has a population of 25,525 and is also in Bergen County. This borough is home to a friendly community, is close to the Newark Airport and Columbia University Irving Medal Center, as well as local attractions, such as the Museum of the City of New York and Bergen County Zoo.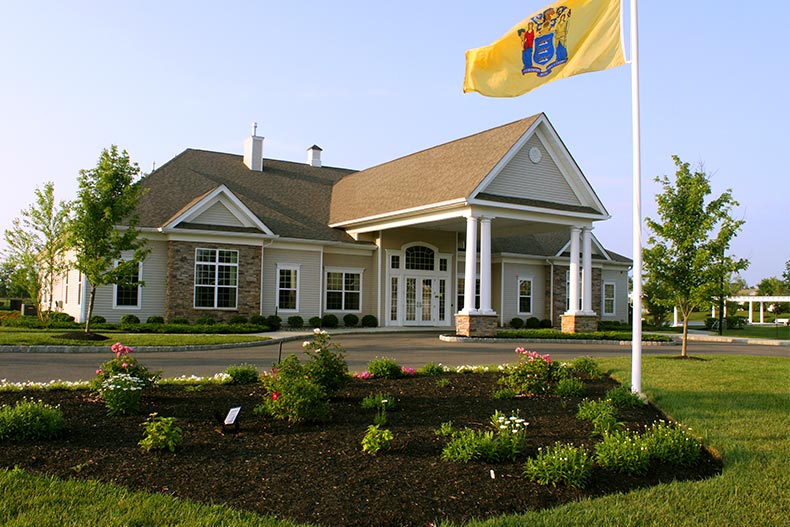 Heading to the southern part of NJ, Cumberland County is home to Millville, which has a population of 27,762. This rural area offers a slower pace of life but is also close to the excitement of Atlantic City.
The appealing Four Seasons at Millville is a 55+ community with 610 new and resale single-family homes. Built by Ryan Homes, K. Hovnanian, and Schaeffer Family Homes, the variety of floor plans range from 1,153 to 2,356 square feet. Residents also have access to a 7,500-square-foot clubhouse, along with an outdoor pool, tennis courts, and pickleball courts.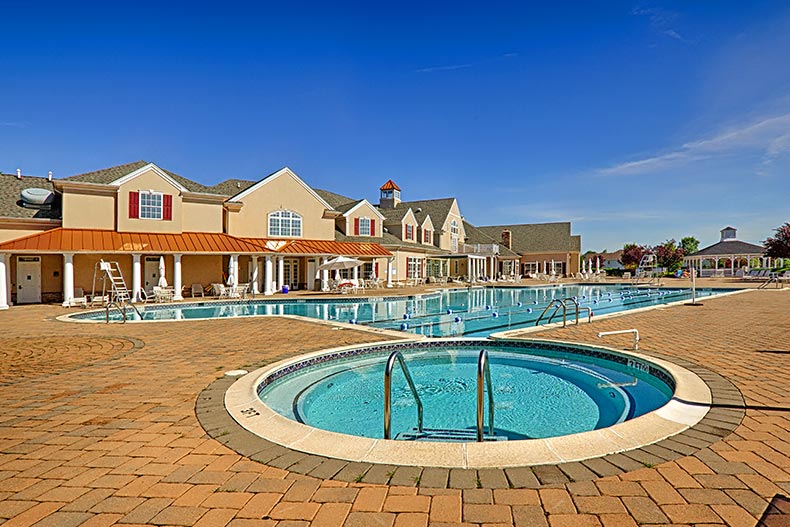 Located in the county of the same name, Somerset is a community of about 23,639 people living there. It is located smack dab in the center of NJ and is commutable to both Philadelphia and New York City. Popular local hotspots include Sourland Mountain Preserve and Delaware & Raritan Canal State Park.
Somerset Run is a gated Del Webb-built 55+ neighborhood with 755 resale condo and single-family homes. Five floor plans are featured ranging from 1,763 to 3,300 square feet. The community also includes a state-of-the-art clubhouse and a variety of both indoor and outdoor amenities.
The large, gated retirement community of Canal Walk has 1,200 new and resale condo, attached, and single-family homes, plus a 32,000 square foot clubhouse. Socializing is also made easy with the long list of activities and clubs, including a singles' group.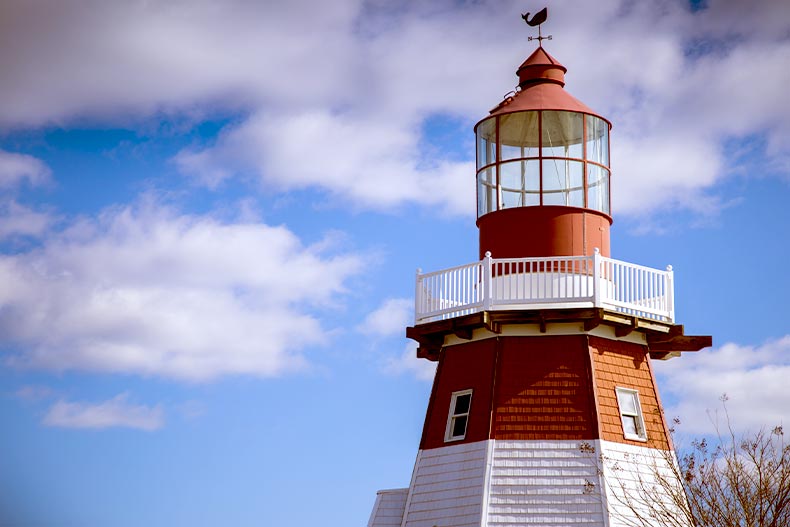 Located in desirable Ocean County, Toms River is home to six active adult communities and year-round activities for people of all ages.
Gardens of Pleasant Plains is an established, affordable gated neighborhood with 437 resale attached and single-family homes. About three miles from Bey Lea Golf Course, these cozy residences have two bedrooms, one bathroom, attached garages, and fenced-in lawns.
Also reasonably priced but much larger, Silver Ridge Park has 3,169 resale single-family homes. This welcoming community provides a lifestyle that makes meeting new people simple, with a singles' group, Friday night socials, ballroom dancing, luncheons, Mahjong, and Zumba.
As one of the largest 55+ communities in NJ, Holiday City at Berkeley has more than 10,000 resale single-family residents divided into five subdivisions, each with its own amenities. There are 20 floor plans ranging from 757 to more than 1,852 square feet, with one to three bedrooms, one to two baths, and one- or two-car garages. Popular groups include a singles' club, exercise classes, fishing clubs, a tennis club, and a computer club.
More Toms River 55+ Communities:
Below $100k – High $200s

High $100s – Low $400s

Low $200s – Mid $300s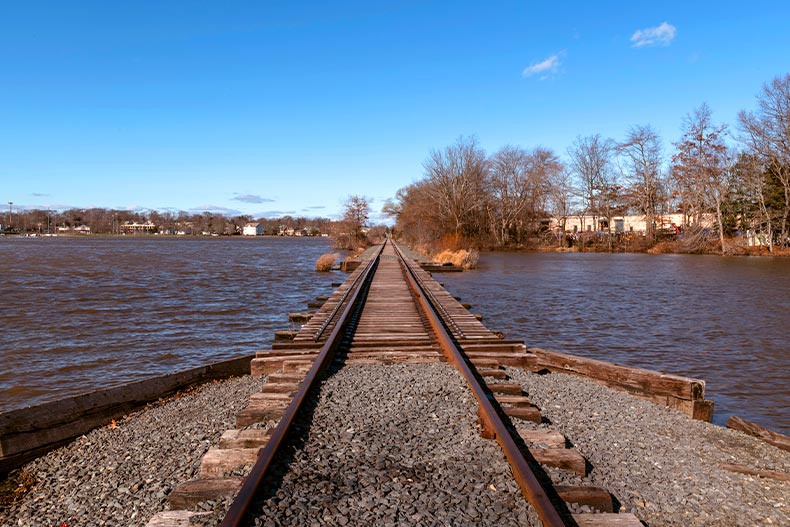 A bustling borough in Middlesex County, Sayreville has a population of about 44,000 and is within commuting distance of NYC. Nearby points of interest include the Raritan Bay Waterfront Park and New Brunswick, which is home to Rutgers University.
As a newer, more intimate 55+ community, Regents Wharf offers 96 resale attached and single-family homes, a private clubhouse, and a pool. There are four floor plans ranging from 1,367 and 2,170 square feet, with one to two bedrooms, one-and-a-half to two-and-a-half bathrooms, and attached one- or two-car garages.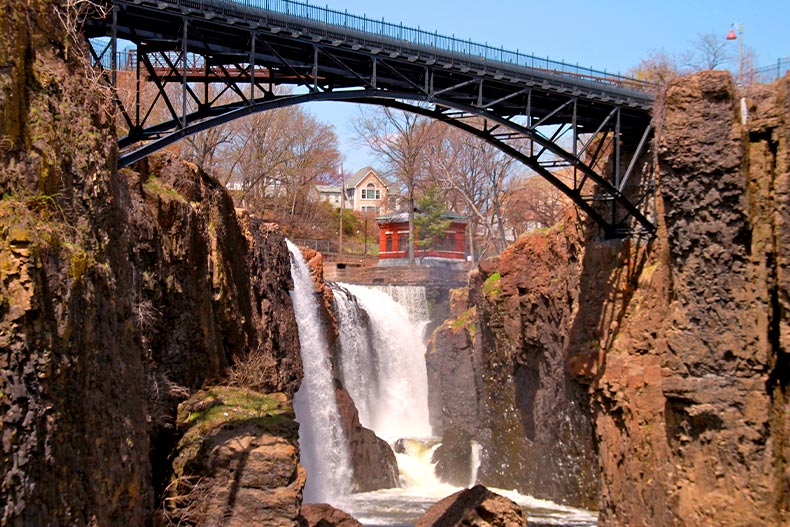 This Passaic County town is about 23 miles outside of the Big Apple. Popular landmarks here include the Clifton Arts Center & Sculpture Park and the Upper Montclair Golf Club.
Perfect for downsizing, Winthrop Court is Clifton's only 55+ community. This friendly condo complex features 270 units with nine models ranging from 1,485 to 2,139 square feet. On-site amenities include a private clubhouse with a fitness center, a theater, a catering kitchen, and gathering rooms. Outdoors, residents can take advantage of an outdoor pool, tennis courts, and bocce ball courts.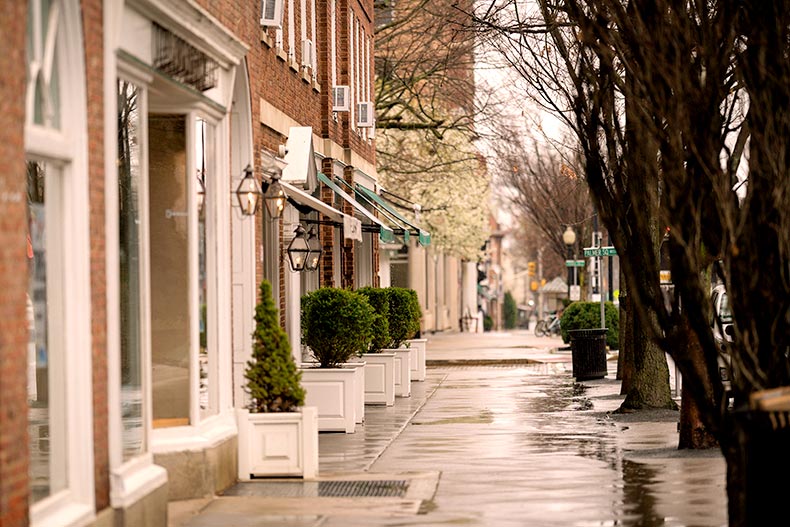 Home to the renowned Ivy League university and so much more, Princeton is a wonderful place for 55+ singles. It is in central NJ's Mercer County, about 60 minutes from Philadelphia and 90 minutes from NYC.
Completed in 2008, Princeton Windrows has a wide range of condo, attached, and single-family homes. There are 294 residences here, and plenty of on-site amenities including a convenience store, dining rooms, and an indoor pool.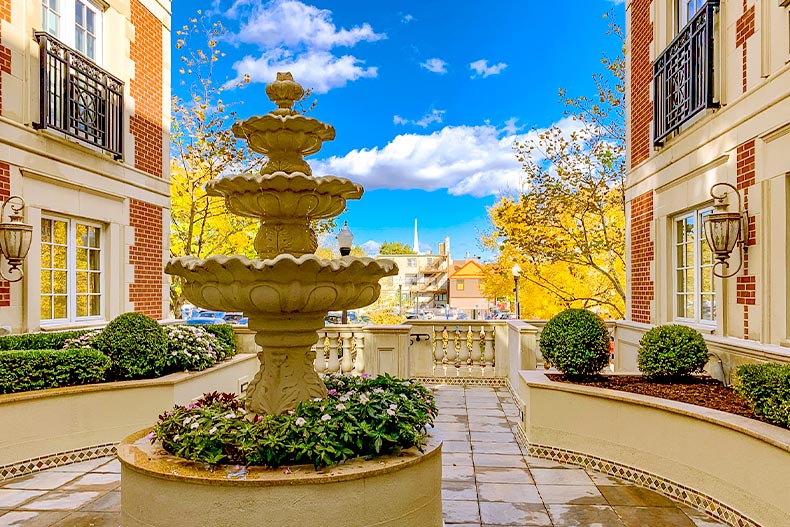 Westfield is in Union County, 23 miles west of NYC, and has an active downtown area, which hosts an annual music festival. Other nearby attractions include Watchung Reservation, a historic nature trail, and Essex County Turtle Back Zoo.
The Savannah is an gated condo community located in Westfield. This community features just 35 resale homes, secured entry, and concierge service for its homeowners. There are three standard models sized from 1,620 to 4,350 square feet, all in a multi-floor, elevator-equipped building.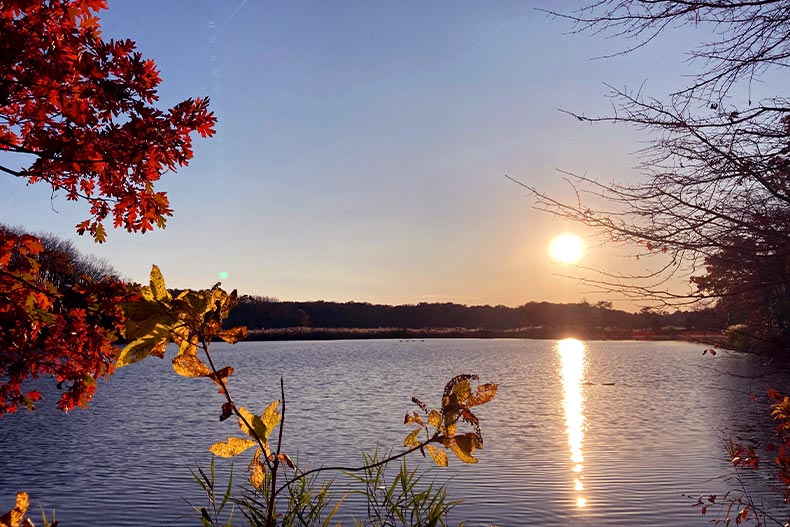 Finishing out lest of the best places for singles in NJ is also in Middlesex County. Old Bridge has a population of around 66,000. This quiet, intimate community is also close to the Jersey Shore beaches, NYC, and Cheesequake State Park. Old Bridge is home to three active adult communities as well.
Plaza Grande at Old Bridge is a D.R. Horton-built 55+ neighborhood, with 279 resale condos, a private clubhouse, and a great selection of clubs and activities, like line dancing and Texas Hold'Em.
Madison Crossing at Birch Hill offers 228 new and resale attached and condo homes, with more than a dozen models ranging from 1,220 to 3,376 square feet. In addition to multiple amenities and lifestyle activities, residents are also near interesting attractions, including the Freehold Raceway Mall and the Glenwood Country Club.
Surprisingly affordable, Cheesequake Village is an established active adult community with 713 resale condo and attached homes. Residents enjoy a clubhouse, outdoor pool, proximity to Cheesequake State Park, and complimentary community transit.