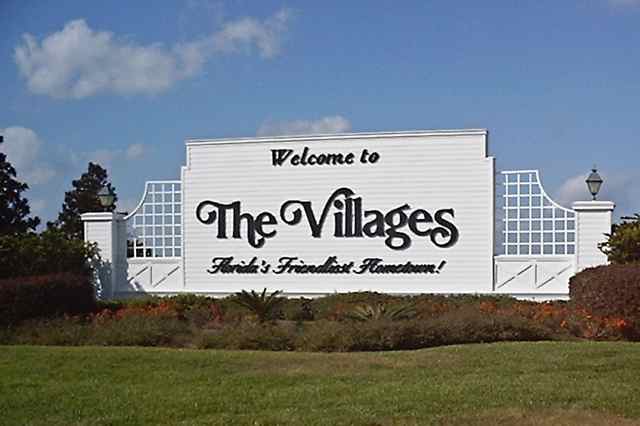 Spanning three counties and over 20,000 acres, The Villages is the largest active adult community in Florida, as well as being one of the largest in the world. The community functions as a self-sustaining town designed specifically for residents aged 55 or better. In addition to its resort-style amenities and outdoor recreations, The Villages features retail centers, restaurants, medical facilities and other businesses.
The Villages opened in 1978 and is continuing to develop today with plans for over 56,000 homes. The community is so large that it includes three zip codes and is connected by over 100 miles of golf-cart legal streets and trails.
The Villages has a prime Central Florida location with hot and sunny weather, and it is also within 90 minutes of popular attractions like Orlando, Tampa and coastal beaches. Active adults have no trouble finding things to do in The Villages. There are golf courses, recreation centers and town square areas offering an unparalleled number of amenities, special-interest clubs and community events.
Residences
Homes throughout The Villages are available in sizes, styles and prices to meet the needs of nearly any active adult homebuyer. These include manufactured homes, patio villas, courtyard villas, cottage-ranch homes, designer homes, and premier homes. There are smaller, budget-friendly homes and larger, more luxurious residences.
Amenities
Wherever you choose to live in The Villages, you are sure to be within easy access of neighborhood swimming pools, recreation centers, sports courts and other amenities. Town square areas throughout The Villages offer their own mix of shops, restaurants, movie theaters, bowling alleys, beauty salons and other services.
These include Spanish Springs Town Square, Lake Sumter Landing Market Square and Brownwood Paddock Square. At Lake Sumter Landing Market Square, you can even enjoy a sunset boat ride on beautiful Lake Sumter. When it comes to recreation centers, The Villages features eight regional centers, 17 village centers and 25 neighborhood centers.
Recreation
Regional recreational centers are the largest facilities, typically including fitness centers, hobby and craft studios, meeting rooms and ballrooms, swimming pools and sports courts. Village recreation centers are smaller clubhouses which often include social areas and family-friendly pools, while neighborhood recreation centers offer adult-only pools, bocce ball, shuffleboard and horseshoes.
Resident golfers can enjoy free play at 32 executive courses, or pay a small fee for access to the 10 championship golf courses. The state-of-the-art golf academy can help residents get their game to the next level with private or group lessons. Other amenities on the grounds include fishing lakes, softball fields and RV parking lots.
With its impressive amenities, diverse homes and beautiful grounds, The Villages has been designed to create a perfect retreat for active adult retirees. For more information on this community click here: The Villages – The Villages, FL