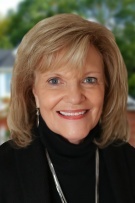 Hoosier, Realtors
Lic. #RB1404673 (IN)
Contact Me
Joanne began her real estate career in 1998 in a resort community in south Florida. Since returning home to Indianapolis in 2007, she has worked for a national builder in new home sales in communities throughout the Indianapolis area.

Joanne has worked primarily in Active Adult and Lifestyle communities and her true passion is assisting clients who are ready to make their move into a community. She has gone through the same process herself and relates well to her buyers because she appreciates when empty nesters are ready to downsize their homes and yard, wanting to maintain less and enjoy more time doing leisure activities and traveling. When Joanne made her move into an active adult community, she was relocating to be closer to her children and grandchildren. She understands that is the case for many of her clients, and she empathizes with the desire to not miss out on those "special moments you can't get back."

Joanne listens to her buyer's real estate needs, making their wants, desires and budget a priority, and guides them throughout the entire process using her experience, expertise, and knowledge of the Indianapolis area. She has seen people transformed by their new lifestyle and friendships, and she thrives on the excitement and personal satisfaction she receives from seeing her buyers achieve their goals.

Joanne treats each buyer with respect and compassion and is truly committed to helping them find their "happily ever after" community and home.