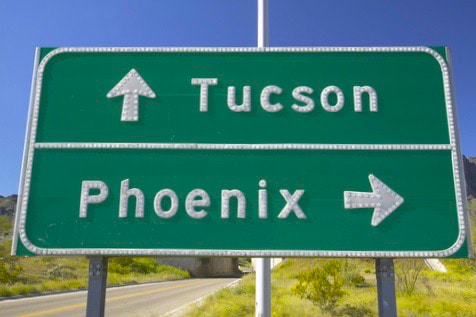 While many retirees flock to Arizona to settle during their Golden Years, they still have to decide on which city to retire: Phoenix or Tucson. Although both cities are popular among the 55+ crowd and just two hours from each other, they do offer their own set of unique characteristics that set them apart.
Similar Climates
Both cities share plenty of similarities like mountain views, sunny skies, beautiful natural scenery, vibrant attractions, and great active adult communities throughout. The cost of living in both cities is also generally below the national average, making it an affordable retirement destination for Boomers. Phoenix and Tucson are both located in the Sonoran Desert, which provides hot summers and mild winters with the only difference being that Tucson's higher elevation allows for more rain and cooler temps than Phoenix.
Difference in Size
Phoenix is the capital of Arizona and is the state's largest city. Due to Phoenix's size and fast growth, the city endures more traffic but luckily has an extensive freeway system, making it easy for residents and visitors to travel across town efficiently.
Tucson is smaller in size so it has fewer major roadways such as Interstate 10 that connects travelers to Phoenix in the north and Interstate 19 that connects to Mexico's border in the south.
Difference in Terrain
Although both cities offer mountain views, Phoenix's landscape is generally more flat with rocky peaks rising in the distance. The city has a larger grid of streets that allow for residential and commercial properties to be spread out and divided into urban villages.
While Tucson offers a town feel rather than a city vibe and is surrounded by five major mountain ranges, perfect for outdoor adventurers. Tucson, which is located about 120 miles southeast of Phoenix, is the second largest city in Arizona and offers a smaller population and a more small-town vibe than Phoenix.
Tuscon Attractions
Although smaller in size, Tucson provides almost the same type of modern and urban amenities that are found in Phoenix. Tucson hosts annual festivals and cultural events like the Pima County Fair, Tucson Festival of Books, The Tucson Rodeo, and Tucson Folk Festival. Residents also have great cultural attractions in the area like the Arizona Historical Society, Tucson Museum of Art, Fort Lowell Museum, and the Arizona-Sonora Desert Museum.
Phoenix Attractions
Of course, Phoenix and its surrounding area also provide endless attractions, entertainment, and events. Some notable places of interest include the Phoenix Art Museum, Phoenix Symphony Hall, Arizona Capitol Museum, Phoenix Zoo, and the Desert Botanical Garden.
Golf is also a popular pastime in this area and has some of the best fairways in the state. Retirees will find numerous golf courses in and around Phoenix including Encanto Golf Course, Palo Verde Golf Course, Arizona Biltmore Golf Club, and Lookout Mountain Golf Club. In addition to museums and golf, Phoenix is also home to many professional sports leagues like the Phoenix Suns (NBA), Arizona Cardinals (NFL), and Arizona Diamondbacks (MLB).
Active Adult Communities
Phoenix
Active adults searching for age-restricted communities will have no problem finding them in Phoenix or Tucson. But the only problem may be narrowing down which community and location they want to live in. Although it's not technically located in the city of Phoenix, Sun City Arizona in Sun City was the first 55+ community in not only the state but the country.
Since its inception in 1960, other builders have followed Del Webb's path and developed active adult communities in the bustling Phoenix area like Trilogy at Vistancia in Peoria, Victory at Verrado in Buckeye, and Trilogy at Wickenburg Ranch in Wickenburg. Retirees can also find established age-restricted communities in the city of Phoenix such as Ahwatukee Retirement Village and Northtown.
Tuscon
Not to be outdone, the Tucson area also offers Baby Boomers amenity-rich active adult communities in the area. Retirees can find new construction options in communities like SaddleBrook Ranch in Oracle, SaddleBrooke in Tucson, Del Webb at Dove Mountain in Marana, and Del Webb at Rancho Del Lago.
Boomers who are looking for resale-only homes in established 55-plus communities will also have plenty of options in the city of Tucson that include La Cholla Hills, Altura, Casas Del Oro Norte, Mona Lisa Village, and Northridge Estates.
While both cities offer similarities and a few distinct differences, retirees should check out Phoenix and Tucson to determine which location best suits their active adult lifestyle.