Florida continues to be one of the most popular retirement destinations for active adults, and there are many options for people interested in moving to the Sunshine State. There are large coastal cities and small inland towns, and buyers can choose a high-rise condo overlooking the sea or a single-family home in the middle of horse country.
While Florida is large and diverse, many people preparing to retire in a large metropolitan area find themselves choosing between two of the state's most well-known cities: Miami and Tampa. Both of these areas are loaded with history, culture, and activities. They offer unique restaurants, impressive shopping, and some of the best golf courses, beaches, and outdoor recreation in the entire U.S. Residents of Tampa and Miami can find cruise ships minutes from home, and they have access to museums, performing arts, and gardens. There's also fishing, boating, and a year-round outdoor lifestyle.
It's hard to choose, but when trying to decide between Tampa or Miami for your retirement, we have a few key things you'll want to consider.
Geography and Population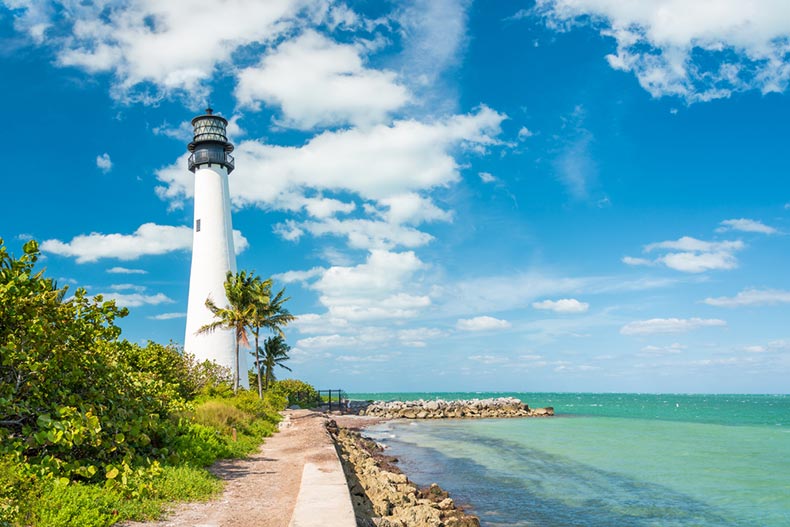 Tampa is in Hillsborough County along the Gulf Coast on the western side of Florida. Located in the central part of the state, surrounded by other interesting cities like St. Petersburg, Sarasota, and Clearwater. Orlando is less than an hour away.
On the Atlantic Coast, Miami is on the extreme southern tip of the state in Miami-Dade County. It's close to a lot of well-known hotspots like West Palm Beach and Fort Lauderdale. It's also the jumping-off point for the Florida Keys.
Tampa and the Tampa Bay area cover more space geographically than Miami. However, Miami's population is larger. The population in Tampa is just under 400,000, and Miami's is over 450,000. The only city in Florida larger than Miami by population is Jacksonville.
Cost of Living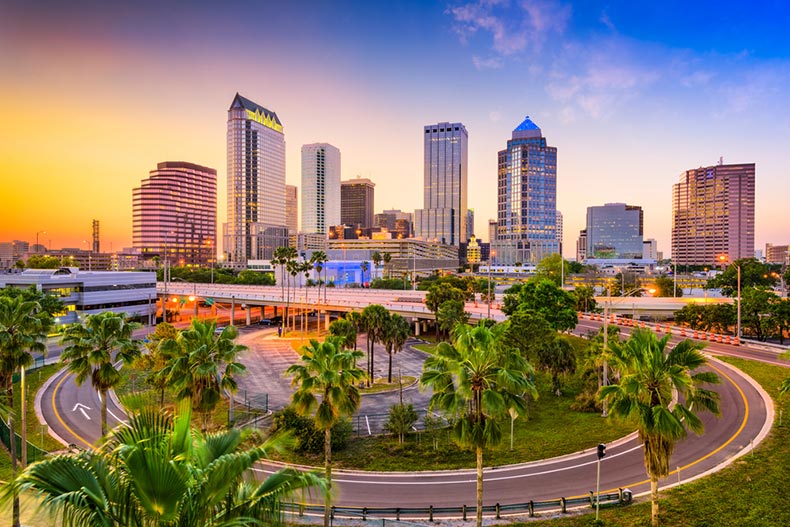 Most active adults retiring in Florida find the cost of living lower than wherever they came from. There's no state income tax in Florida, and you certainly won't be paying large heating bills through the winter. When new residents arrive from the Northeast, the mid-Atlantic, Canada, or the West Coast, they're pleasantly surprised at how little they have to budget for basic household expenses.
Tampa is more cost-effective than Miami. A report published in 2019 by The Council for Community and Economic Research revealed that the Tampa Bay area can boast the lowest cost of living level compared to any other city in Florida, including Miami. Basic essentials like gas, utilities, groceries, and entertainment are also more affordable, so if you're careful about your budget, you might want to choose Tampa over Miami.
Culture and Entertainment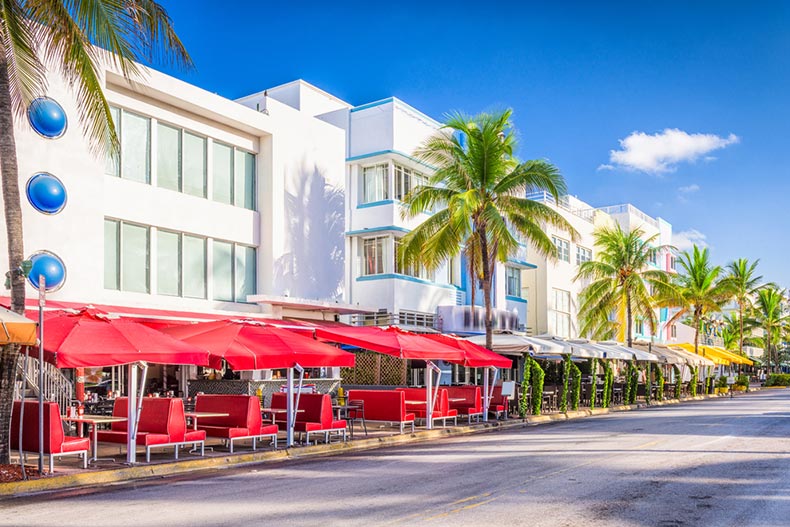 Both Tampa and Miami offer their residents a lot of art, dancing, music, and opportunities for continuing education. Anyone planning to spend the retirement years learning how to salsa or flamenco will probably feel more comfortable in the Miami scene. The southern city is a melting pot that celebrates multiple cultures. There are specific arts districts for Haitian, Cuban, and Caribbean communities. Local artists share their work at museums and galleries, and there's plenty of live music and dancing in neighborhoods like South Beach, Little Havana, and Coconut Grove.
The Wynwood Arts District is full of Miami's best art galleries, fashion brands, and trendy restaurants. Art Basel is an annual art exhibit with similar shows in Hong Kong and Basel, Switzerland. In South Miami, new residents will enjoy exploring the Fairchild Tropical Botanic Garden.
Tampa has its own artsy vibe and diverse nightlife scene. Popular spots include Ybor, the historic Cuban neighborhood which also houses great Italian restaurants, live music spots, and old cigar factories. Across the bay in St. Petersburg is the Dali Museum.
Beaches and Golf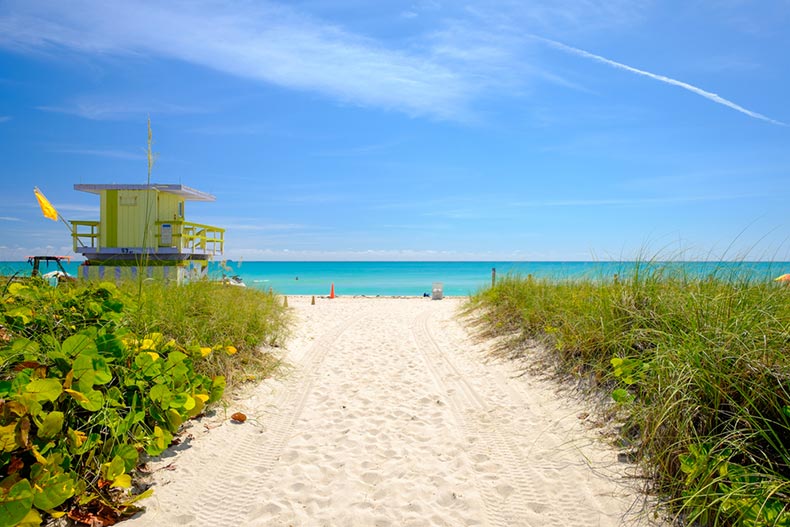 If you're planning to spend most of your retirement at the beach, you'll have access to sandy shores and salty water in either Miami or Tampa. You'll have to decide whether you prefer to surf and sail in active waves or you prefer water with more serenity.
The Atlantic Ocean provides larger waves, and the Miami area has several great beaches. South Beach is usually crowded with visitors, but locals know that Jupiter Beach, Boynton Beach, and Haulover Beach are quieter and close by. In Tampa, the Gulf of Mexico is generally calm, unless there's a tropical storm brewing. The most popular beaches are on the St. Pete side, including Clearwater Beach, Treasure Island, and Pass-A-Grille.
The beaches in both cities provide plenty of sunbathing, swimming, fishing, and boating. But, let's not forget golf.
In Tampa, some of the best golf courses are just north and west of the city. Tampa Palms Golf & Country Club has 18 holes of golf designed by Arthur Hill. There's also Old Memorial Golf Course, a traditional golf course near Tampa International Airport. In Miami, some of the best places to tee off include The Biltmore in Coral Gables and Miami Beach Golf Course, which has been around since 1923.
Real Estate and Homes for Sale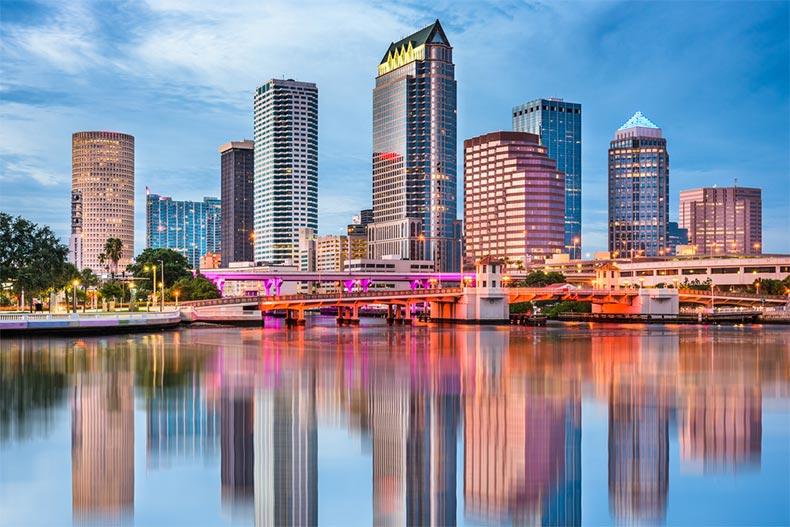 Housing is generally less expensive in Tampa than it is in Miami, and property VALUES
( are on the rise in both cities. Many people planning a Florida retirement look for homes in 55+ communities, where there are low-maintenance models and lots of amenities and activities.
Tampa homes for sale are found in gated single-family communities in popular suburbs like Sun City Center and New Port Richey. Buyers can also consider new-construction communities such as Del Webb Bexley or well-established neighborhoods like Kings Point, where there are more than 5,000 homes.
Buyers who want to live in Southeast Florida near Miami will find plenty of condo communities, high-rise buildings, and golf cart-friendly neighborhoods throughout Broward and Palm Beach counties. Cities like Boynton Beach and Boca Raton are close to Miami but more affordable than the city and full of homes that offer space and convenience.
The Best Cuban Sandwich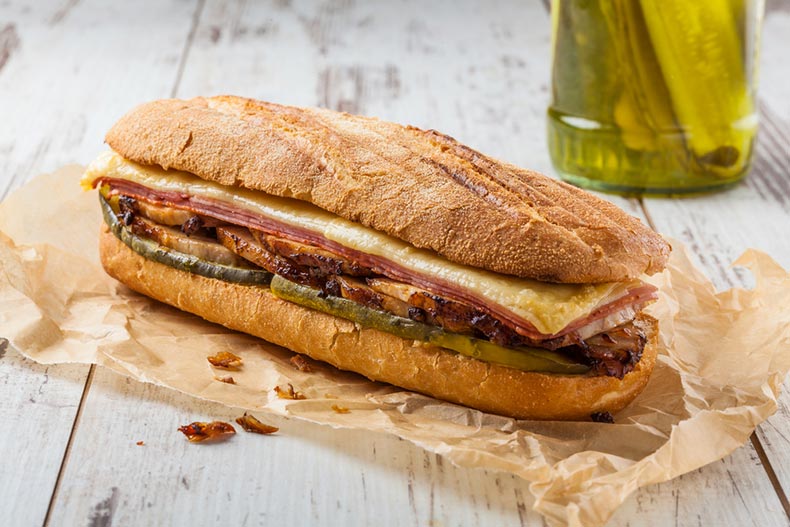 Believe it or not, this rivalry is a real thing.
NPR did a segment on the friendly feud in 2012, and the New York Times entered the controversy in 2019 when a crossword clue was "city famous for its Cuban sandwiches."
Your retirement plans probably don't depend on where to find the best Cuban sandwich, but you'll have to be prepared for the fierce and competitive question of which city can put together the best presentation of ham, roasted pork, Swiss cheese, pickles, and mustard on pressed Cuban bread. Both Miami and Tampa are proud of their Cuban culture and dining scenes.
In Tampa, there's family-owned The Cuban Sandwich Shop and local favorite La Teresita. Miami offers Las Olas Cafe on Miami Beach and Old's Havana in the city's Cuban neighborhood.
By the way, that crossword clue? Its answer was Tampa.