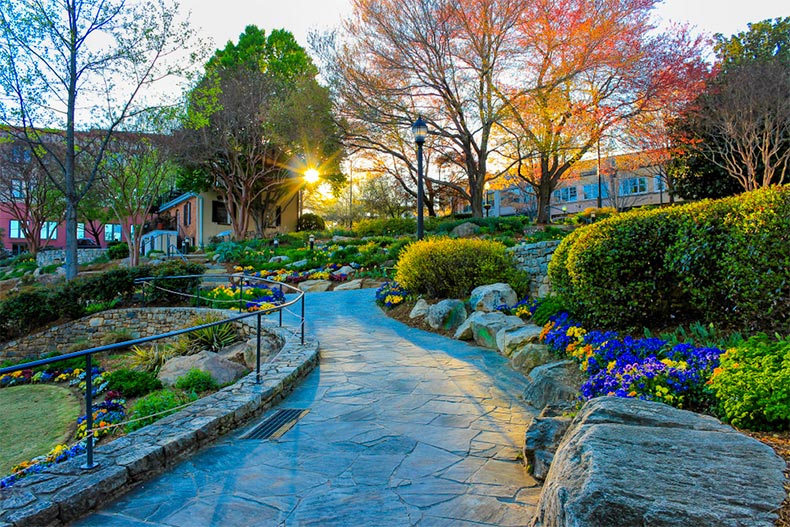 North Carolina's 161 active adult communities might not be the reason retirees move there, but it could be the result.
The state's four-season climate, an abundance of continuing education opportunities, and proximity to cultural and recreational activities have made North Carolina one of the most popular states for retirement in the U.S. As the needs and wants of retirees continue to evolve, that should only continue.
If you've thought about moving to North Carolina it's likely you've been overwhelmed by the number of choices. The state is home to several diverse regions and metropolitan areas. If you're deciding between the coastal cities, the mountains, or the capital, we're here to help.
1. The Triangle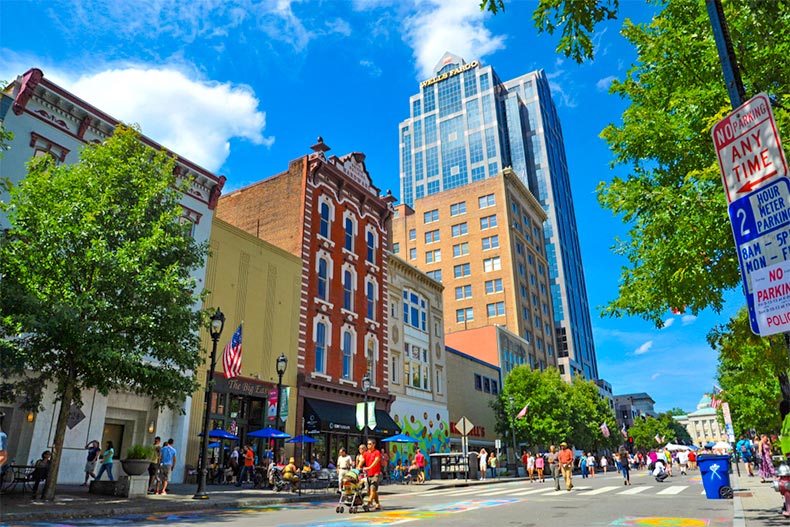 Downtown Raleigh's charm is just one of the many reasons the Triangle is popular among active adults.
Together, Chapel Hill, Raleigh, and Durham make up the popular area nicknamed the Research Triangle, or simply the Triangle. Because it's home to North Carolina State University, Duke University and the University of North Carolina, this region of the Tar Heel state is known for its technology and research facilities.
The Triangle offers plenty of recreational, social, and educational attractions. There are museums, performing arts centers, urban shops, and highly rated restaurants. Raleigh is home to the NHL's Carolina Hurricanes, and baseball fans can go check out the Durham Bulls, the minor league team featured in the movie Bull Durham.
Home to the University of North Carolina, Chapel Hill is a bustling city in Central North Carolina. Residents of this expansive college town stay busy with the abundance of shops, restaurants, and museums available near their lively downtown area.
Popular museums include the Ackland Art Museum and the Carolina Basketball Museum. While the city offers plenty to do, locals looking for a relaxing escape near home are in luck. Chapel Hill is home to many forest preserves, natural areas, and gardens that offer a quiet place to unwind.
Chapel Hill Retirement Communities
North Carolina's state capital offers several entertainment options to active adults. The city boasts a number of history-filled museums as well as historic houses that date back to the 1800s. Music lovers will appreciate that the city is home to a number of festivals throughout the year that feature a variety of genres.
The community features several cultural events throughout the year as well, and hosts a well known local farmers market. Neuse River Trail offers a peaceful walk over the Neuse River. Umstead State Park is a popular destination for locals who enjoy outdoor recreational activities.
Raleigh Retirement Communities
Durham is best known for being home to the distinguished Duke University, however, the city also hosts a number of historic sites from the 19th century that add to its rich culture. Bennett Place Historic Site, Duke Homestead, and Stagville State Historic Site are just a few historic educational centers in Durham.
Famously home to the American Tobacco Historic District, the area showcases the American Tobacco Company's former production site. The city offers several natural areas for locals to take a relaxing stroll, such as Eno River State Park or the Duke University campus. Sarah P. Duke Gardens offer a serene and picturesque way to spend an afternoon.
Durham Retirement Communities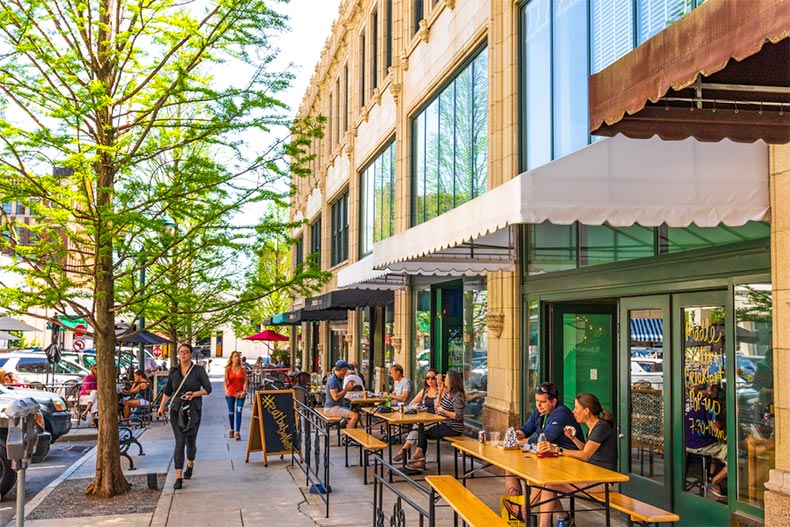 Asheville's quaint setting is unmatched by any other Carolina city.
Largely known for its Art Deco and Beaux architecture, dozens of art galleries, and lush, mountain setting Asheville is one of the most eclectic cities in North Carolina. The city is home to a booming craft beer scene and several popular music venues.
Located at a relatively high elevation, Asheville is the perfect destination for a variety of outdoor activities, such as hiking in the mountains, biking along trails, whitewater rafting, and horseback riding. The Great Smoky Mountain National Park is also just outside of Asheville, making it an easy escape from the city for outdoor enthusiasts.
Asheville Retirement Communities
Located south of Asheville within the Blue Ridge Mountains, Hendersonville is situated in an ideal place for nature lovers. Apple orchards and sweeping vineyards are just part of what make this picturesque city a sought after retirement destination.
The city is home to Holmes Educational State Forest, a scenic spot where locals can enjoy a peaceful hike. Downtown Hendersonville is where residents head to find several trendy shops and restaurants. Hendersonville hosts a number of local annual events like Music on Main Street, North Carolina Apple Festival, and Cider, Wine, and Dine Weekend.
Hendersonville Retirement Communities
3. Charlotte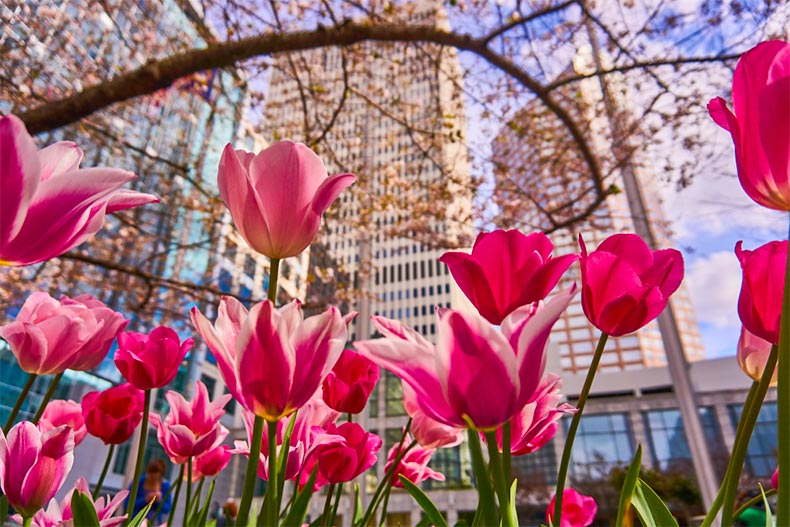 Charlotte is the biggest city and metropolitan area in North Carolina for a reason.
While Charlotte has seven active adult communities within the city, there are 46 in the immediate vicinity, making it one of the top retirement destinations in the state. Located in central North Carolina, Charlotte is an hour away from Myrtle Beach where there is an abundance of golf courses, and Charleston isn't far, either.
If kayakers find the North Carolina river systems too tame, then you can try out the man-made rapids at the National Whitewater Rafting Center, located in Mecklenburg County, just west of Charlotte. The ever-popular Lake Norman is located just north of the city.
Otherwise, Charlotte is popular for its dining, craft breweries, and a laid-back atmosphere. And let's not forget that Charlotte is also the birthplace to NASCAR and home to the sport's Hall of Fame.
Charlotte Retirement Communities
Just across the border in South Carolina, Fort Mill offers a relaxed and quiet lifestyle outside of Charlotte. Residents enjoy golfing at one of the town's many courses, or visiting the South Carolina Strawberry Festival, held each year in Fort Mill. The Anne Springs Close Greenway is a wide-ranging natural space that is popular with locals for taking part in a variety of recreational activities.
The town also features a seasonal farmers market where locals purchase fresh produce for several months of the year. History buffs can visit the Fort Mill History Museum to explore the city's past through the exhibits and artifacts. Charlotte is close enough to Fort Mill for residents to take a quick trip to the big city when desired.
Fort Mill Retirement Communities
4. The Piedmont Triad Cities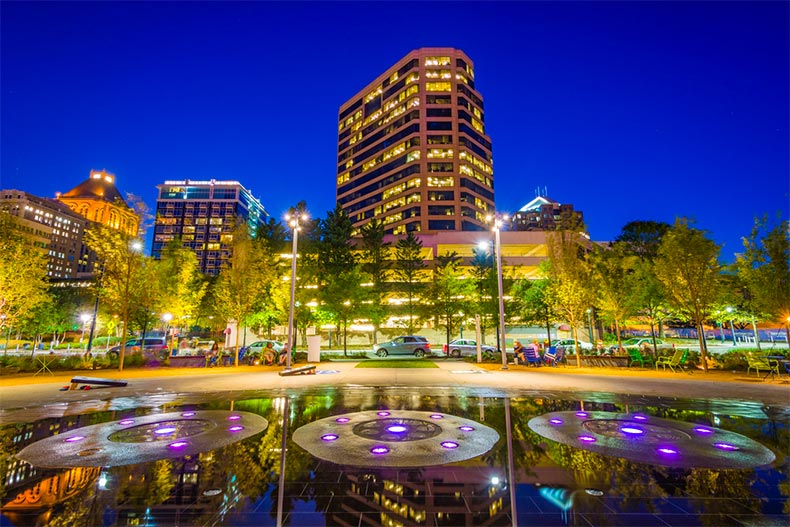 Greensboro, Winston-Salem, and High Point make up North Carolina's Piedmont Triad cities, which is not to be confused with the Triangle region of Raleigh, Durham, and Chapel Hill.
While many 55+ communities are located in the Raleigh-Durham area, there are plenty of low-maintenance neighborhoods in this region. Whether you're a history buff, an outdoor adventurer, a food and wine enthusiast, or a sports fan, the Piedmont Triad area in central North Carolina offers plenty to do, including festivals, golf courses, shopping, museums and historical sites to restaurants and wineries.
Fitting to its name, Greensboro also offers a number of outdoor areas and natural parks for locals to explore. Popular destinations include Bog Garden at Benjamin Park or the Greensboro Arboretum.
Those looking for indoor recreation will find that Greensboro is full of historic and educational museums, such as the Greensboro Science Center and the Greensboro History Museum. Art galleries and antique shops are frequently spotted throughout Greensboro. The large number of activities available provides plenty of entertainment options for residents of all ages.
Greensboro Retirement Communities
Residents seeking a city where activities range from exploring the outdoors to visiting a renowned local art museum will find plenty of opportunities in Winston-Salem. The city is home to many natural parks, including Salem Lake, where residents can enjoy boating or fishing during the warmer months.
The famous Reynolda House Museum of Art, showcasing American artwork from the past and present, is located in Winston-Salem. Several local breweries provide residents with a relaxing space to unwind and socialize.
Winston-Salem Retirement Communities
High Point makes up part of the Piedmont Triad along with Greensboro and Winston-Salem. Locals will find that there are plenty of fun ways to get outdoors in High Point. The High Point City Lake Park offers a variety of activities for locals to enjoy such as fishing, boating, mini golf, and swimming. High Point is also less than an hour drive away from the Uwharrie National Forest for anyone looking to escape into nature. Golfers in High Point will find that the city is home to several sweeping golf courses. The area is also home to plenty of shopping and dining opportunities.
High Point Retirement Communities
Located off of Cape Fear near the Atlantic Ocean, Wilmington offers residents optimal scenery with a peaceful riverwalk and plenty of nearby beaches. Its close vicinity to the water makes Wilmington a desirable retirement destination for those who enjoy outdoor recreation.
The historic downtown area is a popular scene for locals to find many unique shops and restaurants. Nature lovers can find a quiet escape in the many decorated gardens and arboretums of Wilmington.
Wilmington Retirement Communities
Southport is near Wilmington but offers plenty of small town charm to residents. Many admire the quaint city, as over 42 movies and television shows have been filmed in Southport. Residents of Southport can enjoy taking a ferry out on the water or a peaceful stroll along the pier.
The area's museums include the North Carolina Maritime Museum and the Old Brunswick County Jail Museum. The city is also home to several antique shops, art galleries, and even a local brewery and winery.
Southport Retirement Communities