Some of the many reasons why active adults retire in Tennessee include the abundance of scenic outdoor recreation, the moderate four-season climate, and the retirement-friendly taxes. The Volunteer State also offers a variety of active adult communities with options to suit any lifestyle. The largest active adult community in Tennessee, and one of the most popular, is Fairfield Glade.
With plans for 4,000 single-family, attached, and condominium homes across 12,000 acres, Fairfield Glade features a range of floor plans in many styles, sizes, and budgets. The world-class amenities include several 18-hole championship golf courses, marinas, restaurants, boating lakes, fitness centers, and hiking trails. Residents can even access churches, a mall, and a medical center within the master-planned community.
The resort-style amenities and lifestyle activities reveal that residents of Fairfield Glen have plenty of things to do close to home. But when active adults want to explore the area, they can easily hit the road and access the surrounding southeastern states with day trips, overnight stays, and extended vacations.
Here are some of the best road trips from Fairfield Glade.
Asheville, North Carolina
Driving Time From Fairfield Glade: 3 hrs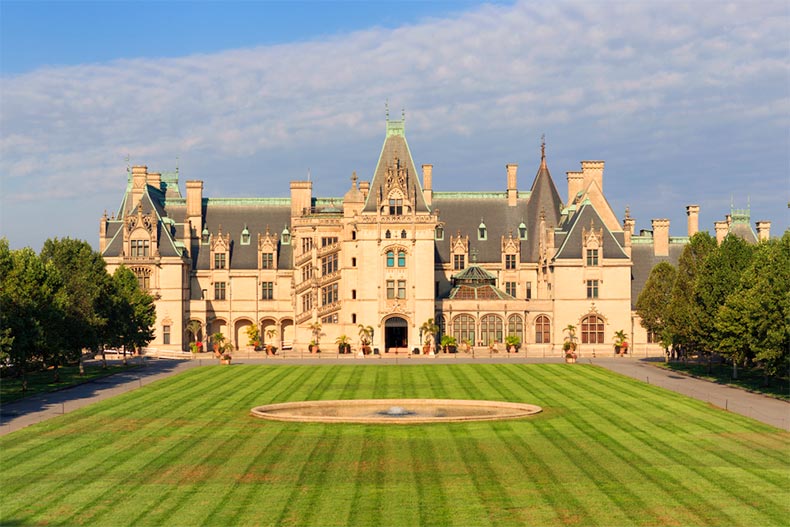 A three-hour scenic drive along Interstate 40 with views of expansive forests and rocky mountain ranges can transport Fairfield Glade residents to the city of Asheville. With a small-town feel, Asheville offers something for everyone to explore, including arts and cultural attractions, festivals and events, local music, restaurants, natural wonders, and one-of-a-kind things to do and experience.
Some of the most popular attractions in Asheville include the 8,000-acre Biltmore Estate, Botanical Gardens at Asheville, Folk Art Center, Downtown Asheville, and the Western North Carolina Nature Center.
Those who enjoy the journey as much as the destination can easily continue their road trip from Asheville to the Blue Ridge Parkway, one of the most iconic scenic drives in the country. The 469-mile parkway spans from the Great Smoky Mountains National Park in North Carolina to Shenandoah National Park in Virginia. Nature enthusiasts can see blooming flowers in spring, fall colors in autumn, and breathtaking mountain landscapes every day in between.
Atlanta, Georgia
Driving Time From Fairfield Glade: 3 hrs 30 min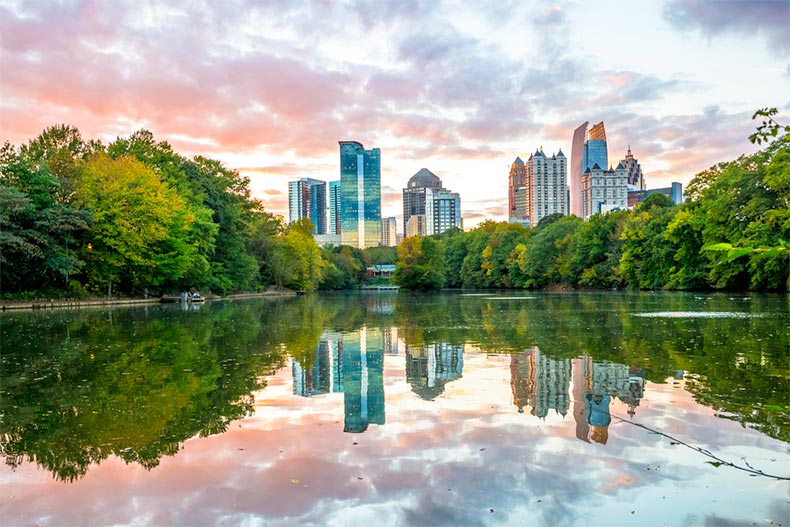 The road trip to Atlanta may be one of the longer drives on this list, but the opportunity to explore all that the city has to offer more than makes up for the length of the road trip. Residents of Fairfield Glade can get to Atlanta by traveling south on scenic U.S. Route 27 to Chattanooga, then connecting to I-75 the rest of the way down through Georgia.
Located in the heart of The Peach State, the ATL is a place rich with culture of every kind, from food to art to music. If visitors are hungry, they can travel along the Buford Highway Corridor, a 10-mile stretch with over 1,000 ethnically diverse restaurants and eateries. For a night out on the town, active adults can explore one of the city's many museums, socialize at a club or a bar, or even see the world-renowned Atlanta Symphony Orchestra.
Visitors on their way to or from Atlanta can also easily spend a day in the great outdoors in one of the city's many parks, greenways, and natural areas. One of the most recognized parks in Atlanta is Piedmont Park, which hosts community events like weekly farmers markets and bustling concerts like the Atlanta Jazz Festival.
Chattanooga, Tennessee
Driving Time from Fairfield Glade: 1 hr 45 min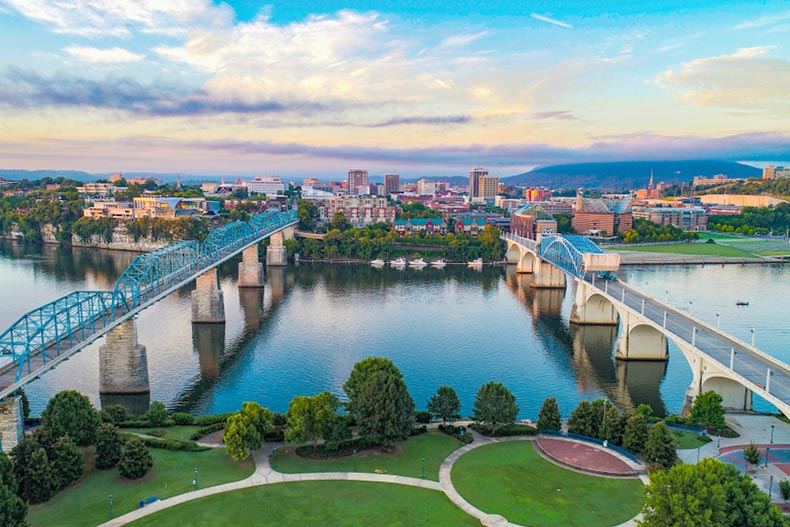 Although the city of Chattanooga may not receive as much attention as some of the other major cities in The Volunteer State, the "Scenic City" holds its own in terms of road trip-worthy attractions. To get there from Fairfield Glade, simply drive south on U.S. Route 27, a scenic stretch of highway bordered by numerous state parks, forests, and rivers.
Chattanooga has a lot to offer visitors, including several museums, zoos, aquariums, and live music venues. The city also boasts world-class natural areas, such as Chickamauga Lake, that provide access to adventurous outdoor recreational activities like kayaking, hiking, biking, and fishing.
Just outside of the city is Lookout Mountain, a must-see destination home to three world-class attractions. The things to see at Lookout Mountain include the Incline Railway, America's steepest passenger railway, Ruby Falls, "America's tallest and deepest underground waterfall," and Rock City, a natural area with an overlook where visitors can see seven different states on a clear day.
Great Smoky Mountains National Park
Driving Time From Fairfield Glade: 1 hr 45 min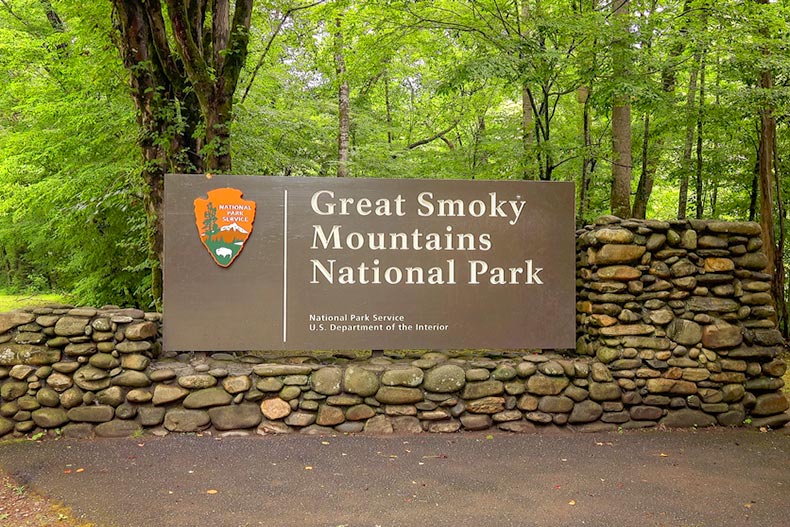 For many road trip enthusiasts, a journey to the Great Smoky Mountains National Park may be one of the most fulfilling and worthwhile destinations within driving distance of Fairfield Glade. The park and the surrounding area offer world-class attractions and views to visitors, and residents of Fairfield Glade can reach the western edge of the park within 1 hour and 45 minutes by heading west on I-40, then southeast on Route 72.
The Great Smoky Mountain National Park has seemingly endless hiking, biking, and walking trails as well as overlooks to explore. There are also scenic drives within the park, like Cades Cove and the Foothills Parkway, that allow active adults to enjoy some of the most stunning views the park has to offer from the comfort of their vehicles.
For entertainment outside of the National Park, nearby areas like Townsend, Gatlinburg, and Pigeon Forge are minutes away from the edge of the park. These towns in the foothills of the Smoky Mountains feature abundant restaurants, attractions, and accommodations for visitors.