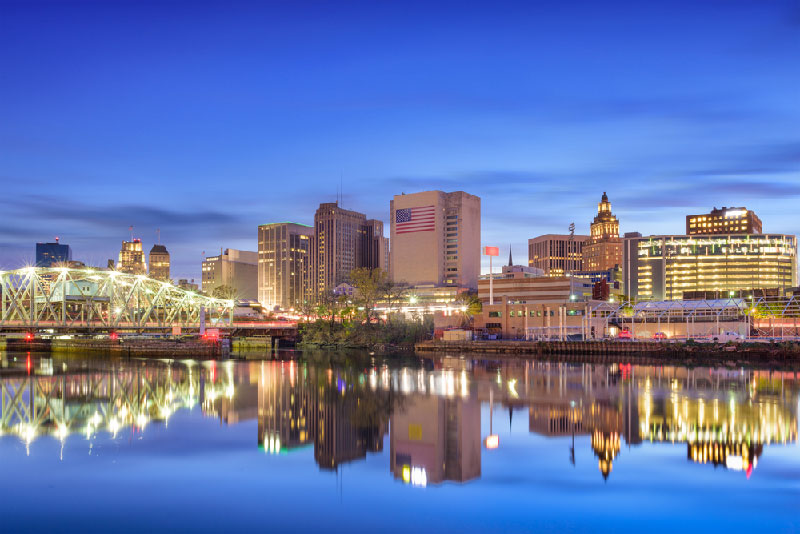 Most retirees think of Florida, Arizona, or California as their ideal retirement destination. But they shouldn't overlook New Jersey because it has plenty to offer. The Garden State has more than 200 active adult communities making it the second state with the most age-restricted neighborhoods in the U.S.
New Jersey is becoming a more popular retirement destination for many Baby Boomers because of its appealing qualities such as a central location along the East Coast, varying landscapes, and tax benefits. Some of the desirable age-restricted communities in New Jersey also offer resort-style amenities and a vibrant atmospheres perfect for the active adult crowd. Baby Boomers can spend their Golden Years staying social and fit while having fun in some of New Jersey's best 55+ communities.
As one of the largest 55+ communities in New Jersey, Holiday City at Berkeley has more than 10,000 homes and is made up of individual neighborhoods that include Holiday City Heights, Holiday City Carefree, Holiday City South and Holiday City West. Each neighborhood has its own homeowners' association, clubhouse, and list of activities. Residents living in this active adult community have endless options for fun and entertainment. With six clubhouses and an amazing schedule of activities, events, classes, and clubs, there's always something to do in this thriving age-restricted community.
Silver Ridge Park is an active adult community in Toms River, NJ that has 3,169 residences. This 55+ community is divided into four separate neighborhoods that have their own homeowners' association, clubhouse, and recreational activities. Silver Ridge Park is a friendly and welcoming community with plenty of activities for all residents to enjoy as well as great social spaces where neighbors can mingle and build lifelong friendships.
Located in Manchester, Leisure Village West is a beautiful 55+ community that consists of 2,692 residences. This active adult community provides reasonably priced attached homes, a rich lineup of amenities, two nine-hole golf courses, and more than 50 social clubs. Active adults won't have a hard time picking up a new hobby and sharing interests with neighbors in this vibrant neighborhood.
Leisure Village in Ocean County, NJ is an established age-restricted community that was developed between 1960 and 1970. Leisure Village features resort-style amenities, low-maintenance homes, and an active social calendar with a variety of clubs, classes, activities, and events. This active adult neighborhood is centrally located near major roadways that provide easy access to entertainment and attractions in surrounding areas like New York City, Atlantic City, and Philadelphia.
This award-winning 55+ community in Monroe resembles a New England village with old-fashioned street lamps set on 418 acres of land. It consists of 2,303 homes that come in a variety of styles and at affordable prices. Rossmoor Village features a 30,000 square-foot clubhouse, 18-hole golf course, recreation department, and health center. Residents also enjoy a wide selection of clubs, activities, and events to choose from such as Zumba, line dancing, shuffleboard, open art classes, and computer club.
Situated in Southampton Township, Leisuretowne enjoys a desirable location set among picturesque lakes and beautiful pine trees for a quiet and calm environment. This age-restricted community has 2,255 homes that are reasonably priced and offer a low-maintenance living. Homeowners also enjoy world-class amenities in this 55+ neighborhood such as two spacious halls for recreational and social opportunities, tennis courts, outdoor pool, bocce ball courts, driving range, and community transit.
Clearbrook is an affordable age-restricted community located in Middlesex County in Central New Jersey. With just over 2,000 homes, residents can easily meet new neighbors to build lasting friendships in this close-knit setting. Homeowners have two clubhouses to spend their days participating in social events and staying physically fit. The 25,000 square-foot clubhouse also offers a health center, outdoor amphitheater, nine-hole golf course, outdoor pool, and multiple sports courts for pickleball, tennis, and bocce ball. Clearbrook is the ideal active adult community because of its busy social calendar. Residents can enjoy everything from boomers group, scrabble, and chair dance to chess, table tennis, and water aerobics.
Greenbriar is a charming active adult neighborhood in Monroe, NJ. This luxurious 55+ community has world-class amenities in its 30,000 square-foot clubhouse. It offers plenty of social spaces where homeowners can meet for clubs and activities as well as areas for staying in shape. Residents have access to a billiards room, ceramics studio, ballroom, indoor pool, indoor walking track, aerobics studio, and exercise room. Other amenities include a 9-hole golf course, outdoor pool, and multiple sports courts for tennis, pickleball, bocce ball, and shuffleboard. Greenbriar also features an on-site restaurant and R.V. parking to accommodate residents.
This beautiful golf course active adult community is ideally situated halfway between Philadelphia and New York City. Renaissance at Manchester consists of 1,904 low-maintenance single-family homes and features a 30,000 square-foot clubhouse with a rich lineup of luxurious amenities. Residents enjoy a state-of-the-art fitness center, indoor pool, and saunas for the ultimate relaxation. Homeowners also enjoy an on-site deli and café, woodworking shop, billiards room, and card room for social gatherings with friends. Residents stay active outdoors as well. They can play on the tennis, basketball, shuffleboard, and bocce ball courts. An 18-hole, par 63 golf course is one of the main attractions in this active adult community. The Christopher Cummins-designed course features 4,262 yards of lush greens from the longest tees.
Concordia is a 55+ community in Middlesex County and has 1,757 residences that come in a variety of styles and sizes. This active adult neighborhood features a multi-million dollar clubhouse that has luxurious amenities perfect for retirees and Baby Boomers. The clubhouse features amenities that support a healthy and active lifestyle such as an aerobics and dance studio, state-of-the-art fitness center, indoor pool and spa, sauna, and ballroom. Residents can stay active outdoors by using the swimming pool, tennis courts, and bocce ball courts. Homeowners can also opt for a golf membership to play on the 18-hole Concordia Golf Course.