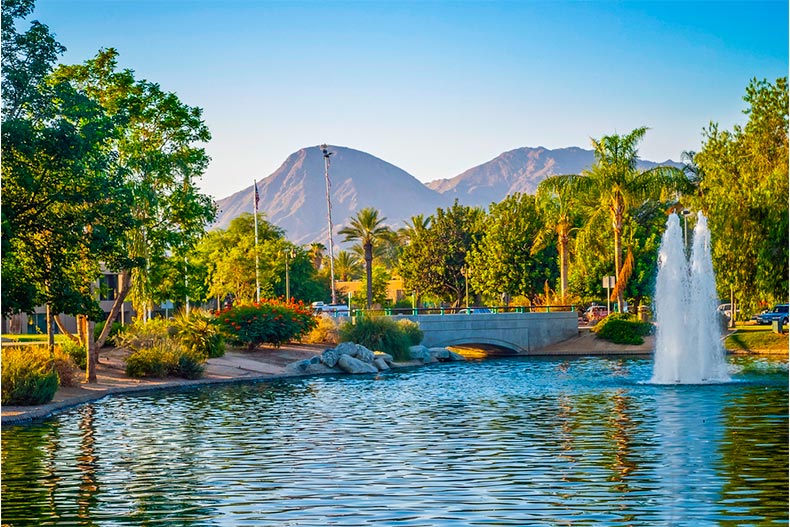 Palm Springs is Southern California's favorite weekend getaway spot. Whether you're sunbathing by the pool or exploring the beautiful rugged terrain, the Palm Springs area packs in a full itinerary for every interest. Before you plan your next trip to Palm Springs, check out our list of the best things to do and places to visit.
Ride the Palm Springs Aerial Tramway
Palm Springs is surrounded by stunning desert landscapes and mountains, most notably, San Jacinto Mountain, which is the highest peak in Riverside County. With the Palm Springs Aerial Tramway, you can ascend straight up San Jacinto Mountain while enjoying breathtaking views.
The tramway is the largest of its kind in the world, and it takes riders on a two-and-a-half mile journey up the mountain. At the top, visitors can enjoy views from the observation decks, explore the natural history museum, grab a bite at one of the two restaurants, or hike the mountain with over 50 miles of trails.
Take Advantage of Great Shopping in the Area
With its mixture of high-end retail shops, outlet malls, and eclectic boutiques, the Palm Springs area is a shopper's paradise. Be sure to visit El Paseo Shopping District, also known as "Rodeo Drive of the Desert." This mile-long shopping district in Palm Desert features more than 300 clothing shops, art galleries, restaurants, jewelers, and more. It's the perfect place to stroll around while enjoying California's sunshine. Desert Hills Premium Outlets are also a must-visit when heading to Palm Springs. This outdoor mall located about 20 minutes west of Palm Springs is home to the largest collection of luxury outlets in California.
For those who prefer to support local businesses when shopping, visit the Palm Springs Villagefest. This unique open-air market is held every Thursday evening in downtown Palm Springs along scenic Palm Canyon Drive. Villagefest features over 180 vendors selling clothing, health and wellness products, art, jewelry, food, and more. It's free to attend, and the event often features live entertainment as well.
Explore the Coachella Valley Preserve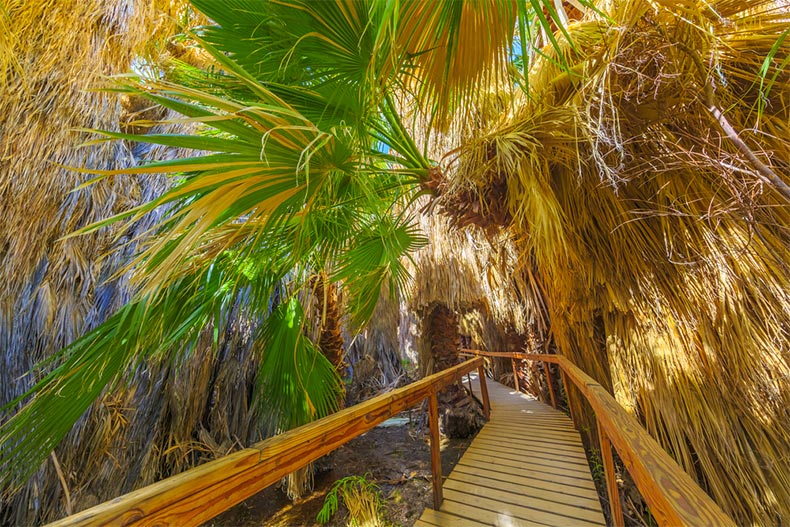 Outdoor adventure is almost limitless in the Coachella Valley Preserve.
For outdoor enthusiasts, a trip to the Coachella Valley Preserve is sure to be a treat. Located about 17 miles east of Palm Springs, this oasis consists of lush palm trees and wetlands hidden in the middle of the desert. The preserve covers more than 20,000 acres and also encompasses the Thousand Palms Oasis Preserve. Together, these preserve areas have miles of hiking trails, allowing visitors to explore rare plant and animal life.
Enjoy a Game of Golf
Palm Springs offers some of the best golf in the state. The area is home to well over 100 golf courses, with many designed by renowned architects, such as Arnold Palmer, Greg Norman, and Jack Nicklaus. With stunning mountain backdrops, these beautifully landscaped courses draw golfers of all skill levels. For those seeking something a bit different, Indian Wells Golf Resort now offers "Shots in the Night." This after-dark golf experience features light-up targets, glowing golf balls, putting green activities, food truck dining, cocktails, and more.
Visit the Palm Springs Art Museum
The Palm Springs Art Museum is conveniently located in downtown Palm Springs, making it a perfect stop as you explore the city. Since 1938, The Palm Springs Art Museum has remained a local gem for art and culture. The museum's collection features significant works, including pieces by Andy Warhol, Pablo Picasso, Roy Lichtenstein, Ansel Adams, and more. The exhibits also include historical indigenous works. Local insider tip: Admission to the museum is free every Thursday from 4:00 p.m.– 8:00 p.m.
To explore 55+ communities in Palm Springs, CA, check our list of communities in the area.