Pork roll vs. Taylor Ham. Sub vs. hoagie. Bruce Springsteen vs. Bon Jovi. Giants vs. Jets. New Jersey is full of factions split from arguments over which side is right. However, there is no argument that succinctly defines the Garden State quite like North Jersey vs. South Jersey.
When it comes to retirement and active adult communities, that preference is just as strong. So it's time we figure out once and for all, which side of the state is better for active adults? (All due respect to Central Jersey, which does indeed exist, but that's an argument for a different time).
Geography
Opinions vary but North Jersey runs roughly from the very top of the state down to along the Interstate 78 corridor, which runs east-west from Warren to Hudson counties. The region below I-78 may or may not be considered North Jersey depending on whether or not you believe Central Jersey is a thing (again, it is). Some people will tell you that North Jersey is everything north of I-295 in the western part of the state and everything north of I-195 in the eastern part of the state. Others still will say anything in the 201 area code qualifies.
However you define North Jersey, it offers a wide variety of landscapes, from the urban setting of Newark to the suburban sprawl of Morris County to the elevated woodlands of Warren County. North Jersey is usually associated with New York City as many residents work there, or at the very least, root for their sports teams.
Meanwhile, South Jersey is generally understood to be everything south of and including Burlington and Ocean counties. The questionable region is that central bit made up of Mercer, Middlesex, and Monmouth counties which could all be considered North, Central, or South Jersey depending on who you ask (if you ask us, it's Central). The general rule of thumb seems to be anything south of I-195.
South Jersey also offers up all sorts of geographic options. The most obvious of which is the Jersey Shore and its boardwalk-lined beaches. But there's also the mighty Pine Barrens and surrounding farmlands as well as urban centers such as Atlantic City and Camden. South Jersey aligns itself most often with Philadelphia and includes many "streetcar towns" where people commute to work across the Delaware River.
Cuisine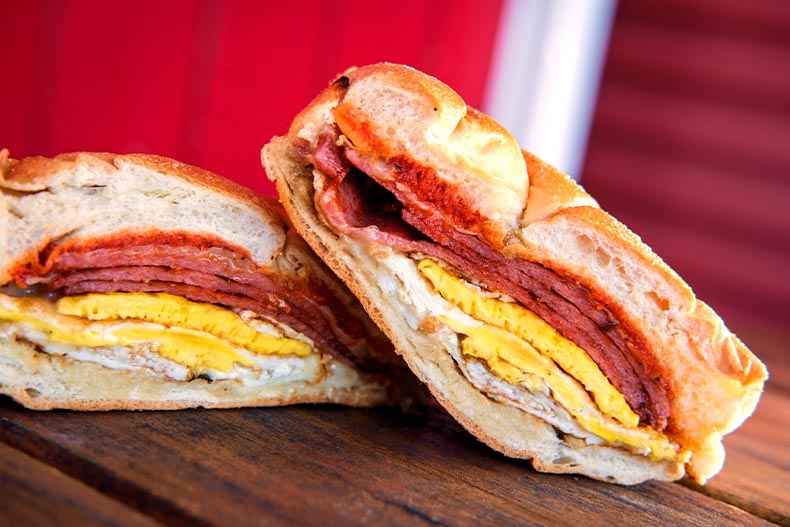 The most important rule of thumb is this: If you're in North Jersey, you eat subs and Taylor Ham. If you're in South Jersey, you eat hoagies and pork rolls. The debate over the correct term for the minced ham product developed by John Taylor will never end, so it's best to just stick to how the locals say it. The same goes for the name of a long sandwich filled with meats, cheeses, and veggies. Argue either at your own risk. Better yet, just find the nearest diner, get a plate of fries or a couple of bowls of matzo ball soup and just fuggedaboutit.
Still, it's worth pointing out that New Jerseyans eat more than just pork products and long sandwiches. North Jersey has its own version of the Sloppy Joe made up of cold cuts, rye bread, Russian dressing, and coleslaw. Opinions vary but Reservoir Restaurant in South Orange is said to be the state's best pizzeria. Head to Harold's New York Deli in Edison and find out just how high a pastrami sandwich can rise. To say nothing of all the culinary gems lurking in Newark, Hoboken, and Jersey City would be a disgrace. When North Jersey eats, it eats well.
For its part, South Jersey changes a little more at its own pace. Hot dogs, boardwalk fries, and soft-serve ice cream reign supreme in the culinary scene of the Shore. Philly might be known for its cheesesteaks, but Anthony Bourdain swore up and down that Donkey's Place in Camden made them even better. Frank's Deli in Asbury Park gives North Jersey a run for its money when it comes to homestyle comfort foods. And sure, Atlantic City is full of both modern and classic restaurants, but the saltwater taffy at James Candy is a standout treat.
As for which region gets to lay claim to the Trenton tomato pie, that depends on where your borders are (For what it's worth, we'd say Central).
Climate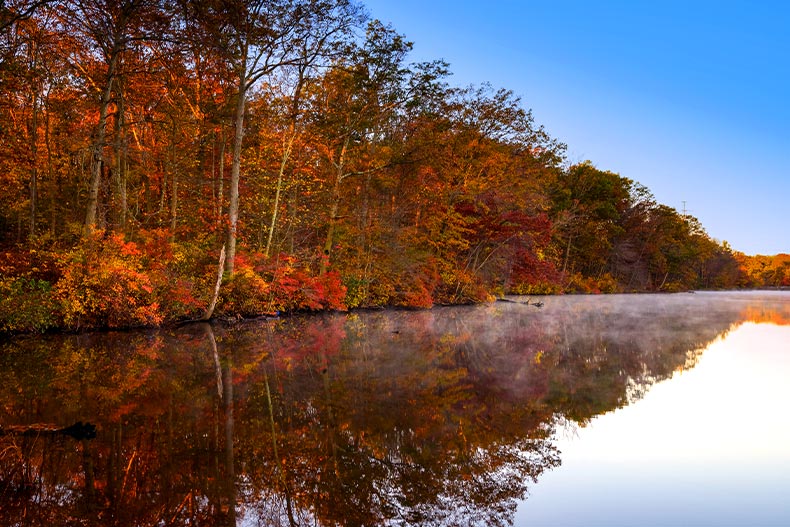 Outsiders assume it must be the same in New Jersey wherever you are because of its size, but you will definitely notice some temperature and climate differences depending on where you are. In fact, New Jersey has five distinct climate regions—Northern, Central, Pine Barrens, Southwest, and Coastal.
In North Jersey, the Northern and Central regions tend to have slightly cooler temperatures, especially in the northwest. The northern part of the state also tends to get more rainfall and snowfall. It is, however, an ideal location for fall foliage seekers who want to experience the changing colors each year.
South Jersey is more likely to get higher daily temperatures on average, but those close to the Shore tend to keep cool thanks to the ocean breezes. Incidentally, the coastal region tends to experience warmer temperatures than the interior of the state during fall and early winter because the ocean is warmer than the land surface.
You'll notice the temperature difference between the two regions the most during summer and winter, while they're more likely to be relatively similar in the spring and fall.
Cost of Living
No matter where you live in New Jersey, the cost of living is likely to be on the higher side compared to most of the country. NJ residents pay out an average of nearly 10 percent of their income in taxes, and Garden State property taxes are the highest in the nation. In 2018, the state passed a law to provide a potential loophole on those property taxes, and there are multiple exemptions and reimbursement programs to help active adults cut down on their tax bills.
In many North Jersey municipalities, property taxes can get a bit unwieldy. It's not uncommon to see a property tax bill exceeding $15,000. So, we'll have to give this category to South Jersey in terms of affordability. In fact, Salem County, Gloucester County, and Cumberland County are frequently listed as the places with the lowest cost of living in NJ.
Recreation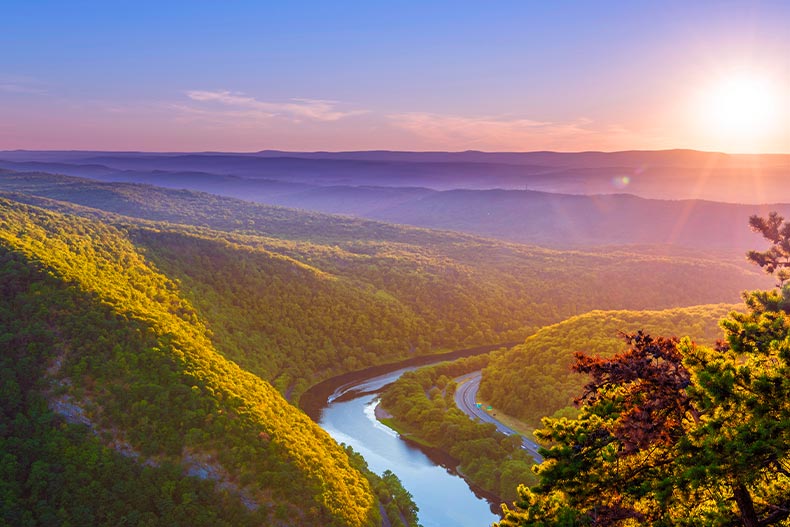 The question isn't really what can you do but what would you like to do, because both North and South Jersey have tons to offer.
In South Jersey, good luck choosing from Shore towns like Belmar, Point Pleasant, Seaside Heights, and Wildwood for boardwalk strolls, beach days, and amusement park rides. There's an abundance of walking and hiking to be done in and around the Pine Barrens. You could easily spend whole days enjoying everything Princeton, Cape May, and Asbury Park have to offer. There are also countless farm areas, nature preserves, and state parks to explore. Plus, there is Atlantic City and Monmouth Park Racetrack for residents looking to test their luck.
In North Jersey, nature lovers have Delaware Water Gap, High Point State Park, and the Delaware River to consider. Sports fans have access to the NFL's Giants and Jets, NHL's Devils, and easy access to all the sports teams of NYC. The Hoboken Waterfront and Liberty State Park offer great day trip destinations and sightseeing. Plus, for fans of shopping malls, North Jersey has those in spades.
Communities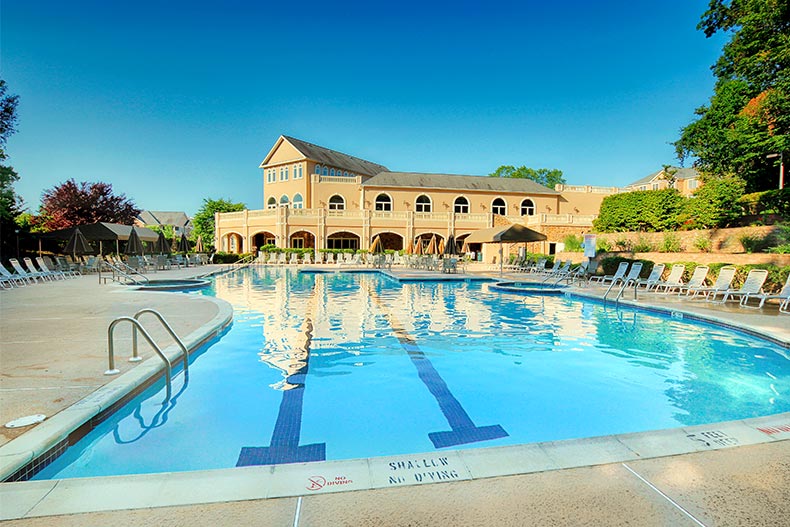 By now, you've probably made your pick. Then, the question becomes, where should I live? That's no small task since there are more than 300 active adult and active lifestyle communities to choose from in the state. And, for what it's worth, multiple New Jersey communities regularly make 55places' list of the most popular active adult communities, so there are a lot of great ones to choose from.
In North Jersey, those looking for affordability might want to consider Bald Eagle Commons in West Milford, Fox Hills in Rockaway, or Clove Hill Manor in Wantage.
Those who want easy access to New York City might want to look at Enclave at Shackamaxon in Scotch Plains, Shoregate in South Amboy, or Four Seasons at Great Notch Spa and Club in Woodland Park.
Buyers interested in a more luxury lifestyle should check out Four Seasons at The Promenade in Warren, Bear's Cove in Ramsey, or Four Seasons at Ridgemont in Montvale.
Bargain seekers looking in South Jersey will want to keep an eye on Leisure Knoll in Manchester, Rossmoor Village in Monroe, and Covington Village in Lakewood.
Those looking for easy access to Philadelphia should consider looking at The Plaza Grande at Garden State Park in Cherry Hill, Four Seasons at Forest Meadows in Sicklerville, and Montebello in Berlin.
Buyers with less budget contraints might want to visit Four Seasons at Metedeconk Lakes in Jackson, The Monmouth in Wall, and Princeton Windrows in Princeton.