Where are the most affordable places to snowbird in Arizona? The whole state appeals to snowbirds, which is why Sun City, the country's first 55+ active adult community, was built there. But it's a large state, the 6th-largest in the nation, and some places are more affordable for snowbirds than others.
1. Sun City
Population: 39,348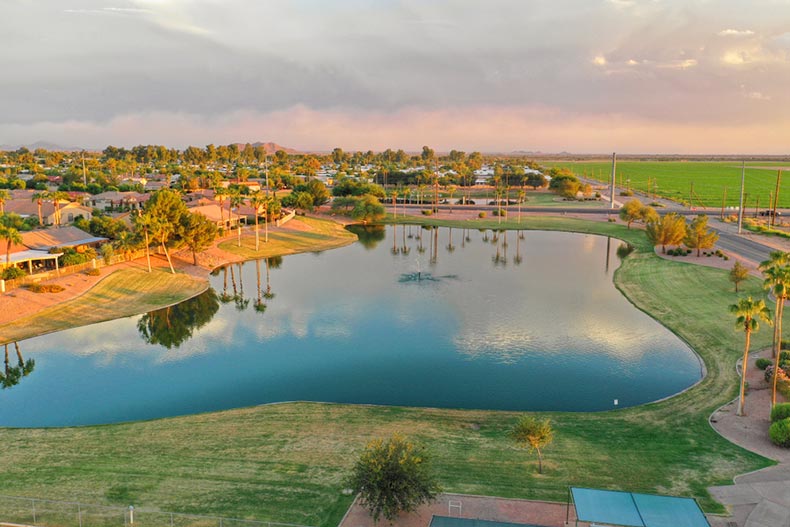 As both a city and a 55+ community, Sun City opened on January 1, 1960. It was the dawn of a new decade and of a new experiment in living. No one had built a community aimed at 55+ active adults before, and Del Webb was taking a gamble. The gamble paid off, and 60 years later, Sun City still remains one of the most desirable and most affordable active adult communities in Arizona.
Because of its size (over 27,000 homes), Sun City remains affordable with a steady turnover of homes for sale. The cost of living here is 5.1 percent below the national average, with 94 percent of the population over the age of 50. Other attractions include the appealing climate of Central Arizona, with mild winters and virtually no snowfall. It's the perfect place for snowbirds, allowing many of them to avoid the harsh winters of places like the Midwest and New England.
House prices here start below $100k, and if you just want a small bolthole for the winter, you can even pick up one-bedroom properties for below $60k. This makes Sun City one of the most affordable places for snowbirds wanting to head for the Arizona sunshine. It also makes for an inexpensive way to find out if a community like Sun City is right for you before moving to Arizona permanently.
Sun City's many amenities are open to all residents, whether you spend $60k on a studio or $800k on a large detached single-family home. There are 11 golf course (three of them private), 19 shopping areas, seven recreation centers, numerous indoor and outdoor swimming pools, a hospital, 30 churches, a synagogue, two libraries, a performing arts theater, countless arts and crafts studios, and facilities for many sports including tennis, pickleball, softball, racquetball, and mini golf.
Request more information about Sun City.
2. Green Valley
Population: 21,723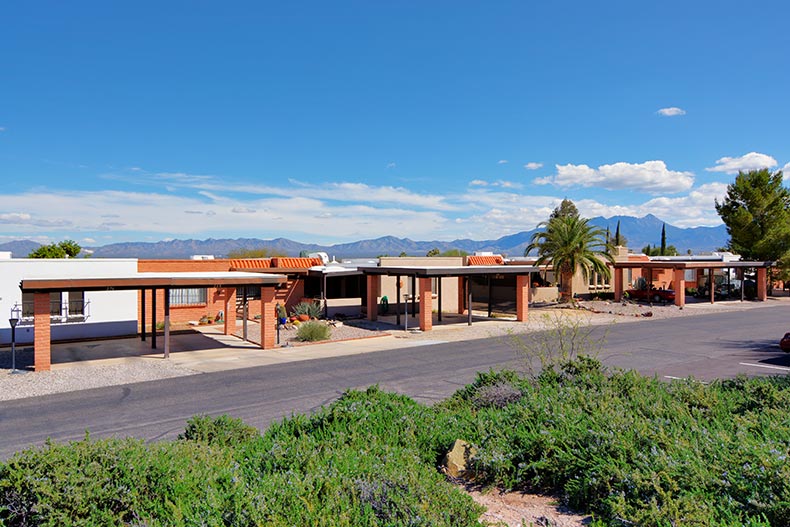 Although Sun City is acclaimed as the first 55+ active adult community, Green Valley in Southern Arizona was just as innovative in its own way. It was founded in 1964, not as a single community but as a town made up of many communities with the aim of attracting retirees and snowbirds. In its early days, many homes had no age-restriction, but today, about 95 percent of the population is over the age of 50, and there are 38 retirement communities within Green Valley and two more in neighboring Sahuarita.
The cost of living here is 8.5 percent below the national average, even lower than Sun City, making this another of the most affordable places in Arizona for snowbirds. Part of the reason for this is that Green Valley remains an unincorporated community without all the running costs of a small town, though it does have a hospital, a fire station, a library, and a sheriff's office.
Many of the homes in Green Valley's communities belong to an organization called Green Valley Recreation (GVR). This also dates back to the founding of Green Valley and was specifically set up to provide the amenities of a typical 55+ active adult community to any household wishing to join. Some communities do have their own amenities in addition to GVR's, while others have fewer facilities and owners rely on using GVR's for an annual fee. Be aware: If looking to buy a home in Green Valley, some houses belong to GVR and some don't. Also, membership is tied to the deed of the house, not to its owners, and is permanent.
Green Valley really appeals to snowbirds, and in the summer months, it can seem like a ghost town. The summer heat can be fearsome, and snowbirds are happy to retreat to the cooler summers back home. By February the average high is inching towards 70 degrees, with March/April and October/November being near-perfect weather.
In the winters, snowbirds enjoy a wealth of amenities. In addition to any facilities in a resident's own community, GVR offers seven major recreation centers and six smaller satellite centers. Between them, they provide six fitness centers, several pools and spas, arts and crafts studios, a performing arts theater, and sports facilities including tennis and pickleball courts, with a new 24-court pickleball complex currently under construction. GVR also has over 60 clubs and offers over 1,000 classes to its members every year.
Homes for sale in Green Valley's active adult communities start at under $100k. Also, it's only about a 40-minute drive to the Mexican border town of Nogales, where residents can take advantage of cheaper prescription drugs and dental practices.
Request more information about Green Valley or Green Valley Recreation.
3. Tucson
Population: 545,987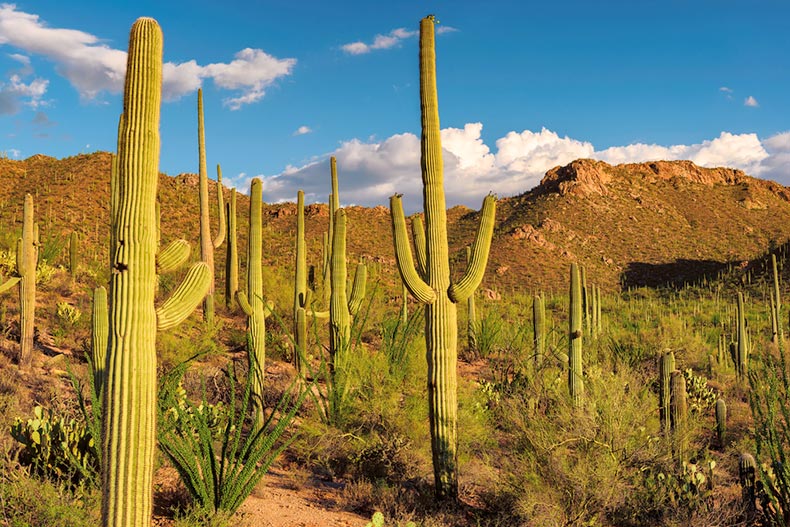 For those who prefer the facilities of a big city, Tucson also has some of the most affordable snowbird homes in Arizona. It has a low cost of living, at 8.4 percent below the national average, and enjoys the mild Southern Arizona climate with little snowfall and less than 12 inches of rain annually. It's the ideal climate for snowbirds.
Tucson is Arizona's second-largest city after Phoenix. With a population of about 550,000, the city has a more intimate feel. It also has all the amenities of a big city, including an airport, theaters, cinemas, and a vibrant restaurant scene. It's also one of only two UNESCO Cities of Gastronomy in the USA.
55+ Communities Near Tucson
There are many active adult communities in and around Tucson, with the largest being SaddleBrooke Ranch at 5,400 homes. One of the most affordable communities for snowbirds is Casitas de Castilian, which has just 116 homes with prices starting below $100k.
With smaller communities, homes come on the market less often, so a better bet is to look at larger communities like SaddleBrooke. SaddleBrooke's amenities include two 18-hole golf courses, a performing arts theater, two fitness centers, numerous arts and crafts studios, three outdoor pools, and courts for tennis, volleyball, basketball, and badminton. Downtown Tucson is a 45-minute drive south of SaddleBrooke, which is close to the foothills of the Santa Catalina Mountains.
Request more information about SaddleBrooke.
4. Yuma
Population: 95,573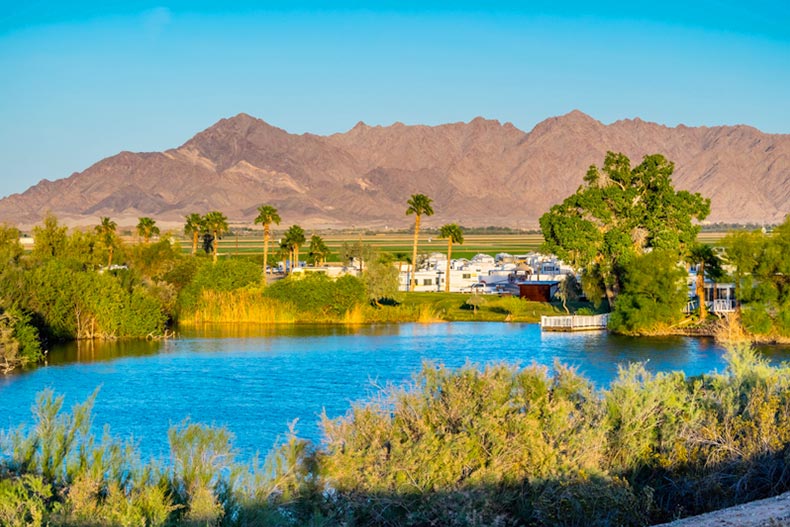 Yuma is another of the more affordable places for snowbirds in Arizona, with a cost of living that's 11.8 percent lower than the national average. It also has those mild Southern Arizona winters. Yuma is the driest and sunniest center of population in the contiguous United States, with less than four inches of rain a year. For over half the year, the average daily temperature reaches 90 degrees, and even in December, it averages eight hours of sunshine per day.
Yuma is in the far west of Arizona on the border with California, putting San Diego and the California coast within a 3-hour drive. Palm Springs is a similar distance, and both Phoenix and Tucson are three hours away. Yuma is also only a few miles from the Mexico border. Many residents drive into Mexico to take advantage of cheap prescription drugs, dental treatment, and medical care. In this area, snowbirds tend to live in one of the 60 or so RV resorts that exist in and around the city.
5. Kingman
Population: 29,244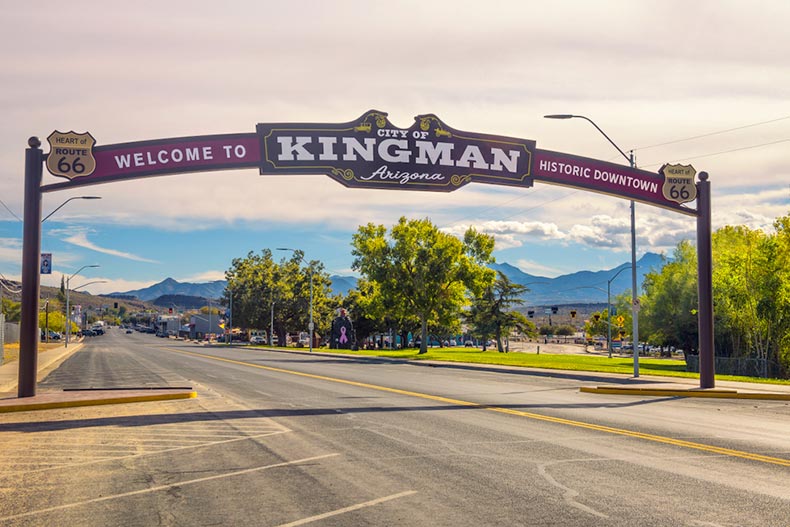 Kingman is one of the most affordable places of all for snowbirds in Arizona, with a cost of living that's a full 15 percent lower than the national average. It's located in Northern Arizona, so it does experience real winters with some snowfall possible from November through April but only in small amounts. Winter days are cooler than in Southern Arizona, but with an average December/January high of 56 degrees, snowbirds will find it a lot more preferable than places like the Midwest or New England.
55+ Communities Near Kingman
The nearest retirement communities to Kingman are in Bullhead City, a 40-minute drive west on the Nevada border and 90 miles south of Las Vegas. In contrast, Phoenix is 230 miles from Bullhead City and 200 miles from Kingman.
The more affordable of Bullhead City's two communities is Hillcrest Park, where homes start in the low $100s. This 55+ active adult community is made up of 212 single-family homes. Its amenities include a 3,600-square-foot lodge, an exercise area, a library, billiards, table tennis, an outdoor pool and spa, and a barbecue area. There are regular holiday parties and potlucks, and several clubs where members can share their particular interests, like cards or billiards.