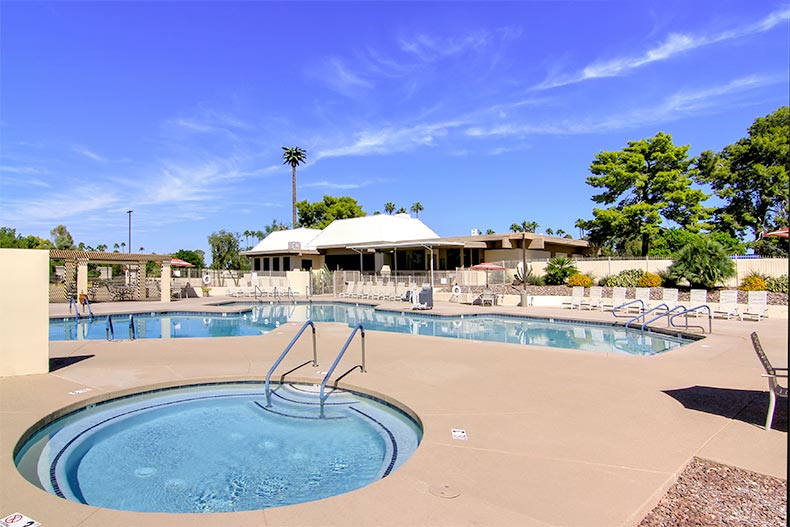 Arizona was made for snowbirds, and the best communities allow residents to lock up and leave for the summer. They also offer affordable homes that provide an opportunity to downsize as well as support services like house-sitting.
Being a snowbird in an Arizona community for a while allows you to check out the Arizona lifestyle before committing to living there full-time. That said, most snowbirds stay in Arizona when choosing one place to live in full-time.
One of the few drawbacks to Arizona is the hot summer climate. It isn't so bad in Northern Arizona, but in Central and Southern Arizona, the temperature can top 100 degrees as early as May, and it'll pretty much stay that way until October. The Phoenix area in Central Arizona is at a lower elevation than Tucson in Southern Arizona, so although Tucson is further south, it's usually a few degrees cooler than Phoenix. (It's still hot, though!)
May to October, therefore, is usually when snowbirds return home to escape the worst of the heat. However, if you're considering retirement in Arizona, you should try to experience at least one summer there so you know what to expect. Most people get used to the heat or simply stay indoors in air-conditioned comfort and do chores like yard work or shopping first thing in the morning before the heat ramps up for the day.
Here are some of the best communities for snowbirds in Arizona.
Green Valley was built for snowbirds. The small town, 25 miles south of Tucson, is mainly a collection of age-restricted communities for the 55+ active adult. Many of these communities belong to Green Valley Recreation (GVR), an umbrella organization that provides facilities like recreation centers, fitness centers, tennis and pickleball courts, and swimming pools, which are open to all Green Valley residents who are GVR members.
Other advantages of Green Valley are the support services available to snowbirds. Also, Tucson International Airport is only a 30-minute drive away. Among the many active adult communities in Green Valley, the best for snowbirds to consider with homes for sale under $100k are Green Valley Fairways, Casa Paloma, The Villages of Green Valley, and The Springs at Santa Rita.
Low $200s to low $4Ms
If you think you'd prefer the milder climate of Northern Arizona with its cooler summers and real winters, then consider a community around Prescott. There are several active adult communities in and around this historic western town, with Hassayampa Village offering condos for snowbirds who want to downsize to a low-maintenance home. Models start at 1,400 square feet with two bedrooms, two bathrooms, a garage, and lot parking for guests.
Hassayampa Village is a gated community of 660 homes with no age restriction on buying. It's a five-minute drive from the center of Prescott. Its amenities include an 18-hole golf course, a 30,000-square-foot clubhouse, a fitness center, indoor and outdoor pools, a spa, arts and crafts rooms, and courts for basketball, volleyball, and tennis.
Learn more information about Hassayampa Village here.
Below $100K - High $800s
Central Arizona has the largest number of active adult communities, offering more home choices to potential snowbirds. One of the first places to consider is Sun City, the first planned active adult community in the U.S. It's a 25-minute drive from both Downtown Phoenix and the city's international airport. Phoenix also has the Mesa Gateway Airport, used by the budget carrier Allegiant Air, and it's an hour's drive from Sun City.
With over 27,000 homes, including attached homes and condos, and prices starting below $100K, low-maintenance homes are almost always for sale in this 55+ community. There are numerous models available at under 1,000 square feet, the smallest being just 635 square feet and providing a studio apartment with one bathroom and a one-car garage. This is ideal for the snowbird looking to downsizing, for the single snowbird, or for those who perhaps want to invest in an inexpensive home to try out the Arizona life.
Sun City certainly has the most amenities of any snowbird community in Arizona. It offers 11 golf courses, its own hospital, 19 shopping areas, 31 places of worship, two libraries, indoor and outdoor theaters, several swimming pools, arts and crafts facilities, and facilities for most sports enjoyed by active adults.
Learn more information about Sun City here.
Below $100k - Mid $200s
With almost 3,000 homes, Fountain of the Sun is a gated community for the 55+ active adult. These include manufactured and attached homes that sell for below $100K, ideal for the downsizing snowbird wanting a low-maintenance home. In this price range, you can find a home of about 1,000 square feet with one or two bedrooms, one or two bathrooms, and an attached garage or carport.
Fountain of the Sun is in Mesa, Arizona's third-largest city and part of the Phoenix metropolitan area. It's only 15 minutes from Mesa Gateway Airport and a 20-minute drive from Mesa's historic downtown. The Superstition Springe Center—with major stores like Target and Macy's, plus restaurants, banks, and an eight-screen movie theater—is less than ten minutes away.
The amenities within the community include its own country club with an 18-hole golf course, a pro shop, a clubhouse, and a restaurant and bar. Other amenities include a ballroom, a fitness center, a heated outdoor pool and spa, a post office, a library, an arts and crafts studio, and facilities for pickleball and shuffleboard.
Learn more information about Fountain of the Sun here.