10 minute read
Are you thinking of moving to Arizona for your retirement years? Mesa may be the right destination. Learn what life here is like and why this city is one of the best places to retire in Arizona.
Life in Mesa
When you think of life in Arizona, you probably think about heat. Mesa is known for its dry heat during the day, tempered by cooler desert nights. The city has an average temperature of 86 degrees, a warmth particularly alluring to people who have spent years shoveling snow and braving icy winters.
Outdoor Recreation
What is Mesa known for—aside from its heat? The city has a bounty of outdoor activities. Spend your time cycling or hiking the city's streets and trails. Get out on the water and kayak the Salt and Verde Rivers. If you're a golf lover, the city has plenty of courses to test your clubs and your swing. You'll also find a plethora of cultural attractions that adults and visiting grandchildren will love.
Shopping and Dining
Shopping and eating in Mesa will never leave you bored. You can find both casual and fine dining. The city is also home to plenty of shopping hotspots, like Mesa Riverview or the boutiques of Village Square at Dana Park.
Cost of Living
Cost of living is, of course, an important consideration for retirees. The cost of living in Mesa is 3% higher than the national average, according to Payscale. But you may find savings in some areas. For example, health care in Mesa is 7% lower than the national average. The city is home to large health care providers like Banner Desert Medical Center and Mountain Vista Medical Center. Mesa's personal income tax is 2.59% to 4.54%, which is lower compared to many other areas in the Southwest.
Mesa Active Adult Communities
Low $200ks – High $700ks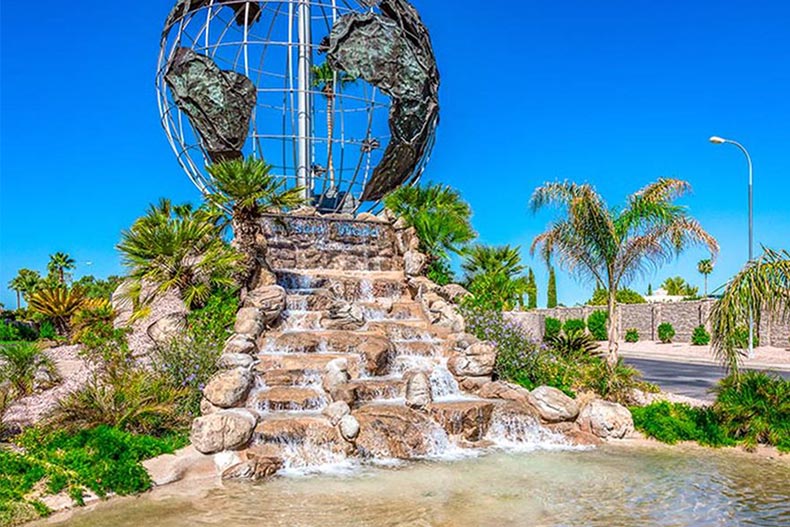 Leisure World is set against the backdrop of the Superstition Mountains, giving residents a gorgeous view from their homes. This Mesa gated community is located not far from Phoenix, so you can enjoy the best of two major Arizona cities.
This community has a total of 2,664 homes spread across eight districts. You have over 40 floor plans to choose from when shopping for a home in Leisure World. The community has attached and single-family options. Look for features like vaulted ceilings, multi-car garages, and desert landscaping.
Mesa may be located in a desert climate, but 12 lakes located within the Leisure World community give you some waterfront access as well. The community has a recreation department dedicated to organizing group activities. Join a hike in the mountains or try out one of the community's clubs.
High $100ks – Mid $400ks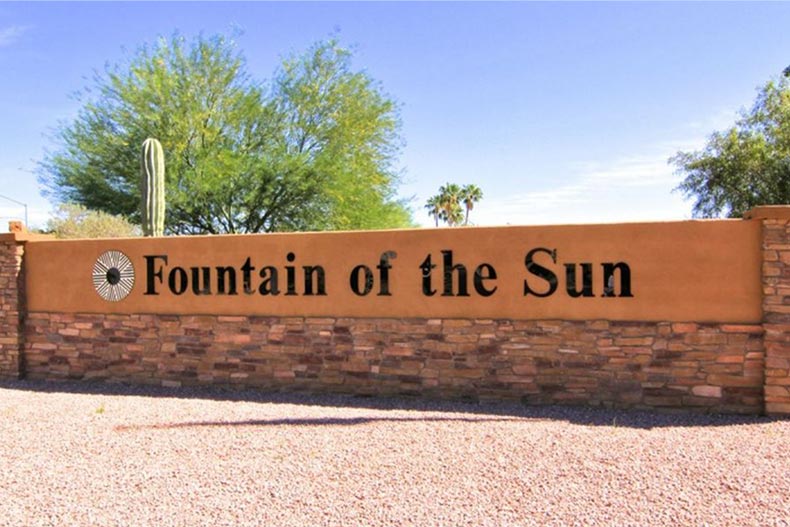 Fountain of the Sun is one of the largest 55 and older communities in Mesa, Arizona. It sprawls across 582 acres beneath the Arizona sun. The community is located just 30 minutes away from Phoenix Sky Harbor International Airport, which makes jetting off on vacation and visiting distant family easy.
This 55+ community has 2,296 homes, including manufactured, attached, and single-family options. The manufactured and attached homes are ideal for people who are planning on downsizing in retirement. If you want a little more room to spread out and maybe even host, single-family homes can be as large as 2,100 square feet.
At Fountain of the Sun, you'll live a low-maintenance lifestyle that gives you the time to do what you love most. Get involved in community activities to rediscover an old hobby or embrace a new one. Lounge by the outdoor pool or join the Fountain of the Sun Country Club for members-only access to a gorgeous golf course.
Mid $300ks – Mid $700ks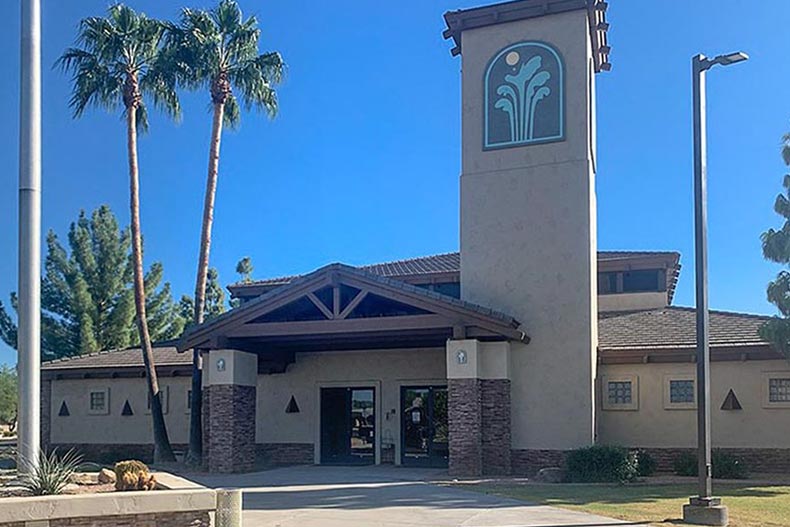 Sunland Springs Village is an active adult community with an enviable Mesa location. You'll find plenty of places to eat and shop in the East Valley of the Phoenix Metro area, and you will be just a short drive away from the airport.
The nearly 3,000 homes at Sunland Springs Village were built between 1997 and 2020. Single-family homes start at 1,100 square feet and go up to 3,200 square feet. The community's golf condos and townhomes are 1,000 to 1,700 square feet.
If you're looking for an Arizona retirement community with RV parking, Sunland Springs Village is an attractive option. In addition to RV parking and storage, this 55+ community has 27 holes for golfers, two outdoor pools, sports courts, a library, and plenty of other amenities.
High $200ks – Low $500ks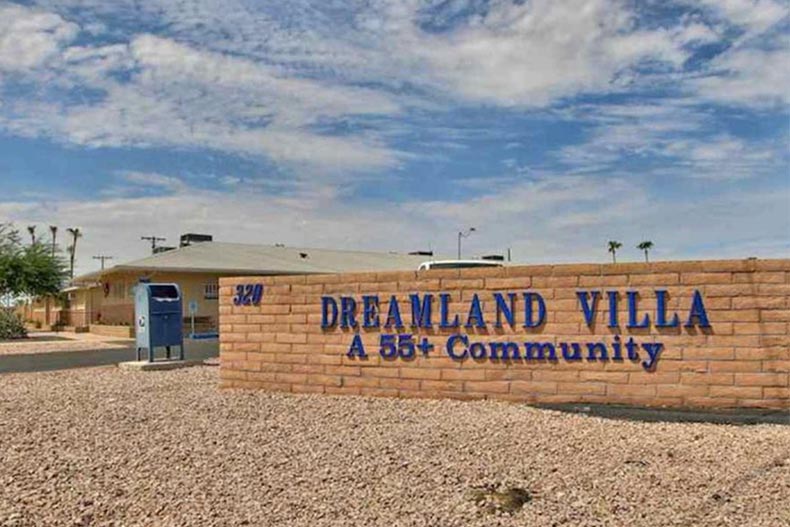 Mesa retirement communities can offer active adults the ideal place to enjoy retirement, and Dreamland Villa is no exception. This 55+ community caters to active and social lifestyles. Plus, it's just 10 minutes away from the Superstition Springs Center, which offers plenty of places to shop and dine.
Dreamland Villa has 2,732 single-story homes. Each of its single-family homes comes with a carport. Floor plans start at 942 square feet and go up to 1,901 square feet. If you want something cozier, you can opt for a home with one bedroom and one bathroom. If you want more space, you'll find homes that have three bedrooms and two bathrooms.
The community has two clubhouses that serve as the hubs of its social activities. Read Hall has a game room, art studio, woodshop, exercise room, and more. Farnsworth Hall has outdoor amenities, including a pool and bocce ball courts, as well as a large auditorium that hosts live performances.
Low $400ks – Low $700ks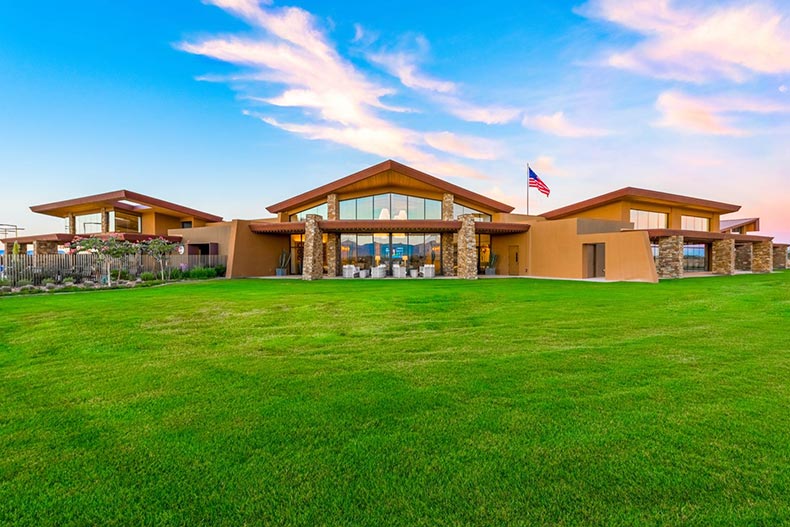 Encore at Eastmark is a 55+ neighborhood within Eastmark, a master-planned community. It's a smaller community with less than 1,000 homes, but its location on 3,200 acres comes with beautiful views.
The 973 homes located in this community are all single-family style. Each home has two bedrooms and two or two-and-a-half bathrooms as well as an attached garage.
The Encore Club is the community's 15,000-square-foot clubhouse. Residents flock here to take advantage of the exercise facility and social spaces. If you want to spend more time outdoors, Encore at Eastmark also has a resort-style pool, tennis courts, bocce ball courts, pickleball courts, and a patio with fire pits.
High $200ks – Mid $500ks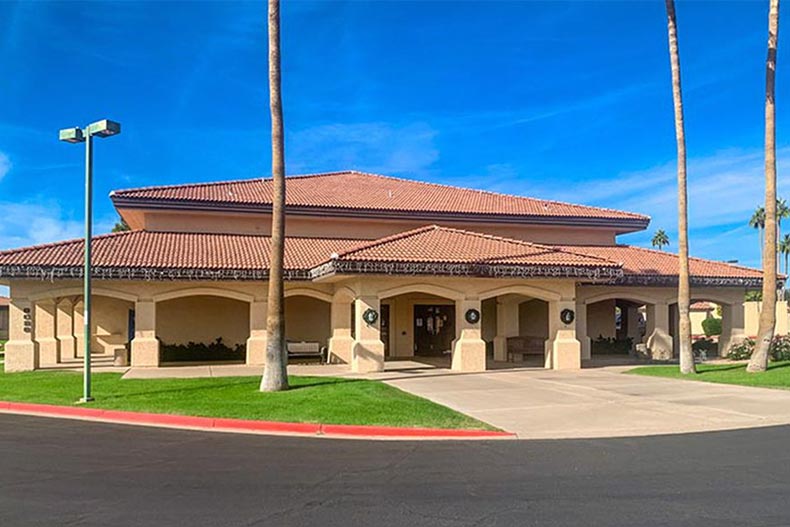 Sunland Village East has a suburban location in Mesa, offering residents easy access to shopping and dining options. The 55+ community has striking views of the Superstition Mountains, and it's located just 20 miles from the Salt River lakes.
The community has a collection of 2,437 attached and single-family homes. Construction on the homes began in the 1980s and finished in 1994. Homebuyers looking for more affordable home prices will be pleased by what Sunland Village East has to offer. Residents actively volunteer, which means association fees are lower than you may find in many other active adult communities.
Three outdoor pools give you plenty of reason to go outside and enjoy the Arizona sunshine. Sunland Village East also has two clubhouses with amenities like a fitness center, woodworking shop, and restaurant. The Sunland Village East Golf Course is a favorite among the community's golf lovers.
High $200ks – Mid $300ks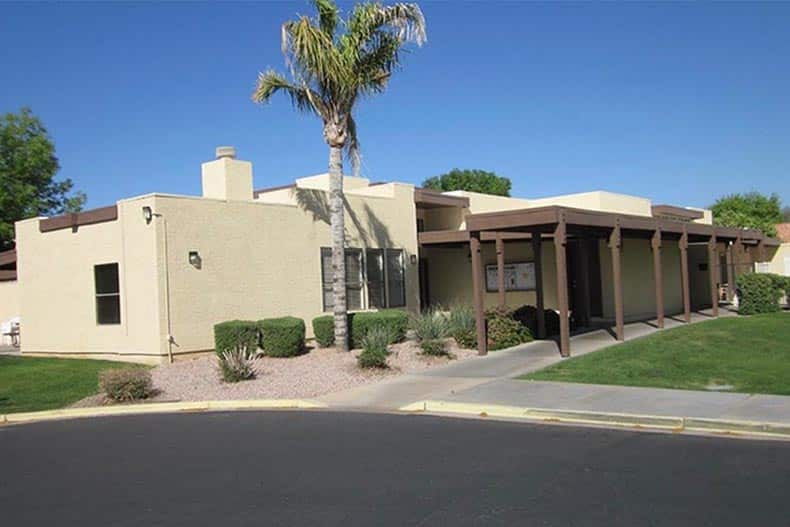 Greenfield Glen has a more intimate feeling than some of the other 55+ communities in Mesa. The neighborhood has just 208 homes, but it still offers a convenient location not far from Phoenix and the amenities and plenty of amenities to enjoy.
The homes in Greenfield Glen are all attached. Floorplans come in sizes ranging from 1,104 square feet to 1,255 square feet. The ranch-style homes have features like open floor plans, covered patios, and attached two-car garages.
Given its small size, it might be easier for you to get to know your neighbors at Greenfield Glen. The 55+ community offers plenty of ways to socialize. Come to the community clubhouse to exercise, play a game of cards, or sit down for a meal. The neighborhood also has tennis courts, shuffleboard courts, and an outdoor pool.
Mid $200ks – Mid $700ks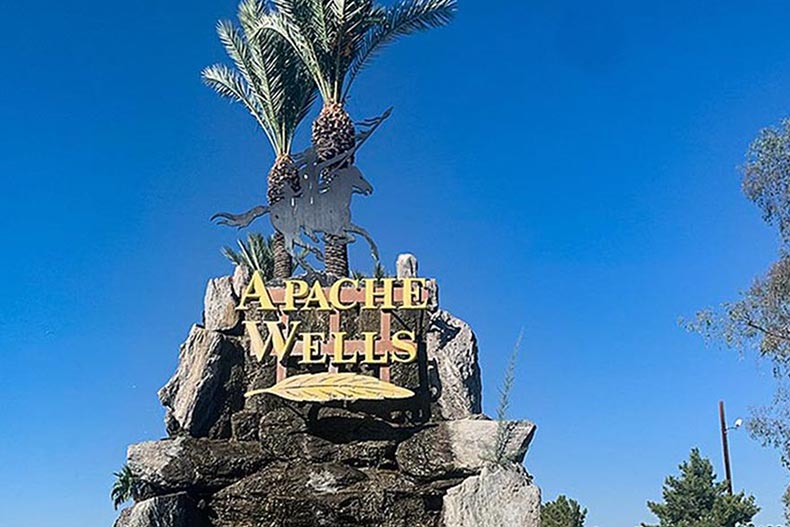 If you're looking for homes for sale in 55+ communities in Mesa, Apache Wells may be the right place for you. This 55+ community has 1,823 homes and a convenient location just 30 minutes away from Phoenix.
You have plenty of choices when it comes to shopping for a home in Apache Wells. It has condos, attached homes, and single-family homes. Floor plans start at 1,254 square feet and get as big as 1,698 square feet. Keep an eye out for features like travertine stone flooring, custom window treatments, and crown molding.
If you want to share your hobby with someone else, chances are Apache Wells has a club for you. Join the computer club, the book club, the biking group, the art club, or the ceramics club. The 55+ community has plenty of outdoor amenities that make the most of Arizona's beautiful weather. Help tend to the community garden, golf on the Apache Wells Country Club course, or take a swim in the pool.
Mid $200ks – Mid $400ks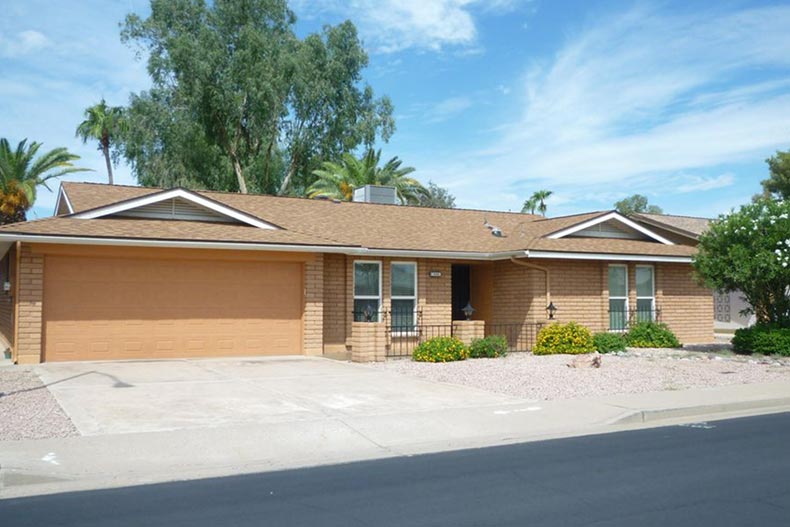 Sunland Village is located just outside of central Mesa and about 24 miles from Downtown Phoenix, which means residents can easily enjoy both cities. You'll be able to find shopping, dining, and health care within easy reach of your home at Sunland Village.
Farnsworth built 2,600 homes in Sunland Village from 1974 to 1984. The community has both single-family homes and condos. The condos, ranging from 850 to 1,700 square feet, are ideal if you're looking to downsize. At 1,080 to 2,060 square feet, the single-family homes give you a little more space. If you plan to host friends and family, you might prefer a single-family floor plan.
This 55+ community hosts events and offers plenty of activities. Catch an off-Broadway show or find someone who shares your love of arts and crafts. Sunland Village also has amenities like two outdoor pools, a fitness center, and courts for bocce ball, shuffleboard, and tennis.
High $200ks – Low $400ks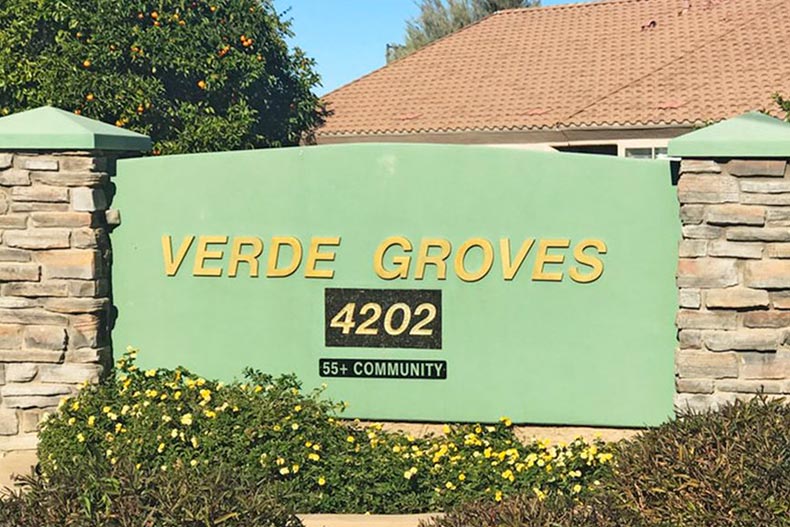 With just 210 homes, you'll find it's easy to get to know the neighbors. When you aren't enjoying the neighborhood's amenities, you can hop in the car to easily reach the nearby shopping complex, the golf courses of Mesa, and the airport in Phoenix.
The homes in Verde Groves were built in the 1980s. Homebuyers interested in downsizing to a more affordable home will be delighted by this community. Its attached homes range from 728 to 1,232 square feet.
You and your neighbors can enjoy all that the Verde Groves clubhouse has to offer. This 10,000-square-foot facility is the heart of the community's social life. You can use the fitness center, ceramics studio, library, ballroom, and outdoor pool—whatever activity that suits your mood.
Low $200ks – High $200ks
Las Alegres is conveniently located near major roads in Mesa, Arizona. When you're not enjoying your community's amenities, you can find plenty of shopping and dining options just minutes away. If you want to spend some time in Phoenix, you're less than half an hour away.
If you want to settle down in Las Alegres, you'll need to find a resale home in this intimate community. Its attached homes come in multiple different floor plans, starting at 950 square feet and going up to 1,256 square feet.
Though a small community, Las Alegres provides its residents with plenty of amenities. The community's clubhouse has an exercise room, an arts and crafts room, and an outdoor pool.
Starting in the Mid $200ks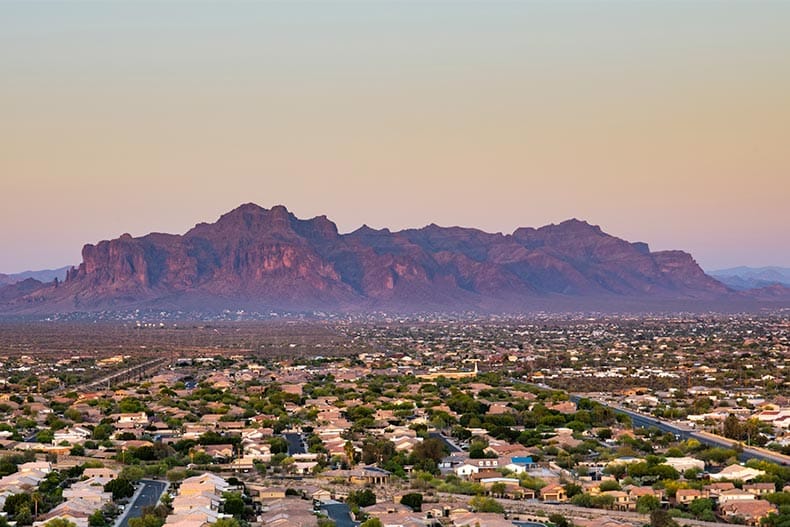 Case de Paz was built in the 1980s. It offers both affordable homes and a convenient location. When you live here, you are never far from grocery stores, health care providers, and entertainment options.
The builder Farnsworth created the small and welcoming community of Casa de Paz. This 55+ community has 135 attached homes that start at 728 square feet and are built as large as 1,232 square feet. You'll be able to enjoy the warm weather with features like a sunroom or patio.
Despite being a small community, Casa de Paz doesn't leave its residents wanting for amenities. Outside, you'll find a pool, a spa, pickleball courts, and a putting green where you can practice your short game. Inside the community clubhouse, you can gather with neighbors for movie nights and card games.
Ready to make the move to the Grand Canyon State? 55places can help you find the perfect active adult community in Mesa, Arizona!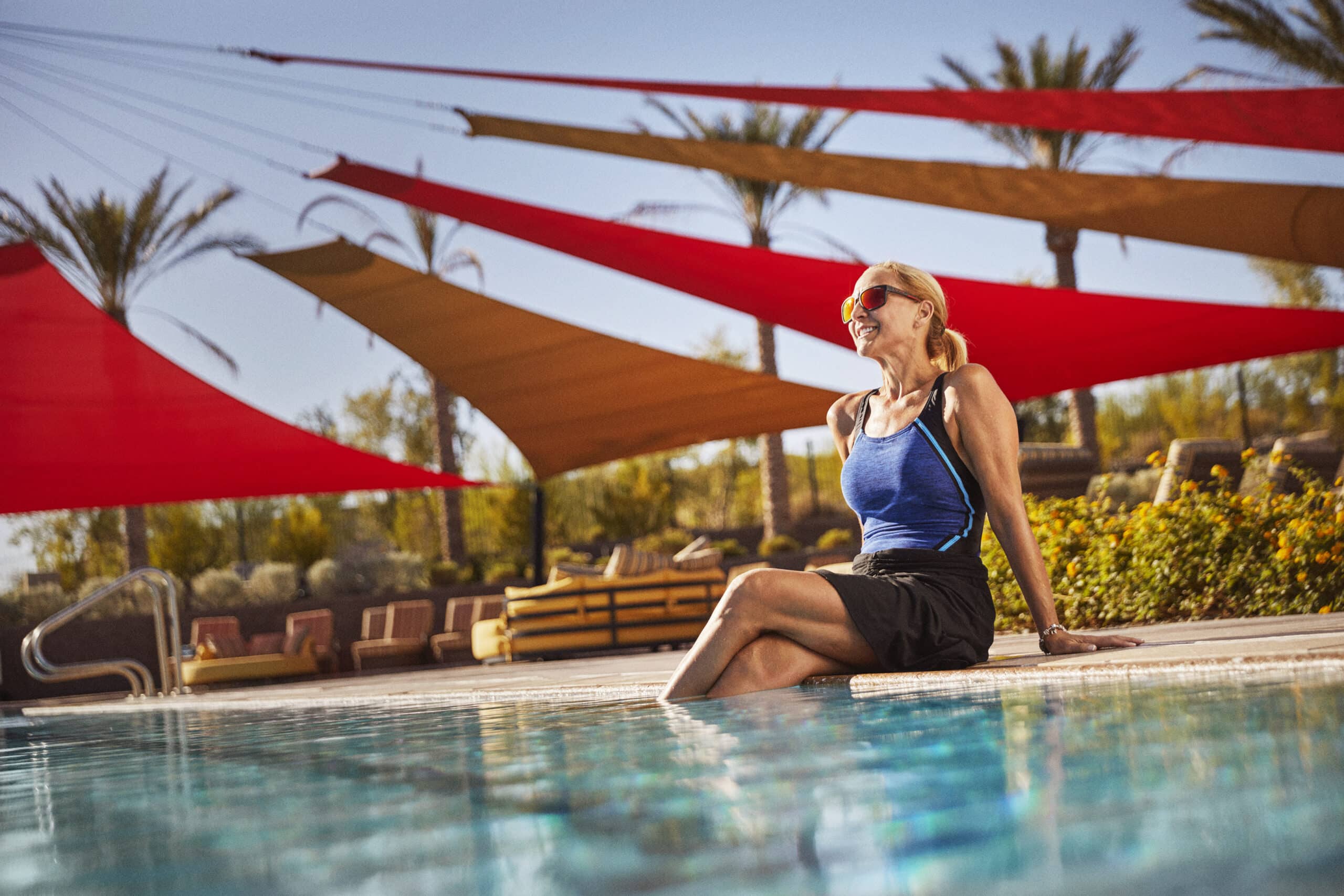 Discover what's next.
To learn more information or connect with a real estate expert, contact us today.