When many people think of age-restricted communities, they may have an image in their minds of sprawling master-planned developments with multiple neighborhoods, thousands of homes, and even their own zip code(s). There are indeed many expansive 55+ communities, and plenty of them made our list of The 55 Best 55+ Communities of 2021. However, there are plenty of much smaller, tight-knit communities for active adults who want to live in a more modestly sized neighborhood.
Although both large and small communities offer their own benefits and lifestyles, the size of a community doesn't necessarily correlate with the quality and quantity of the amenities and lifestyle activities it offers. In fact, many smaller communities—those with fewer than 200 homes—offer great benefits to their residents without the catch of living in a sprawling development or having thousands of neighbors.
With that in mind, we whittled down the 55 best 55+ communities to focus on small communities with less than 200 homes. This ranking features the 25 best small 55+ communities based on their popularity, affordability, and amenities, providing a resource to help active adults start their search to find the small 55+ community of their dreams.
High $300s – Mid $400s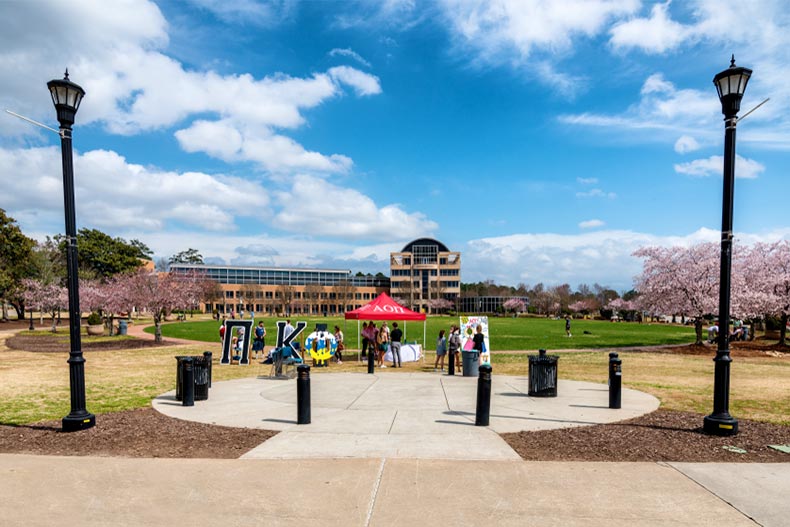 First on our list is Encore in Kennesaw, Georgia, an exclusive 55+ community with only 46 single-family homes. This small community has the feel of a tight-knit neighborhood and the added benefits of a homeowners' association (HOA) that takes care of lawn care, providing residents with a low-maintenance lifestyle. The floor plans from builder Windsong Properties range from 1,978 to 2,922 square feet with two or three bedrooms and features such as open concept floor plans, dens, and covered porches.
The amenities at Encore center around a spacious clubhouse, an outdoor firepit, and scenic walking trails where neighbors can congregate and socialize. The community also offers a convenient location about 30 minutes northwest of Atlanta, providing access to entertainment as well as privacy from the big city. Encore offers its residents the seclusion and neighborhood atmosphere of a small community as well as the location and amenities to make life exciting for its homeowners.
Request more information about Encore.
Mid $400s – High $400s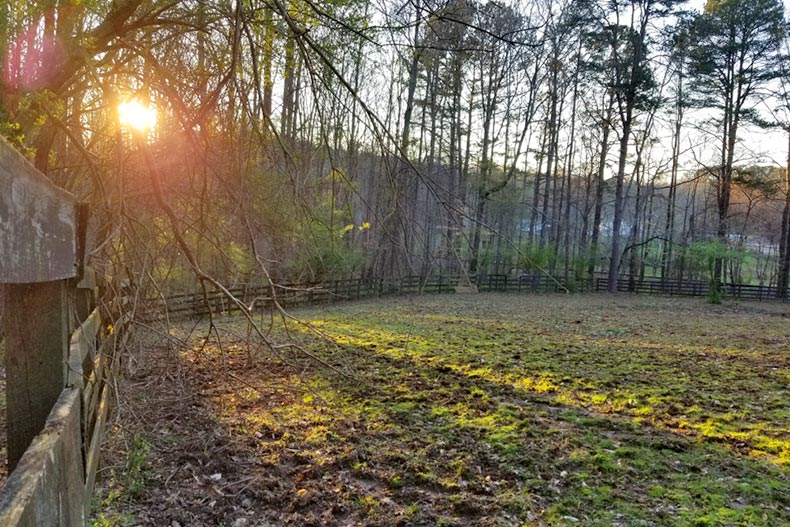 Another small 55+ community located in Georgia that still packs a punch for its size is Cadence, a gated community with 127 single-family homes. The community's location 40 miles north of Atlanta is only one of its selling points, as residents have a long list of amenities and lifestyle activities to enjoy. Active adults can enjoy a clubhouse, fitness center, outdoor pool, walking trails, and a community lake. As a bonus, the adjacent Woodmont Golf & Country Club offers an optional membership with its own amenities and events.
In addition to spacious floor plans, residents can enjoy a full social calendar of social activities organized by neighbors. The activities include athletic options like tennis club, swim club, Tai Chi, and yoga, as well as social events like movie nights, games, and bus trips.
Request more information about Cadence.
Mid $300s – High $400s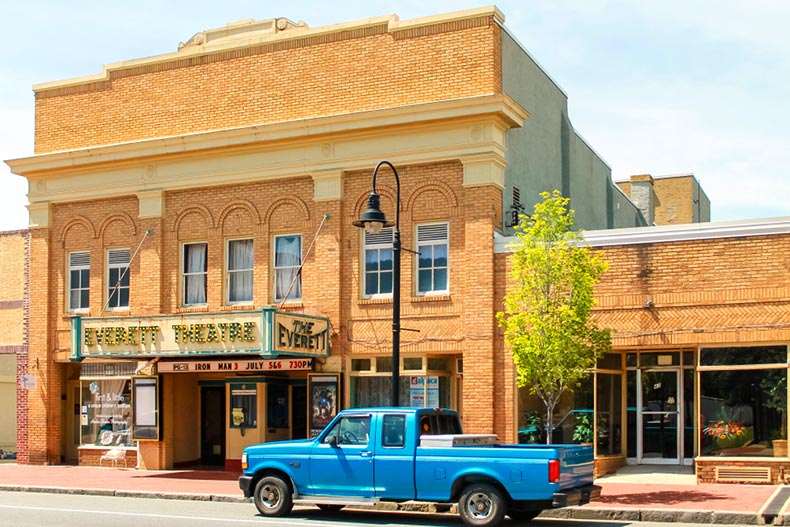 Whispering Woods is a small community that puts the scenic East Coast onto our list. Located in Northern Delaware, this community with 178 single-family and attached homes is close to Wilmington, the Delaware River, and an abundance of golf courses and outdoor recreation opportunities. With Washington, D.C., Baltimore, and Philadelphia all located within two hours, day trips to these major cities are always within reach.
Residents can participate in an active lifestyle with amenities such as a clubhouse, fitness area, swimming pool, tennis courts, bocce ball courts, and billiards. While "whispering" certainly describes the community's exclusive and private atmosphere, residents can still get together to make some noise with activities like community barbecues, movie nights, and trips to the local casino. This community is ideal for active adults looking to experience some of the best parts of the East Coast while also enjoying the benefits of a tight-knit neighborhood.
Request more information about Whispering Woods.
High $300s – Mid $500s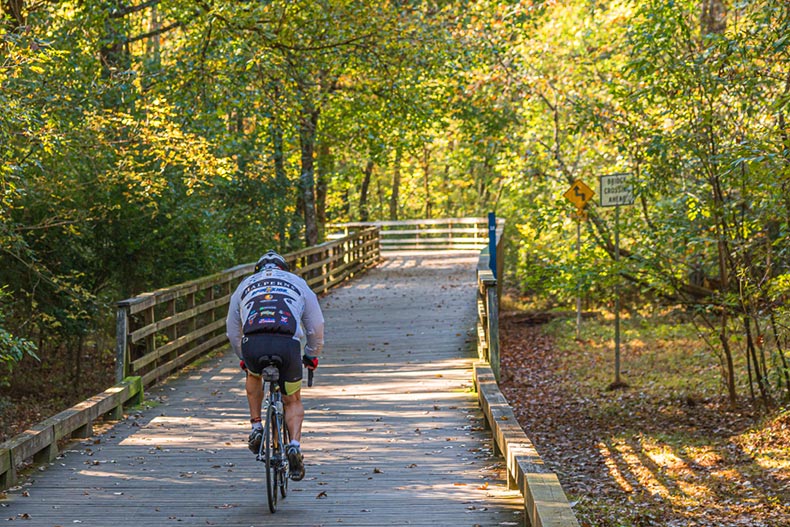 Recently completed in 2021, The Villas at Bethelview is one of the newest 55+ communities on this list. The small neighborhood consists of 50 single-family homes that come in four floor plans designed for active adult lifestyles. All of the homes have first-floor master suites as well as other features like open concept floor plans, second-story flex spaces, and covered porches. For such a small community, The Villas at Bethelview has a considerable amount of amenities, including a 1,500-square-foot clubhouse with an exercise room, multipurpose room, catering kitchen, and a card room. Outside, residents can enjoy a pool with a patio, bocce ball courts, and one-and-a-half miles of walking trails.
Residents find themselves close to Atlanta as well as the city of Athens (just 90 minutes away). Athens offers many opportunities for day trips to explore the arts, shopping, dining, and entertainment. Whether residents prefer staying in, going out, or a balance of both, The Villas at Bethelview has options for active adults looking for smaller 55+ communities north of Atlanta.
Request more information about The Villas at Bethelview.
High $100s – Low $300s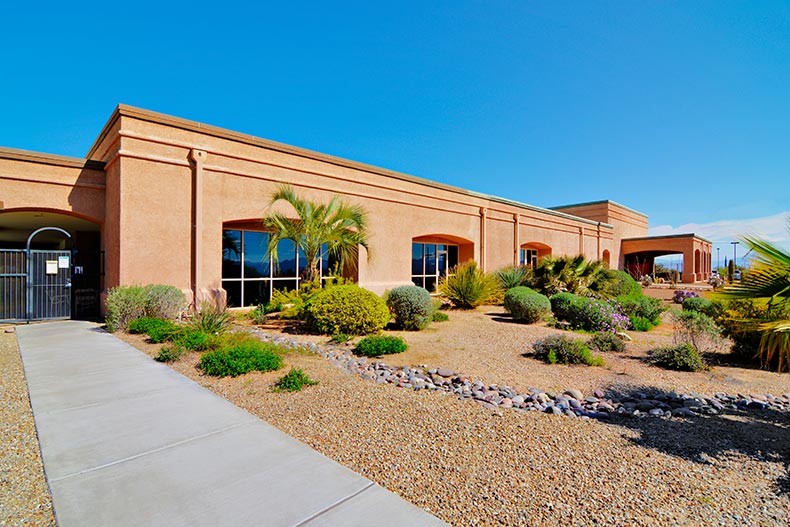 Desert Hills 5 is an exclusive 55+ community of 195 single-family homes, and it comes with all of the benefits of a much larger development. This neighborhood belongs to Green Valley Recreation (GVR), which means homeowners pay a fee to access all of the amenities and activities throughout GVR. Residents of Desert Hills 5 enjoy living in a smaller and more private area while having access to dozens of amenities and one of the fullest social calendars in the country.
One of the Green Valley Recreation amenity centers, Desert Hills Social Center, is conveniently located across the street from Desert HIlls 5. There, residents can find amenities such as a fitness center, an auditorium, art studios, a sauna, an outdoor pool, and several athletic courts. For active adults looking to stay physically and socially active within a smaller community, Desert Hills 5 offers more than enough recreation and lifestyle options.
Request more information about Desert Hills 5.
Low $300s – High $300s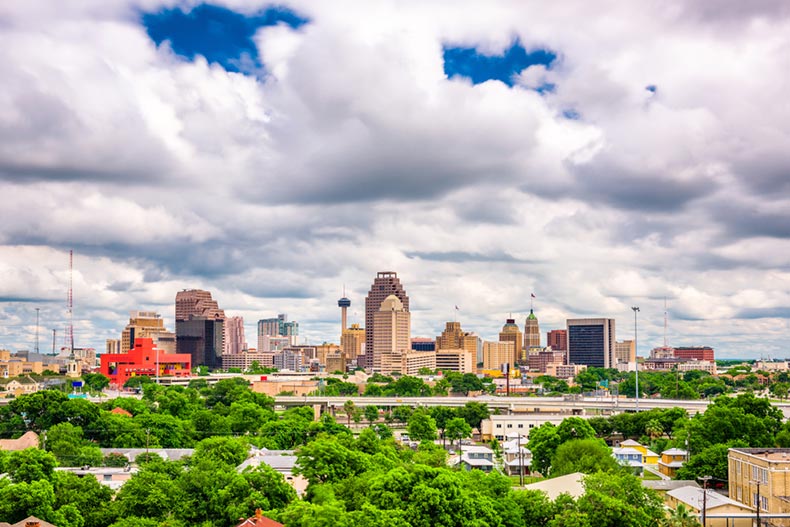 While the Lone Star State has plenty of active adult communities to choose from, The Orchards at Valley Ranch outside of San Antonio stands out among the best. The gated community from D. R. Horton, which broke ground in 2017, will feature just 88 single-family homes upon completion. The Orchards at Valley Ranch boasts a spacious 10,000-square-foot clubhouse that features a state-of-the-art fitness center.
Active adults who like to have fun in the sun can appreciate this community's outdoor amenities. In addition to a lap pool, residents and their visiting friends and family can enjoy a water park with walk-in entry, slides, and a children's play center. The amenities continue with two tennis courts, a basketball court, outdoor kitchens, scenic ponds, and walking and biking trails. The Orchards at Valley Ranch is located 30 minutes northwest of San Antonio and all that the city has to offer.
Request more information about The Orchards at Valley Ranch.
Mid $200s – High $200s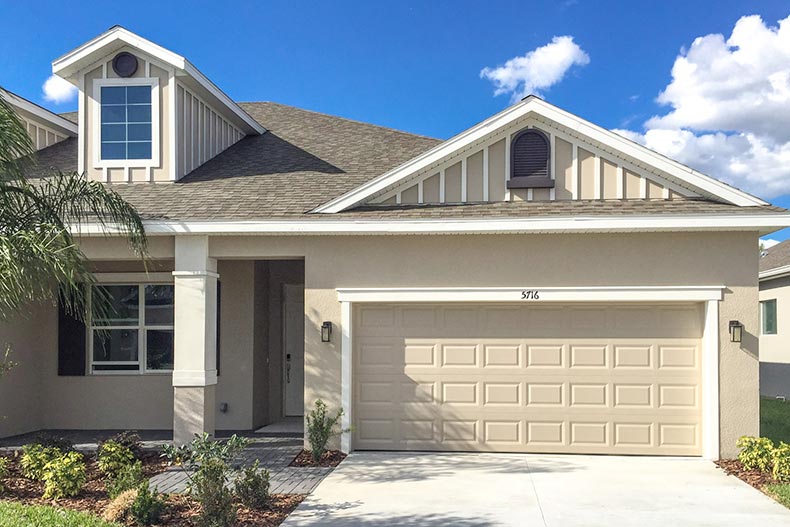 Located just 12 miles east of downtown Tampa, Bridgewater Landing is a tight-knit community that consists of just 64 single-family and attached homes. The floor plans range from 1,545 to1,781 square feet with two bedrooms, two bathrooms, and attached two-car garages. Many homes feature first-floor master suites, luxury appliances, and spacious lanais to enjoy the Florida sunshine. Residents can also enjoy the weather thanks to amenities such as the outdoor community pool and walking paths surrounded by natural areas and scenic ponds.
The area that surrounds Bridgewater Landing brims with parks, beaches, and attractions for residents to explore. Active adults can reach miles of shoreline along the Gulf of Mexico within one hour. Downtown Tampa is only about 20 minutes away and offers museums, cultural attractions, and entertainment any night of the week. Closer to home, neighbors participate in social activities such as community gatherings and holiday parties.
Request more information about Bridgewater Landing.
High $200s – Low $500s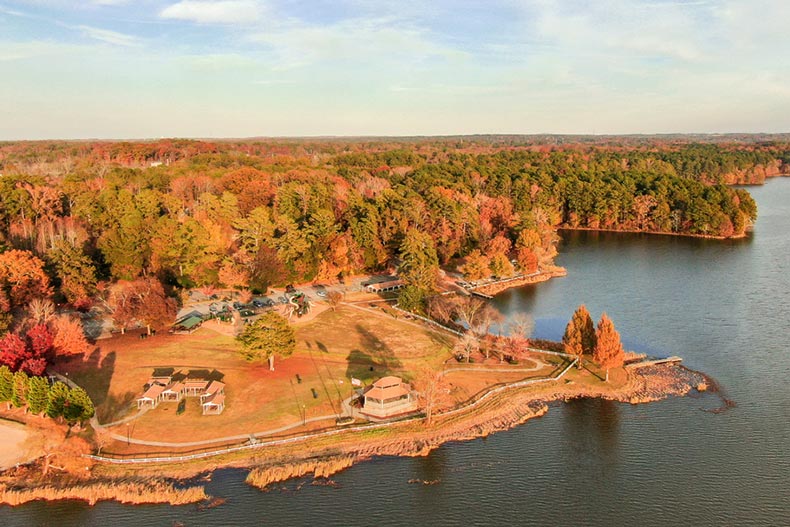 One of the smallest communities on this list is Westbrook where builder Windsong Properties only plans on building 39 single-family homes total. The community will consist of new construction homes that come in a small selection of comfortable floor plans with two or three bedrooms, two or three bathrooms, two-car garages, optional screened-in porches, and dens. Interested active adults have the opportunity to choose and build their own home in this up-and-coming community. Residents will live a leisurely, low-maintenance lifestyle thanks to an HOA that will take care of all landscaping, lawn care, and common area maintenance.
The amenities will consist of a brand-new clubhouse with meeting rooms, as well as a fire pit area and community parks. Westbrook will be located about 40 minutes northwest of Atlanta, so residents will be close to an abundance of entertainment and things to do any day of the week. Active adults looking to get in on the ground floor of a small community should look into Westbrook.
Request more information about Westbrook.
Below $100k – Mid $100s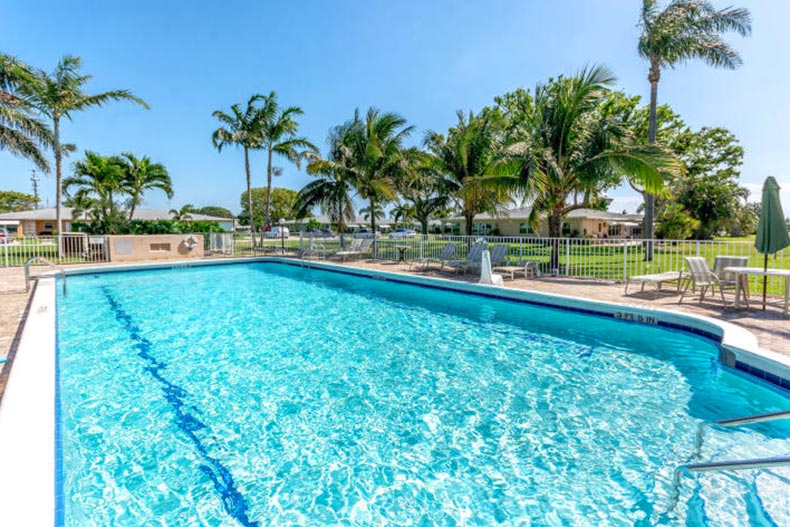 Active adults searching for a small 55+ community on the Atlantic Coast of Florida may find that High Point of Boynton Beach checks all of the boxes for homes, amenities, and lifestyle. The age-restricted community consists of 136 single-family and attached homes surrounded by desirable amenities. Whether neighbors meet in the game room of the clubhouse, relax by the pool, or play bocce ball with friends, the community offers plenty to do without leaving home. The social calendar includes more than a dozen clubs and events, such as game nights, dances, and athletic groups.
High Point of Boynton Beach is located just two miles from the Atlantic Coast, providing access to scenic beaches such as Oceanfront Park and Lantana Municipal Beach. There are also plenty of parks in the area, as well as golf courses, restaurants, shops, and entertainment venues. Residents of High Point of Boynton Beach have every opportunity to experience the best parts of Florida's Atlantic Coast while staying in an exclusive and well-established 55+ community.
Request more information about High Point of Boynton Beach.
Low $100s – Mid $100s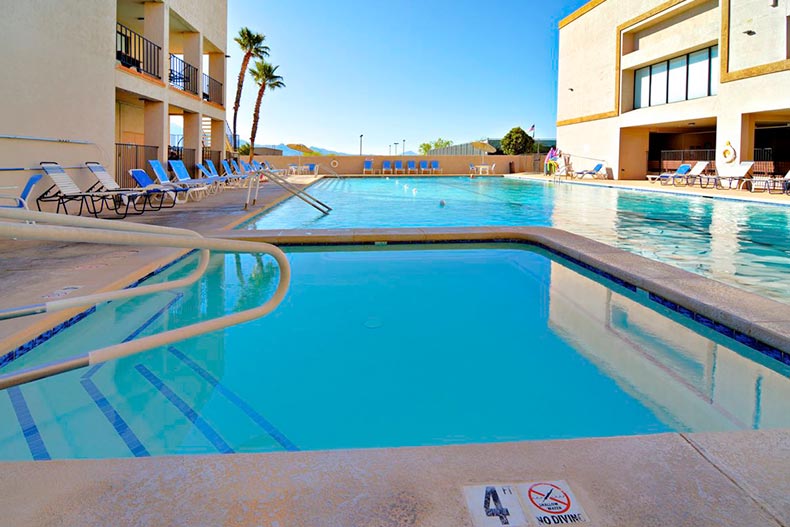 With resort-style amenities, abundant activities, and affordable homes for sale, Desert Hills 3 West in Green Valley provides active adults with another option to retire in Arizona. The 55+ community, which belongs to Green Valley Recreation, consists of 170 attached homes. Ideal for those who want to downsize, the one-story homes range from 900 to 1,200 square feet with two bedrooms and two bathrooms.
Residents of Desert Hills 3 West can easily access the Desert Hills Social Center, which features an auditorium, an arts studio, a lapidary studio, a ceramics studio, and gathering spaces as well as a fitness center, an outdoor pool, and athletic courts for tennis and shuffleboard. Some of the world-class amenities found throughout GVR include 13 amenity centers, 13 heated swimming pools, restaurants, arts and crafts studios, dozens of athletic courts, and multipurpose rooms where neighbors meet for activities, clubs, and classes.
Request more information about Desert Hills 3 West.
Methodology
The data for "The 25 Best Small 55+ Communities" is pulled from our "55 Best 55+ Communities" list. To get the list of the best 55+ communities, we first identified over 2000 active adult communities with an age restriction. We then created three different scoring categories to determine which was the best.
The Popularity Score looks at overall MLS sales in the last year as well as how many people searched for the community across the web. The Lifestyle Score is drawn from the number of amenities, the number of social clubs and activities within the community, and the different types of homes available. The Financial Score takes into account the cost of living in the nearest city, the state property tax, the state income tax, and the local sales taxes.
We then scored and weighed all the data from each category to finalize the top 55 communities. The communities listed in "The 25 Best Small 55+ Communities" have less than 200 homes to qualify as "small."