Known for its sunny and warm climate, sweeping mountain landscape, urban attractions and entertainment, and miles of sandy beaches along the Pacific Ocean, Southern California is often seen as a retirement paradise for active adults. Not only does SoCal offer retirees great outdoor attractions and beautiful scenery, but it also provides an assortment of 55+ communities.
Although California tends to be pricier than other parts of the country, homebuyers can still find affordable homes without sacrificing the amenities and lifestyle that most age-restricted communities provide.
From small and intimate communities to large and stunning active adult developments, active adults are sure to find the perfect 55+ community that fits into their budget and lifestyle. Check out these affordable active adult communities in SoCal.
Low $100s – Low $300s
Developed between 1985 and 2002, Jess Ranch is a 55+ community in Apple Valley that has an assortment of resale homes with pricing starting in the low $100s. Homebuyers can choose from condos, attached homes, or single-family homes that come in a variety of sizes and styles.
This 2,120-home community offers well-appointed amenities including a charming clubhouse. Plus, for an additional fee, residents have access to Sun City Apple Valley's Mariposa Lodge, an 8,000-square-foot clubhouse.
Request more information about Jess Ranch.
High $100s – Low $600s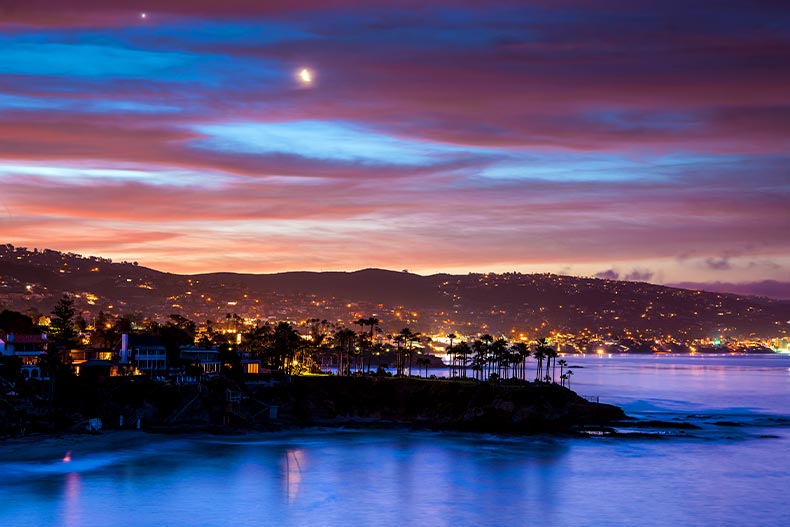 This gated active adult community in beautiful Orange County offers retirees a unique setting within the SoCal. Developed by Rossmoor Corporation between 1960 and 1981, Leisure World® Seal Beach consists of 6,608 condos and attached homes priced from the high $100s.
In addition to a wide selection of resale homes, Leisure World® Seal Beach also provides residents with world-class amenities including six clubhouses, a nine-hole golf course, an outdoor swimming pool, an amphitheater, five workshops, and more than 200 clubs and activities.
Request more information about Leisure World® Seal Beach.
Mid $300s – Mid $500s
Located in Menifee, Sun City is a picturesque age-restricted community that was the first master-planned community of its kind in the Inland Empire Area. Sun City consists of 4,762 attached and single-family homes that were built between 1962 and 1981 by Del Webb and Presley Co. These affordable homes start in the low $100s and feature a variety of floor plans that offer one to three bedrooms, one or two bathrooms, and one-car garages.
Sun City also offers a myriad of amenities spread across the community that includes multiple clubhouses, various sports courts, hobby and game rooms, social spaces, and outdoor recreational facilities. Homebuyers will not only love the low-priced homes but also the numerous activities, classes, and clubs that are offered in Sun City. Residents can join a book club, take a ceramics class, or play table tennis with friends.
Request more information about Sun City.
Mid $200s – Mid $500s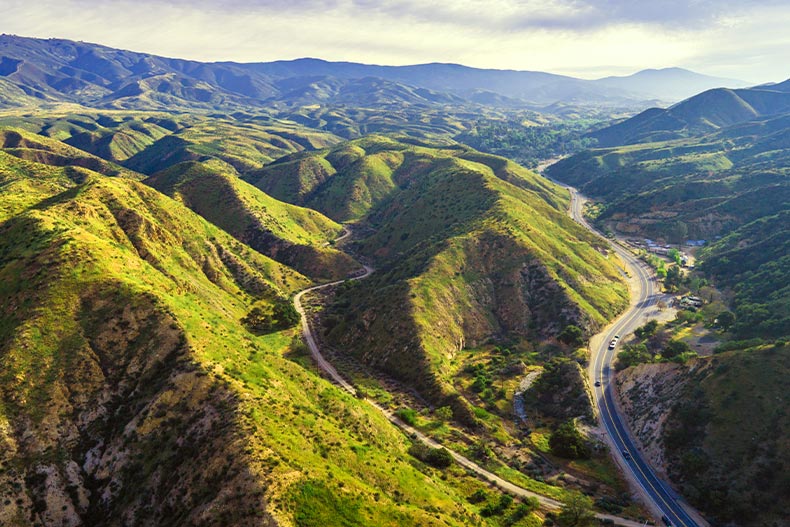 Friendly Valley is a welcoming 1,290-home 55+ community in Santa Clarita. Homebuyers can choose from multiple floor plans ranging to over 1,500 square feet that come as attached or single-family designs that are priced from the mid $200s. There are 14 homeowners' associations within Friendly Valley that provide residents with low-maintenance living.
This established 55+ community features a well-appointed clubhouse rich with indoor and outdoor amenities that keep residents healthy, relaxed, and social. Friendly Valley also has more than 50 social clubs and activities that allow neighbors to bond over similar interests and build lasting friendships.
Request more information about Friendly Valley.
Mid $100s – Mid $1Ms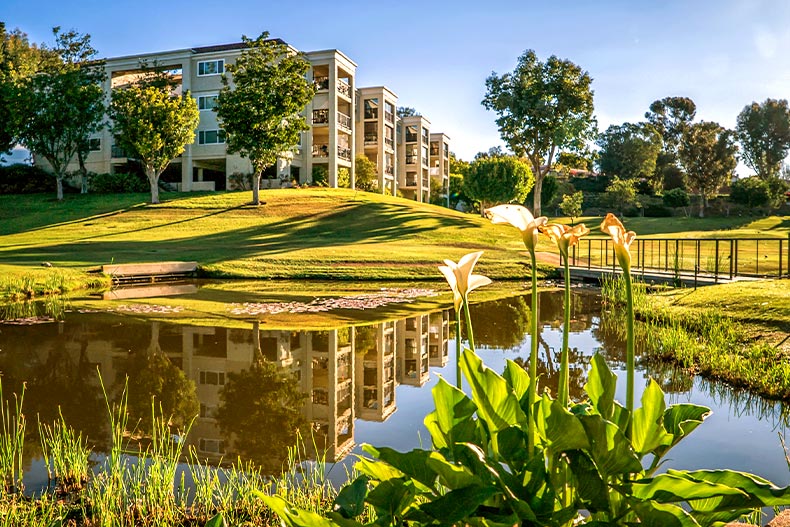 Laguna Woods Village is the largest 55+ community on the West Coast and offers an assortment of reasonably priced homes starting in the low $100s. Laguna Woods Village consists of 12,736 homes that were developed between 1964 and 1985 by Ross Cortese. Homebuyers can choose from a variety of condo, attached, or single-family floor plans that range from about 675 to over 2,500 square feet.
This active adult community, which is situated on 2,100 acres of rolling hillsides in the scenic Saddleback Valley of Orange County, also provides world-class amenities. Some of its most popular amenities include an equestrian center, 36 holes of golf, seven clubhouses, five swimming pools, and more than 250 clubs and organizations.
Request more information about Laguna Woods Village.
Mid $200s – Low $500s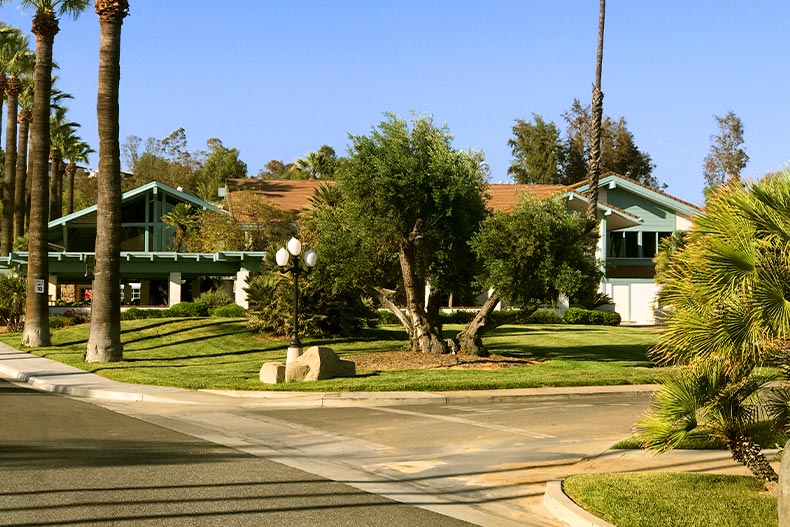 Murrieta Hot Springs, which is also known as The Knolls, was built between 1971 and 2014 and hosts 1,040 single-family homes priced from the mid $100s. This established active adult community in Riverside County features two- to four-bedroom homes with one to three-and-a-half bathrooms, and attached carports or two-car garages.
Murrieta Hot Springs is also made up of three distinct neighborhoods, called Spring Knolls, Golf Knolls, and Warm Spring Knolls. Each section offers residents its own clubhouse and set of amenities. The community also allows all homeowners to enjoy the other clubhouses as well.
Request more information about Murrieta Hot Springs.
Mid $200s – Mid $500s
This previously-mentioned Del Webb 55+ community in Apple Valley offers new and resale single-family homes priced from the low $200s to high $300s. The builder began construction of Sun City Apple Valley in 2004 and plans to develop 1,700 homes upon completion. Buyers can choose from four unique design collections with plans ranging from just over 1,000 to over 2,300 square feet.
Del Webb's thoughtful home designs feature two or three bedrooms, two or three bathrooms, and two- or two-and-a-half-car garages. Many of these homes incorporate the builder's latest, sought-after updates and modern designs like expansive great rooms, ample outdoor living areas, gourmet kitchens, and plenty of customizable options.
In addition to great low-maintenance homes, Sun City Apple Valley also provides a rich lineup of resort-style amenities. The Aspen Clubhouse is a 22,000-square-foot recreation facility that is the main hub of social and physical activities. Residents also have access to the Mariposa Lodge, which is an 8,000-square-foot clubhouse that features a fitness center, outdoor pool, and both tennis and bocce ball courts.
Sun City Apple Valley is also nestled against the beautiful Ashwood Golf Course, which offers 27 holes of golf, two putting greens, and a bunker and chipping area for residents to enjoy.
Request more information about Sun City Apple Valley.
High $200s – Low $400s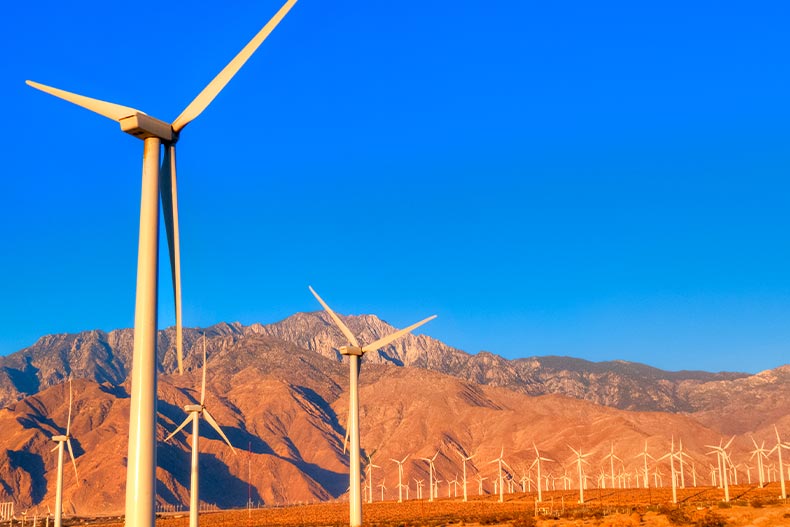 Maravilla Estates is a picturesque active adult community set against the foothills of the San Jacinto Mountains. DCI Homes began construction of Maravilla Estates in 2015 and plans to build an intimate 218 single-family homes. Homebuyers can choose from four distinct floor plans that range in size from 1,502 to 1,652 square feet. These single-family homes are priced from the high $200s and have one or two bedrooms, two bathrooms, and attached two-car garages. Standard features of these homes include breakfast bars in kitchens, walk-in closets, and fireplaces.
Homeowners will not only enjoy the low-maintenance homes in Maravilla Estates but also the vibrant and active lifestyle. A grand 7,000-square-foot clubhouse will be the central hub of activity in this 55+ community and will feature a fitness center, lounge, multipurpose room, catering kitchen, ballroom, card room, outdoor pool, tennis court, and much more.