Word of mouth, slick brochures, and stunning websites can sell you on an age-restricted development, but to really find out what it's like to live there, you've got to get a "boots-on-the-ground" experience. Here's why you want to spend some "tourist" time visiting the 55+ communities on your shortlist, and some actionable tips for getting access to the information you need.
6 Reasons to Check Out a Prospective 55+ Community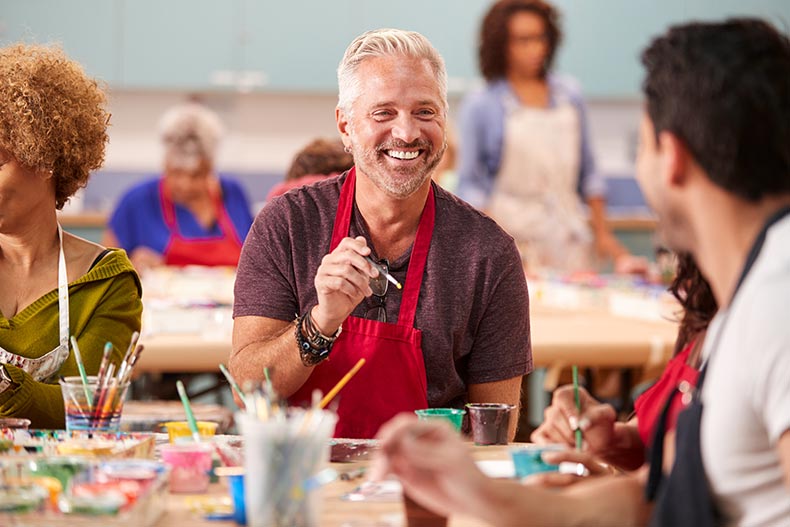 Whether you're new to the concept of age-restricted developments or you're ready to narrow down your top five list, it's in your best interest to shop around to find the community that resonates with you. Here's a checklist of features worth your attention.
1. Amenities
Is it important that your community has facilities for your favorite activities? Is a clubhouse with a dining room at the top of your list? Whether you're passionate about golf or you've caught the pickleball bug, there's a place for you. The best way to find out about facilities is to see them for yourself. How are they maintained? Is that sparkling pool on the development's website as gorgeous in person? Do people participate in leagues or clubs?
Don't forget to ask about amenities shared by multiple communities, such as Green Valley Recreation in southern Arizona. These arrangements reduce HOA fees and community sizes while giving residents access to more world-class amenities and activities than most individual developments can offer.
2. Security
Patrols, gatehouses, and walls help reduce crime and unwanted traffic, but they have their downsides: The entry and exit points might be inconvenient for you as they can cause traffic bottlenecks and slow down emergency services, and the added HOA costs can be prohibitive. A tour of the 55+ community will reassure you that security is top-notch, and help you decide which streets provide the level of privacy and safety for you.
3. Home floorplans and construction quality
Many 55+ developments offer a variety of home styles, from low-maintenance condos and townhouses to sprawling single-family estates. In most cases, you have several models from which to choose; in others, you can purchase a lot and build a custom home. Speaking of builders, most developments were built by the same construction company, and not all are equal. Touring a 55+ community, as well as individual homes, can give you insight into construction quality as well as floorplan flow and design.
4. Landscaping and maintenance
Many HOAs take care of your landscaping, and some even maintain roofs and home exteriors. Other communities leave these tasks and expenses to the property owner. If aesthetics are important to you, you'll want to see how well homes and their surroundings are kept up, and you'll want to find out whether it's less expensive or more convenient to manage your own maintenance and yard work.
5. Location
Do you prefer to live in a more rural area, or do you want to be close to entertainment, dining, shopping, and other activities? Do you need easy access to medical facilities or place a higher priority on a private marina? A community's proximity to hospitals, airports, malls, and civic centers may look great on Google Maps, but unless you've experienced local rush-hour traffic or winding roads firsthand, you won't know how easy it is to get where you want to go.
6. Pleasant Surprises
Sometimes you discover (and fall in love with) features that you didn't even know you were looking for. A 55+ community workshop space for sewing or woodworking groups, for example, or a yacht club for remote control boats. Maybe you weren't even aware that many newer developments have community gardens or set aside copious natural greenspaces. Some of these amenities may influence your "must-haves" when it comes time to look for a home: Do you need a big yard if you can enjoy verdant common spaces? Can you ditch your home hobby room if you have access to dedicated activity centers? Be open to new possibilities!
5 Tips for Getting the Best Feel for a 55+ Community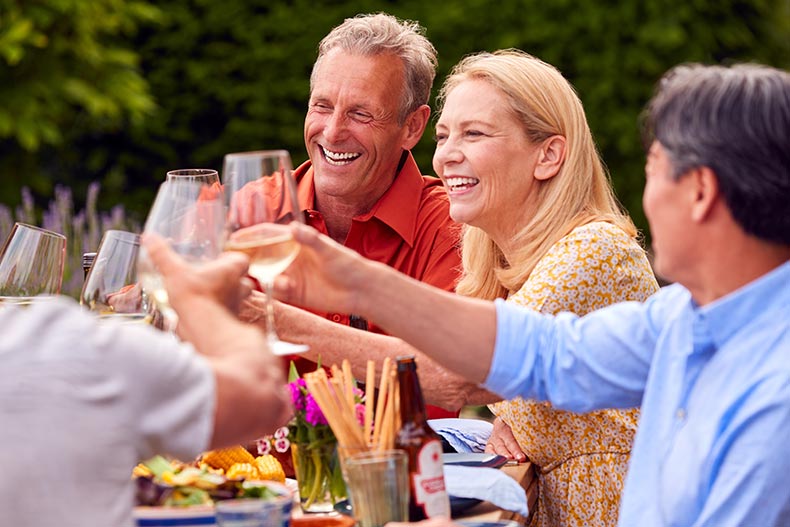 Now that you've decided an in-person visit is in your best interest, how do you go about getting the most out of your experience? These tips will help you narrow down your options and feel confident about your purchasing decision.
1. Find out if you can stay in a home
Some communities offer "stay and play" opportunities where you can rent a home for a few nights and have a more immersive experience. This is perhaps the best way to explore a prospective 55+ development and learn about the people who could be your neighbors. Check with the community's sales office, or work with a local real estate agent who's familiar with the development and who has the connections to get you a short-term stay.
2. Ask to meet the lifestyle director
The lifestyle director is often the glue that keeps a community close. Here's what you want to find out:
Is the online social calendar regularly updated?
How's participation in planned activities and clubs?
How easy is it to get a new club off the ground?
Are there cooperative events among neighboring communities?
While you can certainly ask these questions over the phone, you'll have more opportunities to experience community activities in person with the help of a lifestyle director. This leads us to the next item on your "to-do" list:
3. Check out social events
If you have the time, attend a function that interests you. If there's no lifestyle director, a development sales representative should be able to give you access. Are the residents friendly and welcome? What's the vibe? Is there a lot of interaction among the residents?
4. Attend an HOA meeting
Most 55+ communities have homeowner's associations, and while you can get a copy of their benefits and rules, it's important to get a sense of who's running the show and how they conduct their meetings. To be blunt, an HOA and its officers can make or break a community as well as your rights and experience as a homeowner. Don't be afraid to ask questions when the meeting opens up the floor.
5. Get the scoop from a local real estate agent
If you need an introduction to a community or valuable insights about its homes and local markets, 55places can connect you with a local real estate professional who's an expert in 55+ communities.
Ready To Start Your Tour?
Consider this article as inspiration for your own research. Make a list of features and qualities that are important to you, and re-evaluate them after each community tour. While you should never settle, you'll find that your priorities might change as you get a better sense of what's available. And with dozens of new 55+ communities popping up each year, you're sure to find a place you'll be thrilled to call home. Reach out to the team at 55places to get started today!