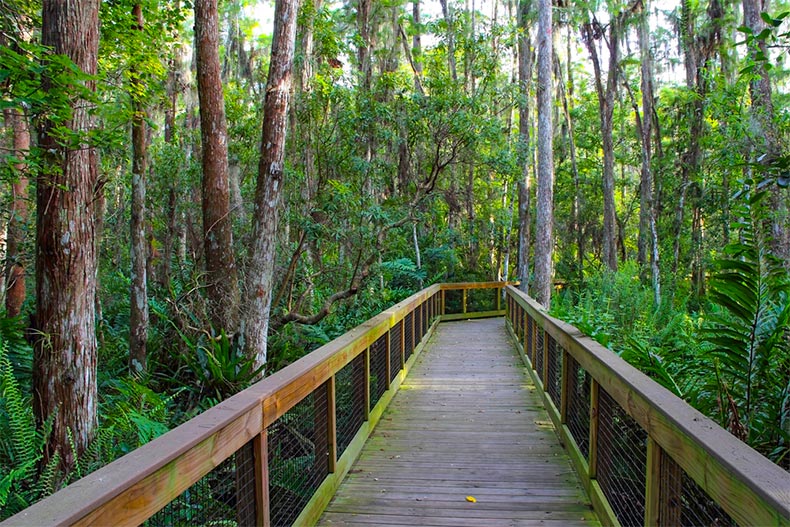 Active adults love living in Southeast Florida because the region provides a number of outdoor recreational opportunities that are nearly impossible to enjoy year-round in other places. Whether you've chosen to settle in West Palm Beach, Boca Raton, or one of the other inviting cities close to the Atlantic, there will be plenty of recreation to help you enjoy the sunny skies and the warm winters.
Tee Off at a Championship Golf Course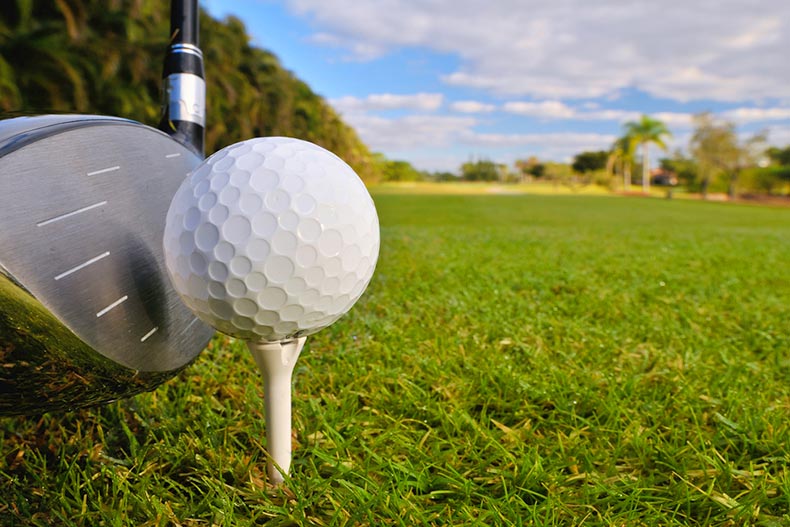 If you love to hit the links, Southeast Florida offers a lot of impressive options.
Many people who move to Florida identify golf as one of the reasons they relocated. If you love to hit the links, Southeast Florida offers a lot of impressive options.
In Palm Beach Gardens, there's PGA National, a resort with five of Florida's top-rated golf courses. With greens designed by Arnold Palmer, Karl Litten, and Gene Sarazen, you're sure to find one you like, and you can consider taking lessons at the Golf Academy. In West Palm Beach, try Ibis Golf Club, which has three golf courses designed by the Nicklaus family. Members and visitors can also play tennis and swim.
If you like to play where you live, consider some of the 55+ golf communities in Southeast Florida, such as Boca Lago in Boca Raton, which is home to the Boca Lago Golf & Country Club. There's also Poinciana in Lake Worth and Kings Point in Delray Beach, each with 18-hole golf courses.
Take a Hike and See Some Wildlife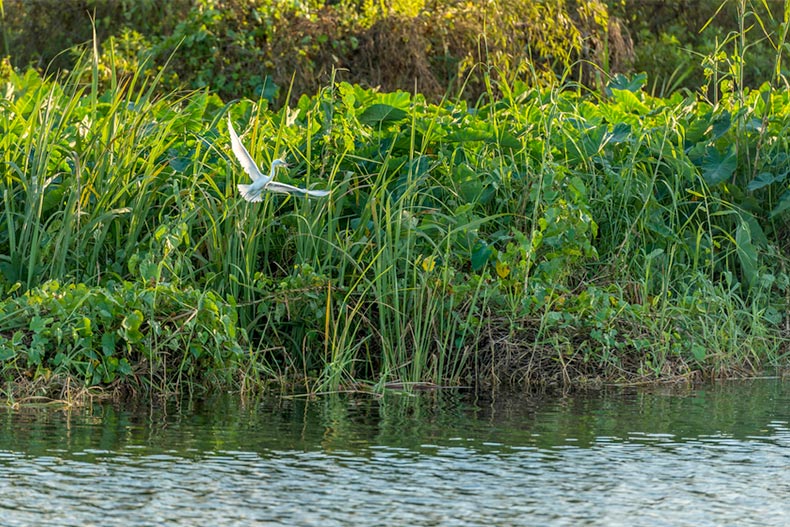 Active adults who love the outdoors will enjoy hiking, biking, and simply strolling through some of the gorgeous preserves, state parks, and nature trails in Southeast Florida. In Boynton Beach, the Loxahatchee Wildlife Refuge is managed by the Fish and Wildlife Service and provides more outdoor fun than can be contained in a single day.
Explore over 140,000 acres of cypress swamps and Everglades habitat while counting birds, photographing alligators, and enjoying a rare and fragile ecosystem. If you like the water better than the woods, visit the Lake Trail in Palm Beach, which extends for five miles along the Intracoastal Waterway. This path takes you on foot or bike past some of the largest and most luxurious homes in Florida. Unfortunately, most of them are hidden behind high hedges and serious landscaping.
The Holey Land Wildlife Refuge is another great place for hiking, biking, fishing, and wildlife spotting. If you're a fan of trees and plants, you'll love the encounters with native species throughout the sawgrass marsh. In Boca Raton, Yamato Scrub Natural Area is worth a visit, with three trails that are both paved and sandy.
Be a Beachgoer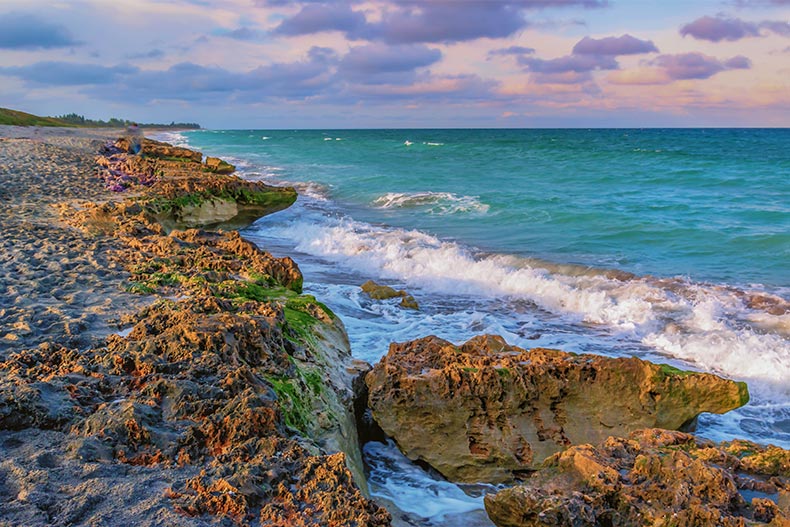 Visitors to Blowing Rocks Preserve can go wading and do some shelling.
Plenty of outdoor recreation can be found at the beach. At Hollywood Beach, there's plenty of sand and surf for sunbathing and swimming, but the real fun is on the boardwalk. Take a walk, visit the souvenir shops, or rent a tandem bike. Try kayaking at Singer Island in Palm Beach, where you can also go snorkeling or rent a jet ski.
Visitors to Blowing Rocks Preserve in Hobe Sound can go wading, check out the limestone rocks on the shore, and do some shelling. If scuba diving is a pursuit you'd enjoy, visit Pompano Beach near Fort Lauderdale, where you can swim with sharks, eels, and manta rays. Beautiful coral reefs are within swimming distance from the shore.
Fishing in Southeast Florida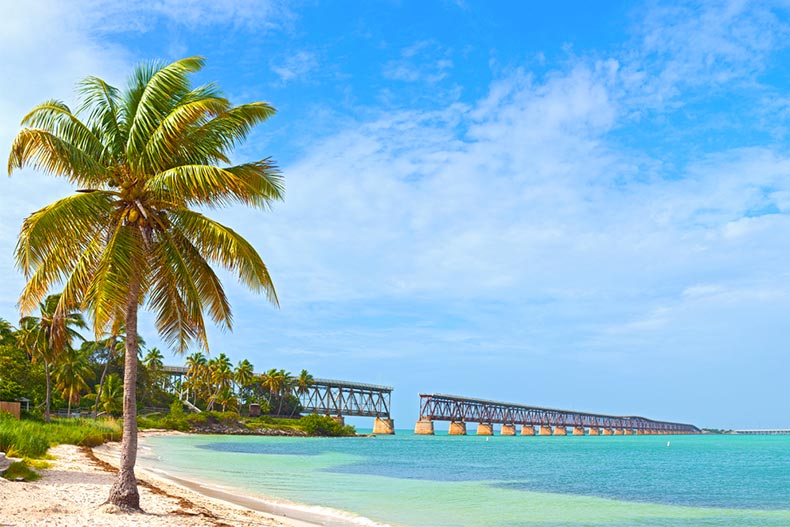 The Flagler Beach Bridge off the fishing pier in West Palm Beach has places to buy bait.
Fishing can also be found on and near the beach as well as in the many lakes and rivers that run through Southeast Florida. The Flagler Beach Bridge off the fishing pier in West Palm Beach has places to buy bait and rent umbrellas, fishing poles, and fishing buckets. Anglers hoping to catch some fish will find that snook and mullet are especially common, and it's a popular spot for night fishing. Other great fishing piers in Palm Beach County include Lake Worth Fishing Pier and the pier at Ocean Inlet Park at Boynton Beach.
Green Ridge Point near Port St. Lucie is covered in mangroves and a beautiful place to catch ladyfish, snook, and jack crevalle. There's a dock and a fishing lake at the Mirror Lakes community in Boynton Beach, which is something to consider if you're looking for a place to fish close to home or while at home.