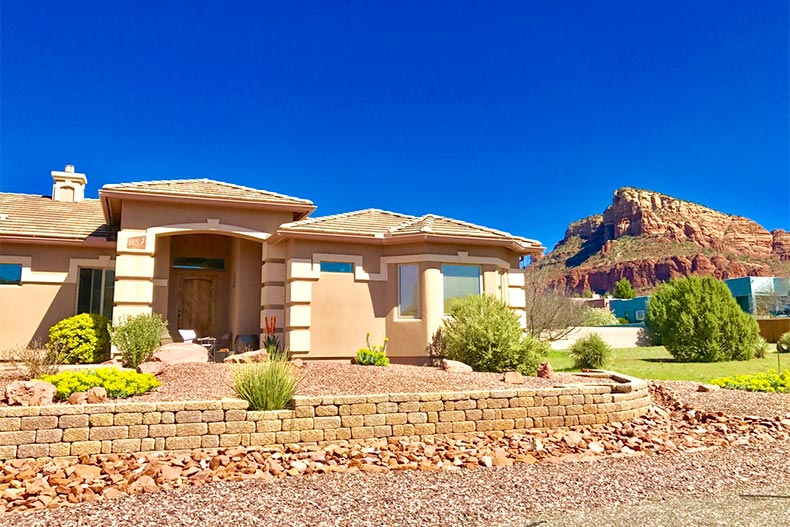 When people consider a move to a 55+ active adult community, downsizing is often one of the reasons. There are many advantages, and one area where there are a number of communities ideal for downsizing is Phoenix, Arizona.
Advantages to downsizing include more affordable homes, and less space, which means less maintenance both indoors and outside. Downsizing may free up capital which can be invested to provide extra income. It can also cover unexpected expenses.
Many people downsizing to 55+ communities in sunny places like Phoenix invest in a golf cart. The initial investment pays off eventually in much lower gas consumption by using the cart instead of the car for shorter journeys.
A lump sum released by downsizing can also be used to help children and grandchildren by enabling them to get on the property ladder themselves, or help pay their college fees. You can also make the lump sum work for you by buying a less expensive older property and modernizing it to fit your own needs.
One factor to consider in choosing a place for downsizing is how active you want to be. The idea of a smaller and lower-maintenance yard can be appealing, but some people find that they miss the enjoyment of having a garden.
People downsizing to a place like Phoenix might think that Arizona is all desert, and gardening will no longer play a big part in their lives. However, many people realize they enjoy the new challenge of cultivating cacti, of growing citrus and olive trees, and are surprised to discover that rose bushes thrive in Arizona.
Another factor to take into account is how much you should downsize. Moving to a place like Phoenix with its mild winter climate, you will discover that friends and relatives will want to visit and you will need a guest bedroom. If you have a hobby such as music or crafts, you might want to consider a den or smaller third bedroom so that you don't need to move things when you have guests.
Something else to consider is garage size. If you only have one car, don't assume you only need a one-car garage. You may wish to buy a golf cart. Downsizing also means having to get rid of a lot of things, and this may not go as planned. You might need somewhere to store things till you can go through them.
So you should bear these factors in mind when you consider these five communities that are ideal for downsizing near Phoenix.
Sun City
The first active adult community in the country, Sun City remains a good option for downsizing. It's a 30-minute drive from Downtown Phoenix, and because of its size (over 26,000 homes) you can enjoy 11 golf courses as well as benefit from low property taxes and low association fees.
Property prices are also competitive. Two-bedroom homes start in the low $100s and smaller three-bedroom homes sell for under $150,000.
Floor plans start at studios of 635 square feet, for those who really want to downsize, with 2-bedroom apartments starting at 961 square feet and going up to single-family homes at 2,137 square feet.
An advantage for a larger community like Sun City is that there is a faster turnover of homes for sale, making it easier to move again if you like the community but didn't choose the right home initially.
Sun City Grand
Sun City Grand is in Surprise, a little over 20 miles from Downtown Phoenix. This is a good choice if you're a single wishing to downsize, especially for younger retirees as this is a 45+ community.
With 9,802 homes it offers many of the advantages of the original Sun City: a bigger choice of homes, and plenty of facilities, many of them aimed at the active single person. These include four golf courses, sports, several pools and fitness centers, hiking and biking trails, and singles meetups.
For a major downsize, one-bedroom condos of under 500 square feet can be bought for under $100,000. Two-bedroom condos start at 1,021 square feet and two-bedroom single-homes at 1,115 square feet. The more compact two-bedroom condos and homes start in the $150k to 200k range.
Leisure World - Mesa
If you want to downsize near Phoenix and still enjoy both city and outdoors then Leisure World in Mesa offers both. Mesa adjoins Phoenix yet is a separate city, the third-largest in the state.
Homes in Leisure World enjoy views of the nearby Superstition Mountains, and outdoor activities are on the doorstep. Amenities within the 2,664-home community include 12 man-made lakes, two golf courses, a post office, a library, and many sports, hiking, and biking opportunities.
Homes include duplexes, condos, attached, and detached homes, and range in size from 630 to 3,400 square feet. Smaller homes for downsizers are in the $150k to 200k range.
Ahwatukee Retirement Village - Phoenix
The Ahwatukee Retirement Village is a 20-minute drive from Downtown Phoenix, adjacent to Interstate 10, yet less than five minutes from South Mountain Park, one of the largest urban parks in the United States. It is a 55+ community that was specifically designed to provide low-maintenance living, ideal for downsizers.
Amenities include an indoor lap pool, an arts and crafts building, a fitness center, a ballroom, a library, and numerous outdoor activities such as pickleball, shuffleboard, and tennis courts.
The 1,686 homes include single-family homes that provide single-level living and low-maintenance exteriors. Many offer golf course views and homes range from approximately 1,000 to 1,700 square feet. The more affordable homes are in the $150k to $250k price bracket.