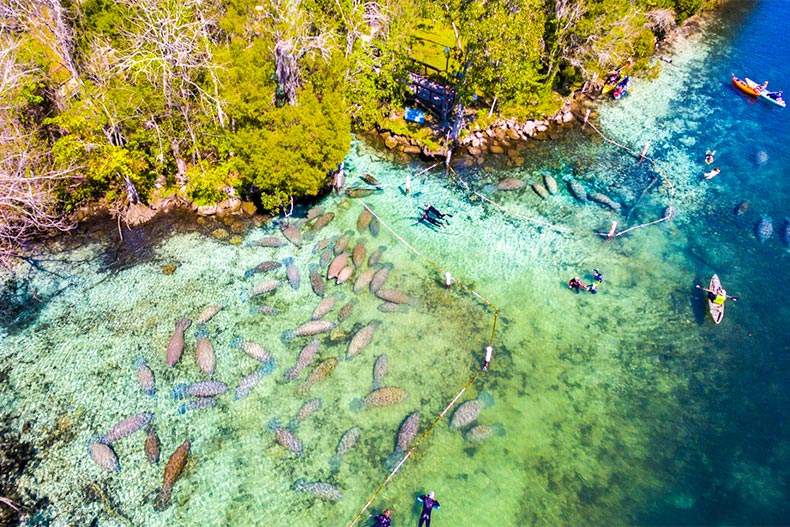 Winter in Florida is a little different than winter in other places. Residents don't have to shovel snow or turn on the heat, and there's rarely an occasion for scarves and heavy wool. When the temperatures dip and toes start tingling in flip-flops, however, many active adults seek satisfying alternatives to the beach. Here are five cold-proof activities around the state that make Florida as fun in the winter as it is in the summer.
Visit Some Manatees
The manatee is Florida's state marine mammal, and people are fiercely protective of these slow-swimming sea cows. There are an estimated 6,000 manatees in Florida waters, and in the winter they gravitate to certain places in the state where the waters stay warmer. In Apollo Beach, you can visit the Manatee Viewing Center where they gather in the warmer waters created by Tampa Electric's energy plant.
Another great place to see manatees on the move is at Blue Spring State Park near Orange City, where the natural spring waters remain at an inviting 73 degrees all year long. While viewers are not allowed to swim with the manatees, they can observe them from a long boardwalk stretching from the St. John's River to the springs. On Florida's east coast, visit Merritt Island and stop by the Manatee Observation Deck at Canaveral National Seashore.
The Florida State Fair
Head to the fairgrounds just outside of Tampa for the annual Florida State Fair, scheduled to open on February 7, 2019, and run through February 18, 2019. Advance tickets and armbands for rides are already on sale.
The famed Budweiser Clydesdales will make an appearance, and other scheduled acts include The Alley Cats, Lady Houdini, and The Mr. Tommy Show for kids. There are rodeos, tractor pulls, demolitions, art exhibits, and a giraffe petting zoo. Grab a funnel cake and turkey leg, play fair games, and ride the Ferris Wheel or Tilt-a-Whirl in Florida's pleasant February weather.
Shop Until You (Nearly) Drop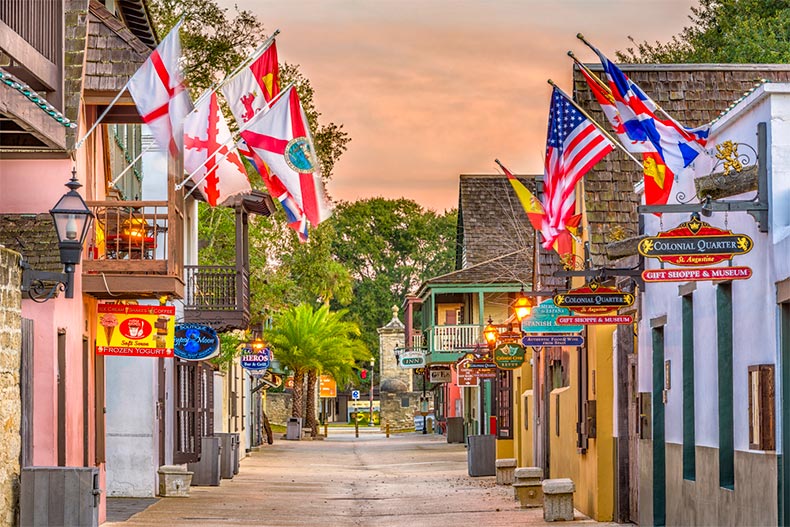 St. Augustine may be a little cooler than other Florida towns in the winter, but it does have plenty of great indoor adventures.
Florida has a number of interesting places to shop. Antique-hunters should try Avonlea Antique Mall in Jacksonville, home to a number of unique collectibles. Other antique hotspots include the small town of Mount Dora in Central Florida, and Micanopy, a town just outside of Gainesville. Those who prefer hunting for bargains in outlet malls should check out the St. Augustine Outlets in Florida's most historic city, the Premium Outlets in Bradenton, or the Orlando International Premium Outlets. For one-of-a-kind souvenirs, check out the sponge docks at Tarpon Springs or the pier in Pensacola.
Florida also offers plenty of upscale boutiques and malls for shoppers with a bigger budget. It's not uncommon to run into professional athletes at Tampa's International Plaza, which includes stores like Burberry, Tiffany & Co., and David Yurman. Favorite high-end retailers are all over the Town Center Mall in ritzy Boca Raton, including Gucci, Hugo Boss, and Lacoste.
Hit the Hiking Trails
With low humidity and hibernating mosquitoes, winter is the best time for outdoor recreation in Florida. There's no better time to leave the electronics behind and comfortably hit the trails for some hiking, biking, or horseback riding while exploring Florida's various habitats.
Some of the best trails to enjoy in the cooler weather are along The Florida Trail, which is 1,000 miles of woods and wetlands, and one of 11 National Scenic Trails in the United States. Central Florida is a great place to hike, particularly around Ocala. Dozens of trails can be found at the Ocala National Forest. In the southern part of the state, visit the trails at Everglades National Park and Big Cypress National Preserve.
Leave the Mainland and Visit the Keys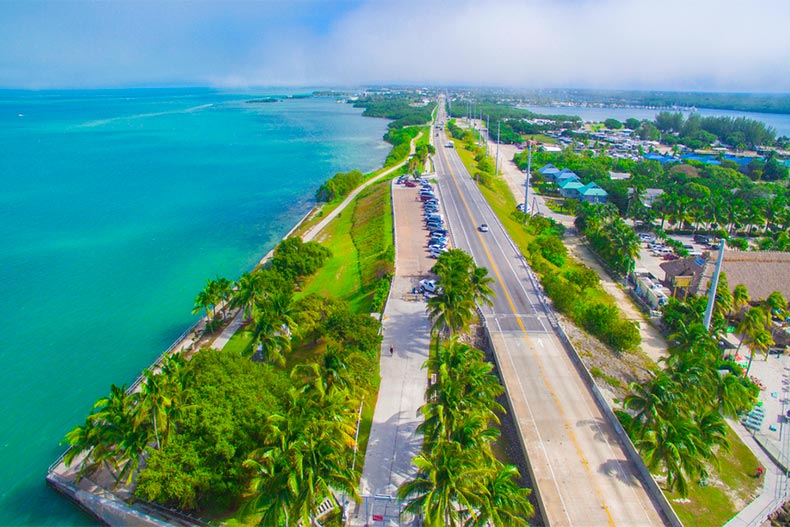 Most people who visit the Florida Keys go to Key West, and there are hundreds of good reasons to spend some time in the southernmost part of the continental U.S. Each Key leading up to Key West is equally beautiful and worth a look-around, however, and winter is the perfect time to explore them all.
On the way into North Key Largo, stop by Alabama Jack's, a seafood restaurant and local favorite for conch fritters and ice-cold beer with an expansive patio and live music. Hop on the historic Seven Mile Bridge in Marathon Key, which was built in 1900 and is the longest bridge connecting the Lower Keys to the Middle Keys. It's on the National Register of Historic Places and is as functional as it is beautiful. Residents and visitors alike use this bridge to jog, fish, and look for colorful birds and marine mammals. Finish the day by reveling in a breathtaking sunset, a classic end to any day in the Keys.