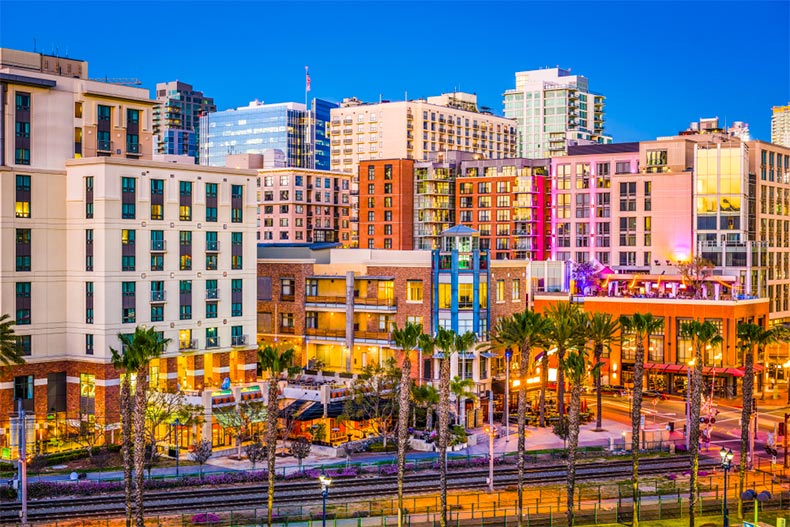 With near-perfect weather all year and a bustling urban center, San Diego is one of the most popular destinations for active adults. This coastal Southern California city offers an excellent blend of outdoor attractions and big-city entertainment.
San Diego is home to a number of active adult communities, including Auberge at Del Sur, Seven Oaks, and Oaks North. If you're considering making a move to San Diego, check out what this thriving city has to offer for active adults.
Take a Stroll Around Balboa Park
If you'd like to enjoy some culture while taking in beautiful sights, Balboa Park is just the spot. Sometimes called the "Smithsonian of the West," Balboa Park is where you'll find locals lounging in the gardens, checking out museums, and enjoying various arts and music performances. Architectural details of the Spanish Colonial Revival style buildings remain a prominent part of the park's historic charm.
The urban park is located just about a mile north of San Diego's downtown area. Spanning 1,200 acres, it includes several gardens, 17 museums, and cultural institutions, various recreational facilities, and beautiful green spaces. It is also home to the world-famous San Diego Zoo. During the summer, Balboa Park offers free Sunday concerts at the outdoor Spreckels Organ Pavilion, which is the largest outdoor pipe organ in the world. It has maintained this tradition since 1917.
Check Out the Beaches
A move to San Diego isn't complete without visiting the beautiful local beaches. With more than 70 miles of coastline, San Diego's beaches range from rugged to pristine. Coronado Beach, which is accessible by ferry or the Coronado Bridge, is known for its well-manicured, sandy white beaches. This upscale beach community is a favorite for tourists and locals alike.
For those who prefer a more dramatic landscape, La Jolla fits the bill. La Jolla, meaning "the jewel" in Spanish, is truly one of the gems of San Diego. La Jolla is known for having several distinct beach areas, including the La Jolla Cove and Children's Pool area, and the La Jolla Shores. The cove is rich in marine life and draws visitors year-round for snorkeling, kayaking, and scuba diving. For those looking to have the traditional Southern California beach experience, La Jolla Shores offers a mile of sandy beaches.
Quench Your Thirst in the Craft Beer Scene
San Diego is enjoying a booming craft beer scene and currently has about 200 breweries and tasting rooms. One of the most popular breweries is Karl Strauss Brewing Co., which is largely responsible for launching San Diego's craft beer scene back in 1989. Karl Strauss has several locations in San Diego County and throughout Southern California. This brewery is known for its modern rustic vibe, tasty brews, and regular live music.
Another popular option is Stone Brewing Company, which has its flagship location in Escondido, located about 30 minutes northeast of central San Diego. It opened in 1996 as just a small microbrewery, but it is now one of the largest craft breweries in the country. This award-winning brewery offers an industrial modern aesthetic with 36 specialty beers on tap.
Explore Where it All Began: Old Town San Diego
Old Town is San Diego's charming historic district that was the site of the city's beginnings. It is considered the "birthplace" of California, and in 1769, it became the first permanent Spanish settlement in the state. Before the present downtown area was developed, San Diego was mostly limited to Old Town until around the 1860s.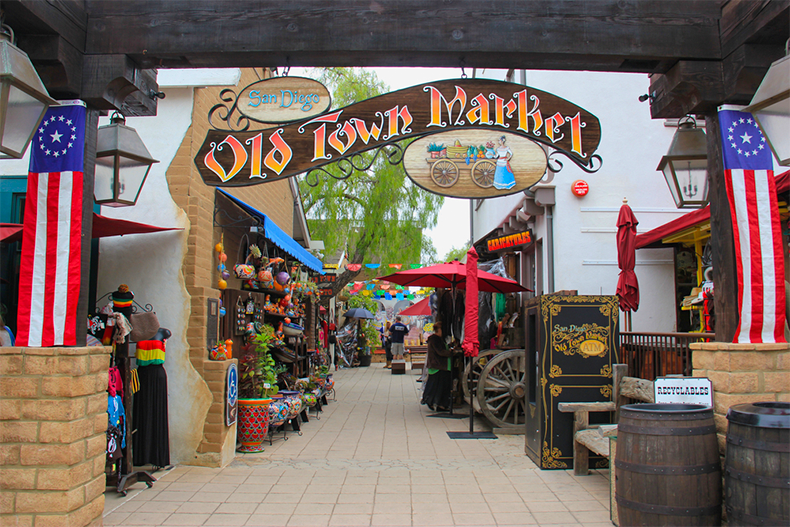 Old Town San Diego is full of markets, museums, and historic architecture.
These days, visitors can stroll through the historic streets and tour the many local museums that offer a rich history of San Diego's past. Old Town is also known for its abundance of restaurants with traditional Mexican cuisine and cultural attractions.
Dine and Shop Downtown
Downtown San Diego offers plenty of dining and shopping opportunities, and it is easily accessible by public transportation. The Gaslamp Quarter is at the heart of it all: this vibrant downtown area spans a little over 16 blocks and is renowned for its eclectic mix of Victorian architecture, top-notch dining, and excellent shopping destinations. It is laid out in an easy grid format with alphabetical streets, making it easy to navigate on foot. Other downtown attractions include Petco Park (home of the San Diego Padres), the waterfront Embarcadero, the USS Midway Museum, and charming Seaport Village.