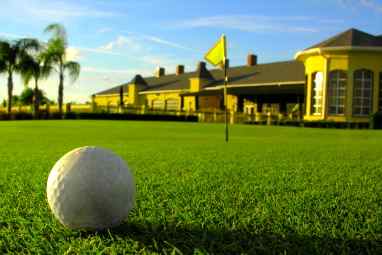 Ten years ago, a conversation about retirement was sure to bring up two topics: golf and Florida. Times are changing and retirement today has a much more diverse landscape. Some active adults prefer to settle in a more urban environment which offers all four seasons, and some retirees prefer basketball or online gaming over hitting the links.
Despite the wider range of activities available to active adults, there will always be plenty of retirees who continue to enjoy the spectacular golf courses in sunny Florida. Here are just a handful of Florida's awesome golf communities for active adults.
1. The Villages
With over 56,000 homes, The Villages is the largest active adult community in the world. This sprawling community is connected by over 100 miles of golf-cart-legal streets and trails. Residents can play for free at any of the 26 executive courses or at any of the nine championship golf courses for a nominal fee.
2. Lely Resort
Set along Florida's southwest coast, Lely Resort boasts three championship 18-hole golf courses. All three picturesque courses provide spectacular play, yet the fifth hole of the Flamingo Island course, a small island accessible by bridges, is sure to make an impression. Community residents can choose from three different golf membership options to meet their own individual needs.
3. The Villages of Citrus Hills
The Villages of Citrus Hills is a luxurious community that includes three championship 18-hole golf courses as well as multiple amenity-rich clubhouses. Golfers who reside in this beautiful community will enjoy the convenience of having golf pro shops at both the Skyview Clubhouse and the Citrus Hills Golf and Country Club.
4. Solivita
Located in Kissimmee, the Tuscan-themed community of Solivita brings its own distinctive flair to its Florida setting. With nearly 6,000 homes and a variety of amenities, including two 18-hole championship golf courses, Solivita is an ideal home for many discerning golfers.
5. Lake Ashton
Surrounded by rolling hills and citrus groves, Lake Ashton offers two championship 18-hole golf courses, two 30,000-square-foot clubhouses, and a wide range of amenities and social clubs. The community also includes a fully-equipped golf pro shop and an on-site golf pro.
6. Vineyards
The mid-sized community of Vineyards, which includes just over 2,700 luxurious homes, enjoys a beautiful setting in the popular Naples area. There are two private 18-hole golf courses within the community, as well as spacious clubhouses, tennis facilities, and many more amenities.
7. High Vista at Ridgewood Lakes
Only 30 minutes southwest of Orlando, High Vista at Ridgewood Lakes is a gorgeous country club community home to Ridgewood Lakes Golf Course, an 18-hole championship course. The popular location allows residents convenient access to local theme parks such as Walt Disney World and Universal Studios Orlando.
8. Heritage Bay
Homeowners at Heritage Bay enjoy golf equity at the community's spectacular 27-hole championship course. Designed by Gordon Lewis and Jay Azinger, these three 9-hole golf courses can be played in various combinations to make up a challenging 18-hole game.