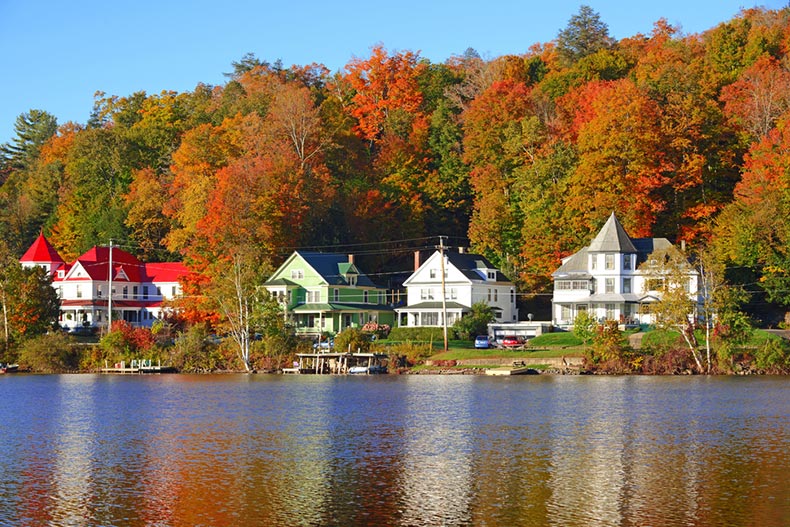 New York City is so large, so all-encompassing, that it often seems to dwarf the rest of the state. In fact, when someone is referred to as a "New Yorker," others usually assume they're from the city. Yet, even though the U.S. Census Bureau reported its population at 8.4 million in 2018 (the entire state hovered at around 19.54 million), not all of the Empire State's top resources and attractions are in the five boroughs.
Also, there are no traditional, sprawling, affordably-priced active adult communities in the mega-metropolis, but if you're looking for a retirement community that's two hours or less from The Bronx, Brooklyn, Manhattan, Queens, and Staten Island, there certainly are options.
Here at 55places.com, we list 75 active adult New York neighborhoods, the majority being in Long Island and another 20 or so in the Hudson River (Carmel Area) and Albany regions. State residents are used to spending time in NYC traffic, but the state's highway system takes locals and travelers to destination-worthy spots throughout its 54,555 square miles. You can actually pick up NY State Route 90 in Albany and take it all the way west across the state until you end up in Buffalo.
New York also has tourist destinations like the Finger Lakes, the Adirondack Region, and the Catskills Mountains. Below, we'll profile these popular areas and a few others too.
Finger Lakes
There are three major airports in the Finger Lakes: Rochester International, Syracuse Hancock International, and Ithaca Tompkins, and the best times to visit is usually from May through September since many of the attractions are outdoors. This area is mostly known for its wealth of wineries, but there are many other things to do as well. There are 11 lakes in total, but Canandaigua, Cayuga, Keuka, Seneca, and Skaneateles have the wine trails (as well as breweries, distilleries, and restaurants).
You may want to rent a car to see all of the stunning scenery, but if you plan to imbibe, it's a good idea to sign up for a wine tour instead. And depending on the time of year, you can expect to see stunning fall foliage, farmers markets, or ice-skating ponds. Additional spots worth visiting include Watkins Glen State Park, the Harriet Tubman Historical Park and Home, and the Waterloo Shopping Outlets.
The Adirondacks
Covering over six million acres in northeastern New York, the Adirondack Region consists of endless valleys, mountains, lakes, rivers, and small to mid-sized communities. To get here, you can make the drive, take a train (Amtrak's Adirondack Service), ride the Adirondack Trailways bus line, or fly into Plattsburgh International Airport. It can get quite cold in the wintertime, but if you like winter sports, this area is unmatchable in the Northeast.
Some of the best-loved (and most trafficked) Adirondacks towns include Lake George, Lake Placid, Saranac Lake, and Keene. Out of these, Lake George is about four hours north of NYC, and it's a well-developed tourist area with plenty of lodging, family-friendly activities, and a busy summertime scene. Home to the 1932 and the 1980 Olympics, Lake Placid is a quaint village with luxury resorts, ski areas, spas, shops, and gourmet restaurants. It's a haven for year-round sports, including cross-country skiing, hiking, paddle boarding, and kayaking.
Saranac Lake is smaller and more laid back, but its downtown has some fine restaurants and shops. It also has beaches, a marina with boat rentals, hiking trails, and Mt. Pisgah Recreation Center for skiing and mountain biking. Keene and Keene Valley are part of the High Peaks Region, where you'll find the highest and most challenging mountains to climb. There are plenty of waterfalls, charming downtown areas, and other outdoor activities as well.
The Catskills
Much closer to NYC, The Catskills Mountains are experiencing a resurgence with many new hotels and activities opening up. It's about 120 miles north of Manhattan, and bus service is provided by Adirondack/Pine Hill Trailways. You'll enjoy spending time at the charming small towns, like Woodstock, New Paltz, and Roxbury.
Outdoor recreation also reigns supreme here, and there are countless opportunities for hiking, biking, fishing, skiing, swimming, and boating. Boutique hotels are also a big thing here now, and some of the top ones include the North Branch Inn and Hotel Dylan.
Long Island
Many people think of the Hamptons and multi-million dollar mansions when Long Island is talked about, but much of its riches are open to everyone. There are three airports that serve the area: JFK International, Long Island MacArthur, and LaGuardia. The Long Island Railroad transports visitors from Manhattan, and there are also buses and ferries.
Long Island has several regions, including North Fork, South Fork, Montauk, North Shore, South Shore, and Fire Island. No matter where you are though, there's a body of water nearby: The Long Island Sound is to the north, the Atlantic Ocean to the south, and the Block Island Sound is to the east. Aside from the many beaches and state parks, there are endless lakes, golf courses, farms, hiking and biking trails, marinas, and wildlife refuges. There are also year-round events, museums, performance theatres, amusement parks, wineries, and to-die-for restaurants.
And That's Not All…
We're almost out of space, but it would be remiss to not circle back to New York City, where you could spend a month and still not see all the Big Apple has to offer. Try to catch a Broadway show, visit the 911 Memorial, stop in Greenwich Village, or wander through the Metropolitan Museum of Art for starters.
Whoops—we didn't even get to discuss Niagara Falls or Buffalo. Guess that'll have to keep for another time. For now, enjoy your time in New York State and happy travels!