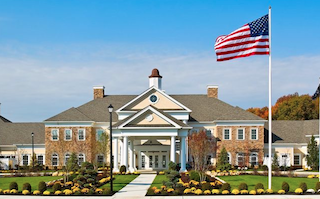 Active adults looking for an attractive community in Central New Jersey may find their dream retirement in Monroe Township. This picturesque area, in the southern region of Middlesex County, features small-town charm and a variety of local attractions. While the township is home to residents of all ages, a number of age-restricted communities make it a popular destination for older homebuyers.
Location
Located about 45 miles south of New York City, Monroe Township is a great option for active adults who want to settle in a small town, but stay close to urban attractions. Within an hour's drive, residents can enjoy the sunny shores of Monmouth Beach or take in a Broadway show in New York City. The township is also within close proximity of other popular New Jersey destinations, such as Trenton, New Brunswick, Princeton, and Red Bank.
Climate
Monroe Township's East Coast setting features a climate that experiences all four seasons, including hot summers and cold winters with occasional snow storms. During the peak of summer, average daytime temperatures are in the mid-80s. In winter months, days are often in the high 30s or low 40s. Yet, this range of seasons also brings warm spring days with flowers in bloom and crisp autumns with brilliant displays of fall foliage.
Attractions
Locals and visitors alike can enjoy an exciting mix of regional attractions and seasonal events. Area farmers markets, like the Jamesburg Farmers Market, make it easy to buy the freshest produce from local growers. Apple and pumpkin picking farms are popular fall attractions, while nature lovers can also enjoy outdoor recreations year-round with scenic parks, hiking trails, ski resorts, and ice skating rinks.
Monroe Township and the surrounding area offers a wide range of diverse entertainment. There are shops, restaurants, movie theaters, golf courses and live performance venues. Residents and visitors can enjoy concerts, plays and more at area attractions including State Theatre, George Street Playhouse, Crossroads Theatre Company, and the Mason Gross Performing Arts Center at Rutgers University.
Active Adult Communities
Active adults who wish to settle in Monroe Township will have no trouble finding affordable homes in lovely age-restricted communities. The area features large, resort-style communities like Rossmoor Village, Clearbrook and Concordia. There are also mid-sized developments and smaller, more intimate neighborhoods, such as Greenbriar Stonebridge, Encore Monroe and Renaissance at Monroe.
With a variety of local recreations and appealing active adult communities, it's easy to see why Monroe Township is popular with older homebuyers. Its prime location near New York City and the Jersey Shore also puts residents within easy reach of a wide range of urban and coastal attractions.