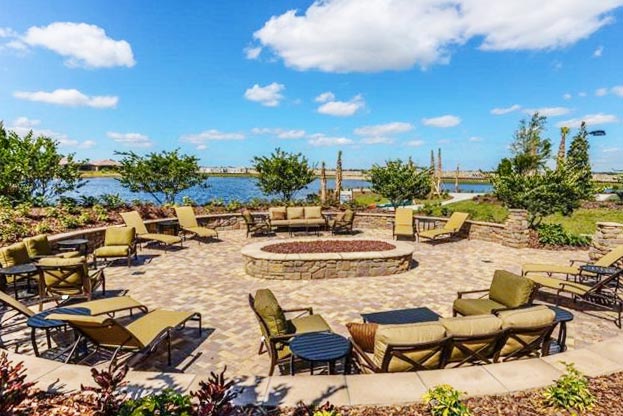 Lakewood Ranch, FL is a beautiful master-planned community that offers multiple 55+ communities within that are perfect for maintaining an active lifestyle. Courtesy of Taylor Morrison.
Lakewood Ranch is an immense master-planned community in Lakewood Ranch, Florida. The development has been recognized as one of the top-five, best-selling master-planned communities in America by two independent real estate consulting firms.
Lakewood Ranch is a self-sustaining development where all of the key elements of the community are carefully planned and built within its borders for its long-term success. Lakewood Ranch has an optimal mix of residential homes, businesses, parks, and recreational facilities.
Other essential amenities include hospitals, schools, a huge fitness center, and a bustling town center. Lakewood Ranch's motto "Everything Under the Sun" is truly apt for this diverse and widely populated master-planned community in Southwest Florida.
Started as a family enterprise in 1922, Lakewood Ranch now contains over 17,000 acres of land and could contain up to 32,000 homes at build out. It has over 20 distinct villages, ranging from condos and townhomes to single-family estates and custom homes, making it easy for homebuyers to choose the right size of home for their needs.
Home Styles
Some of the notable builders in Lakewood Ranch include Del Webb, Taylor Morrison, and Neal Communities. While it varies by community, homes are typically priced from the mid $300s to the low $500s, and could go up into the millions. Average home sizes range from 1,200 to 3,400 square feet and have anywhere from two to five bedrooms and two to four bathrooms. Each village has a wide variety of home styles, often with a Mediterranean feel to them.
Active Adult Communities
There are several private communities nestled within the borders of Lakewood Ranch, including many active adult communities. Active adult communities such as Del Webb Lakewood Ranch, Esplanade at Lakewood Ranch, and Indigo offer private resort-style amenities in addition to the master-planned amenities offered to all residents of Lakewood Ranch.
Esplanade at Lakewood Ranch and Del Webb both offer dozens of amenities for their residents, including fantastic clubhouses that offer top-quality fitness centers, tennis courts, and heated pools and spas. Both communities also offer plenty of social spaces like arts and crafts rooms that allow homeowners to pursue their creative side. Indigo offers relaxing cabanas outside of their clubhouse as well as miles of walking and biking trails that promote an active lifestyle.
Amenities
Outside of residential living, Lakewood Ranch has extensive opportunities for socializing, exercising, and shopping. The downtown corridor, which is known as Main Street, is lined with stylish boutiques, diverse restaurants, cafes, a movie theater, and shops.
The town also hosts a monthly free concert series and block party—allowing for ample community bonding time. Also, an additional town center is coming soon to the Lakewood Ranch community called Waterside Place where residents will find luxury shopping and dining as well as an eight-acre park within this new lakefront town center.
Recreation
In addition to world-class amenities, Lakewood Ranch also offers more than 30 stocked lakes, world-class golf courses, 3,500 acres of nature preserves, trails and parks, and a 20-court tennis center. With so many recreational facilities and outdoor amenities, residents will have numerous ways to take advantage of the beautiful Florida climate while staying active in the process.
Attractions
Homeowners also have easy access to nearby Sarasota and all it has to offer. The Sarasota area has some of the world's best beaches, sports venues, entertainment options, and cultural attractions, which are just a few minutes away from Lakewood Ranch. Those who choose to make Lakewood Ranch their home will surely not be disappointed by the ever-increasing number of activities, amenities, and things to do in this vibrant master-planned community in Lakewood Ranch, Florida.