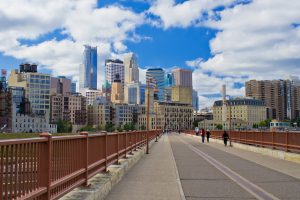 Many retirees might not think of Minneapolis as a popular retirement destination like other coastal and desert locations, but the city does offer some amazing benefits and attractions that draw in the 55+ crowd. Although Minneapolis has a reputation for freezing cold winters and a slightly higher cost of living, retirees who choose Minneapolis enjoy great art museums, outdoor recreation, scenic lakes, and a friendly atmosphere.
Minneapolis was also included on the "Best Places to Retire with a Nice Nest Egg" list by CNNMoney.com a few years back. Another reason why some Baby Boomers might choose to settle in Minneapolis for their Golden Years is that they can enjoy retirement in an urban environment that's closer to their family and friends.
Although Minneapolis has a cost of living that is 3.2% above the national average and Minnesota is known as the least tax-friendly state for retirees, it hasn't discouraged Baby Boomers from making it their retirement home. As a major part of the Twin Cities, Minneapolis offers retirees plenty of cultural attractions and entertainment options that make up for its lack of tax breaks and pricey real estate.
Arts & Entertainment
This thriving urban area has a vibrant arts and cultural scene full of museums like the Minneapolis Institute of Arts, Weisman Art Museum, and Walker Art Center. Retirees can get involved or volunteer with organizations like the Twin Cities Fine Arts Organization or the Northeast Minneapolis Arts Association to enhance their art appreciation while socializing with other like-minded adults.
History buffs can also explore the Minnesota Historical Society, Minnesota Streetcar Museum, or Hennepin Overland Railway Museum to learn something new about the area's colorful past. Minneapolis is also home to the University of Minnesota, where Baby Boomers can engage with other intellectuals in the Osher Lifelong Learning Institute by taking continuing education courses for personal growth.
Weather
Active adults who aren't afraid of snowy winters or humid summers also take advantage of the four-season climate. Retirees living in Minneapolis embrace the cold months by enjoying winter recreational activities and festivals like polar plunges, ice-carving tournaments, ice skating, ice fishing, skiing, and snow tubing. They also enjoy an assortment of water activities thanks to the city's 22 lakes, including the mighty Mississippi River that runs through the middle of this Midwest metropolis. Baby Boomers can kayak, canoe, boat, and fish on one of the many lakes in the area.
Nature
The Grand Rounds National Scenic Byway, which is the country's longest continuous system of public urban parkways, allows residents to bike, walk, or ski along the beautiful shoreline. The city also offers 197 parks full of natural beauty that are perfect for Boomers who want to bird watch, hike, bike, and jog in any season. And let's not forget about individual farmers markets found throughout the city where retirees can enjoy fresh, local produce as well as artisan crafts, cheeses, and flowers.
Getting Around Easily
Thanks to all of Minnesota's miles of bike trails, parks, and lakes, Minneapolis ranks as one of the most walkable cities in the country. Many neighborhoods are centrally located to everyday conveniences or are connected through bike-friendly paths that provide easy access to work or home. Some parts of the downtown area in the city are covered so walking around is easy no matter what the weather decides to do. With so many bike paths, parks, and outdoor recreation, it's no surprise that Minneapolis was ranked the number one spot on Forbes' list of America's Top 20 Healthiest Cities.
With a vibrant urban lifestyle, it's easy to see why some active adults would choose 55+ communities in the Minneapolis area as their retirement destination.