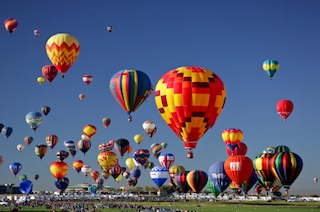 With sweeping mountain views, distinctive Southwestern architecture, a bustling city and plenty of outdoor recreations, Albuquerque has something to offer every visitor. This culturally-rich destination is a fabulous vacation getaway and a great place for an active retirement.
Location & Climate
As the largest city in New Mexico, Albuquerque has much to offer in terms of shopping, dining, and recreation. The city is located within the northern edge of the Chihuahuan Desert, bordered by the Sandia and Manzano Mountains, and adjacent to the Rio Grande. Sitting over 5,000 feet above sea level, Albuquerque has one of the highest elevations among major American cities.
Weather in Albuquerque is generally sunny and dry with an average of 278 days of sun each year. Despite its southwestern location, the city does experience all four seasons. Summers are hot and sunny with daytime temperatures in the 90s, but the low humidity makes the heat more comfortable. Winters are relatively mild, with days in the mid-40s to low 50s, but the area does get some snow. Occasionally, the city has been hit with large snowstorms.
Albuquerque is a great area for nature lovers. The surrounding mountains, desert, and parks offer a wide range of outdoor recreations, including hiking, biking, rock climbing, geocaching, and horseback riding. Rafting and canoeing along the Rio Grande is a popular pastime, while the Sandia Peak Tramway offers a quick lift up the mountain for skiing and snowboarding at the Sandia Peak Ski Area.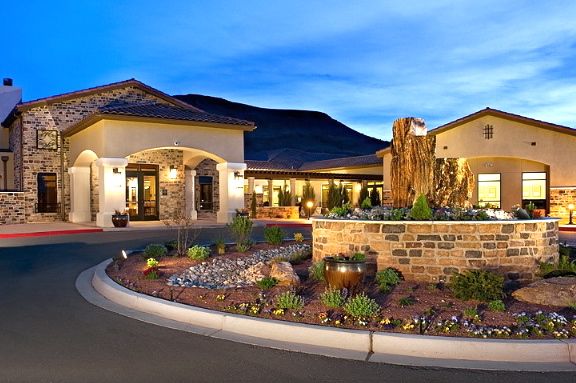 Golf
The mild climate and spectacular setting make Albuquerque a fabulous golf destination as well. Affordable green fees and award-winning courses give golfers plenty of choice throughout the area. Two of the area's most well-known courses—Twin Warriors Golf Club and Paa-Ko Ridge Golf Club—have been listed among the top 50 golf clubs in the country.
Hot Air Ballooning
Visitors can get an unparalleled view of the region with a hot air balloon ride. Albuquerque is known as the hot air ballooning capital of the world, offering many opportunities for tours and romantic rides. Each year, in early October, tourists and photographers from all over the world gather for the Albuquerque International Balloon Fiesta, which is the world's largest hot air balloon festival.
Culture
Tourists and relocating retirees who want to learn more about the region have many opportunities through the city's various museums and tours. The Indian Pueblo Cultural Center provides a wealth of information on the area's Native American heritage, while the National Hispanic Cultural Center explores its Spanish influences. Visitors can also tour the Albuquerque Museum of Art and History, or arrange guided sightseeing tours of the city.
Those who prefer performing arts and a bustling nightlife will also find much to love about this city. Albuquerque offers diverse restaurants, shopping districts, theaters, concert venues, casinos, and brewpubs. Art is a large part of the Albuquerque culture, and the area is home to more than 100 galleries and studios. Festivals and special events are held throughout the year.
Communities
Active adults who are considering retiring to the Albuquerque area will find many beautiful, low-maintenance homes, often with Southwestern flair. There are popular age-restricted communities in the region, such as Jubilee at Los Lunas and Alegria in Bernalillo.
Whether you are planning a visit, or searching for a retirement destination, the Albuquerque area has many appealing features. From spectacular scenery and sunny weather to diverse attractions and outdoor recreations, Albuquerque is a great getaway for active adults.