55places.com recently announced the 50 best-selling active adult communities of 2019 so active adults could see which communities buyers chose the most over the last year. But we also like to take a look at monthly sales to figure out which communities sell the best at any given point.
We analyzed sales made through 55places.com between April 1 and April 30, 2019, to determine the 10 best-selling active adult communities of April. Can you guess which communities buyers flocked to last month? Keep reading to discover them, and you might even find some active adult communities to consider when starting your own search.
Please note that this number is drawn from sales made through our website and does not represent overall sales in any given community.
1. Latitude Margaritaville – Daytona Beach, FL
Just in time for spring, homebuyers are making their retirement dreams a reality at Latitude Margaritaville in Daytona Beach, Florida. This might not come as such as surprise since the community earns the distinction as the most popular active adult community of 2018 and 55places.com's Community of the Year for 2018.
Just some of the features that draw active adults to Latitude Margaritaville include island-inspired home models, like the Caribbean Collection, and outdoor amenities including a tropical beach-entry pool and a private beachfront club. But you don't have to take our word for it: see what residents love about Latitude Margaritaville.
2. Solivita – Kissimmee, FL
As a golf cart-friendly community, residents of Solivita in Kissimmee, Florida can get around the 4,300-acre development in style. This resort-style 55+ community moved up from #8 last month to the second-best seller for April. Some of the things residents love about this community include the new and resale homes, the ease of meeting new friends, and the natural landscapes.
Solivita boasts over 150,000 square feet of upscale amenities, including the Palms Amenity Complex, Riviera Spa & Fitness Center, and Waterfront Galleries. For those who want to get outside of the community, there's plenty to do in nearby Orlando.
3. On Top of the World – Ocala, FL
As the largest 55+ community in Ocala, Florida, On Top of the World plans to include 10,000 single-family and attached homes upon completion. Homebuyers can choose from dozens of floor plans to find an affordable home that's right for them in a community known for its high-quality lifestyle.
The world-class amenities, such as indoor and outdoor swimming pools, state-of-the-art fitness centers, and grand ballrooms, all contribute to residents feeling like they live in an "Adult Disney World." Unique to this community, the Circle Square Commons features a continuing education center, cultural center, and ice cream shop.
4. Tellico Village – Loudon, TN
The active lifestyle community Tellico Village in Loudon, Tennessee isn't just a best-selling community of April: it's also one of the best-selling communities of the year. Located in the foothills of the Smoky Mountains, this well-established master-planned community provides a scenic waterfront setting along Tellico Lake as well as a small-town atmosphere.
The amenity-rich lifestyle centers around access to three recreational facilities, three golf courses with their own clubhouses, the Tellico Village Yacht and Country Club, and a beach pavilion. Additional features at Tellico Village include low-maintenance single-family and attached homes as well as hundreds of social events and lifestyle clubs.
5. Sun City Hilton Head – Bluffton, SC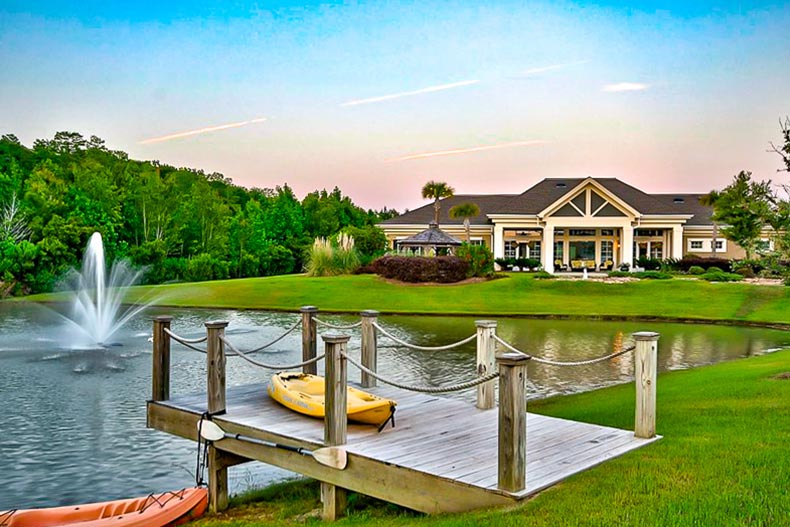 South Carolina's best-selling active adult community, Sun City Hilton Head in Bluffton, is also one of the state's most popular retirement destinations. This Del Webb community features over 8,000 single-family and attached homes and resort-style amenities. In addition to the 45-acre Town Center and Amenity Complex, residents have access to three 18-hole golf courses, four outdoor swimming pools, and a 17,000-square-foot social hall.
The resale homes for sale include plenty of affordable options, which gives many happy homebuyers the chance to enjoy the Coastal South Carolina lifestyle in a location just 20 minutes from Hilton Head Island.
6. Sun City Texas – Georgetown, TX
There are plenty of good reasons to retire in Texas, but the best reason for some homebuyers is the chance to live in Sun City Texas in Georgetown. The state already offers retirement-friendly taxes, but Sun City Texas makes high quality of life even more affordable with lower-priced single-family and attached homes for sale.
With abundant amenities like an 86,000-square-foot Village Center and Amenity Complex, three 18-hole hole golf courses, and nine miles of walking and biking trails, residents may not want to leave the community. But when they do, they'll be near many things to do in Austin and less than 50 minutes from the Austin-Bergstrom International Airport.
7. Province – Maricopa, AZ
Homebuyers looking for a desert oasis in Arizona often find what they're looking for at Province in Maricopa. This gated 55+ community near Phoenix allows residents to make the most of an Arizona retirement surrounded by 50 acres of scenic lakes and waterways. With diverse home models, homebuyers can find the single-family and attached homes for sale that suit their preferences and needs.
Desirable features at Province continue with resort-style amenities like a 32,000-square-foot clubhouse with a state-of-the-art fitness center, cafe, and meeting rooms for social clubs. Outdoors, residents enjoy a swimming pool, putting green, amphitheater, and courts for tennis, pickleball, bocce, and shuffleboard.
8. Brunswick Forest – Leland, NC
Located less than 20 minutes from downtown Wilmington and 30 minutes from the Atlantic Coast, Brunswick Forest in Leland offers a prime coastal location. This active lifestyle community also provides sought-after amenities like three clubhouses, resort-style swimming pools, and an 18-hole championship golf course. The River Club boat launch facility allows residents to paddle kayaks, canoes, and rowboats near Cape Fear River and the Intracoastal Waterway.
The single-family and attached home models range from 1,011 to 3,511 square feet, so homebuyers can decide if they want to downsize or find a more spacious home. The resale homes for sale demonstrate the variety of floor plans and features available.
9. Stonecrest – Summerfield, FL
With plans for 2,200 single-family homes, Stonecrest in Summerfield may not be as large as some other 55+ communities in the Sunshine State, but many still consider it one of the best places to retire in Central Florida. The affordable homes for sale allow retirees to enjoy the active lifestyle that many homebuyers seek in a 55+ community.
The desirable amenities center around the 7,000-square-foot Crest Club and 14,000-square-foot Stonecrest Community Center, where residents enjoy several meeting spaces and rooms for cards, games, crafts, computers, and billiards. Outdoor amenities feature a resort-style pool and spa, patio, softball field, walking and biking trails, and courts for bocce, pickleball, shuffleboard, and tennis.
10. Laguna Woods Village – Laguna Woods, CA
With such a variety of home models and floor plans to choose from, Laguna Woods Village is both a luxury and lowest-priced 55+ community. The resale homes for sale offer dozens of options for active adults who want to downsize in California or find more spacious low-maintenance homes.
Residents of this sprawling Southern California community live just 10 minutes from the beach, but there are plenty of world-class amenities to keep them busy in the neighborhood. The seven clubhouses throughout Laguna Woods Village feature meeting spaces for clubs and activities, fitness centers, restaurants, and swimming pools. There's also a community center, library, R.V. parking, and equestrian facilities.