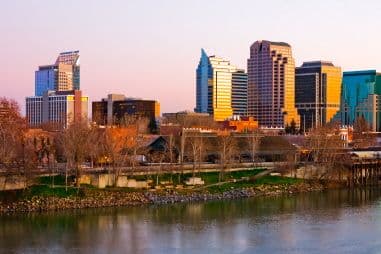 Situated at the confluence of the Sacramento River and the American River, Sacramento is a true gem of Northern California. This capital city is located less than two hours northeast of San Francisco and west of the Eldorado National Forest. The area offers a wide range of recreational and cultural attractions, as well as several impressive active adult communities.
Climate and Geography
The Sacramento area boasts a Mediterranean climate with hot, dry summers and mild winters, which is ideal for active adult retirees. Snow is very rare in this part of Northern California, although Sacramento residents may see an occasional flurry or light dusting. Snow does accumulate in the foothills and mountains to the east, including the famous ski resorts at nearby Lake Tahoe.
With a beautiful climate, it's no surprise that outdoor recreations are popular in the Sacramento area. Parks, sporting fields and nature preserves offer a wide range of outdoor activities including hiking, biking, kayaking, boating, and wildlife observation.
Attractions
Those who are new to Sacramento may enjoy learning more about the area by visiting some of the city's historic attractions. In Old Sacramento, visitors will find Gold Rush-era buildings and museums, as well as contemporary boutique shops and a charming boardwalk along the Sacramento River.
In addition to Old Sacramento, visitors can explore a variety of distinctive shopping and dining centers throughout the city. Local retail is sold through a variety of venues, including specialty shops, department stores, and shopping malls such as the Arden Fair Mall or Westfield Downtown Plaza. Bargain shoppers can hunt for great deals at both Folsom Premium Outlets and Vacaville Premium Outlets.
As in other California cities, golf is also a popular pastime. Many beautiful and challenging courses can be found throughout the Sacramento area. A few well-known public courses include the Empire Ranch, Teal Bend and Turkey Creek Golf Clubs. Golfers might also want to try the city's newest 18-hole championship course, the Bartley W. Cavanaugh Golf Course.
Sacramento's cultural attractions are numerous, including a variety of performing arts centers and art museums. A few notable companies include B Street Theatre, the Sacramento Opera, the Sacramento Theatre Company, Crest Theatre and The Cosmopolitan Cabaret.
Active Adult Communities in Sacramento
Active adult communities in the Sacramento area range from sprawling resort-style developments to more intimate, age-restricted neighborhoods. Just 30 miles northeast of Sacramento, Del Webb's Sun City Lincoln Hills community offers two 18-hole golf courses, indoor and outdoor swimming pools, a variety of amenities and 6,800 beautiful residences.
Within Sacramento, Heritage Park is more of a mid-sized community with 965 homes and plenty of recreational amenities including a spacious clubhouse and several outdoor sports courts. Those who would prefer to live in a smaller, more intimate setting can explore nearby active adult communities such as Glenbrooke in Elk Grove or Four Seasons at El Dorado Hills.
Active adults who are interested in retiring to Northern California would do well to consider the Sacramento area. The city offers many exciting urban attractions, while the surrounding area boasts national parks, mountains and lush vineyards. It is an ideal place to enjoy a quiet, yet active retirement.