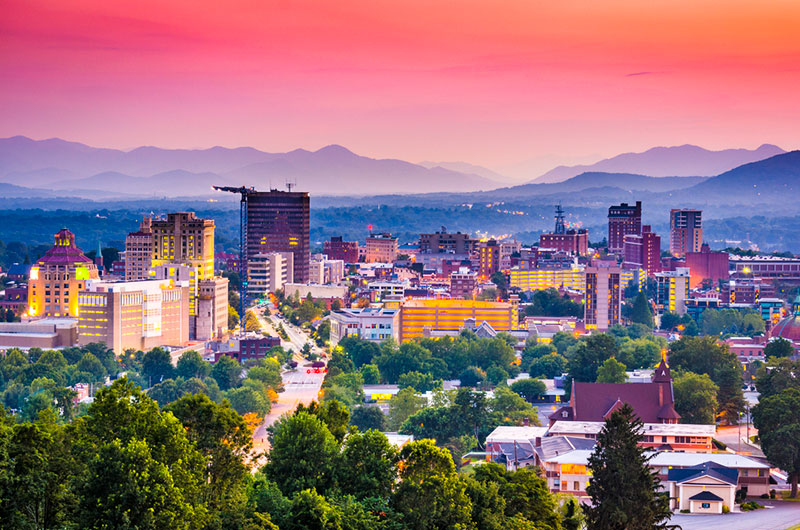 Ashevile, NC is just one of North Carolina's premier cities that offer retirees an active lifestyle.
North Carolina is known for its vibrant culture, rich history, breathtaking landscape, and diverse cityscapes, so it's no surprise to see more active adults move to the Tar Heel State. North Carolina offers homebuyers a wide selection of active adult communities spread across major metropolitan areas such as Raleigh, Asheville, Charlotte and Wilmington, which all hold their own identities and offer a little something different to their residents.
Raleigh
As the capital and second-largest city in North Carolina, Raleigh buzzes with the energy of a big city, yet still holds the charm of a small coastal town. Raleigh is best known for its research and technology-based economy, but it has recently become known for its emerging high-quality and varied food and music scene. Named as one of the "hottest food cities" by Zagat, Raleigh has much to offer for those seeking the foodie lifestyle without the chaos of a big city like New York or Chicago.
The lively city also offers a huge array of music venues and festivals, including the Rollicking Blue Grass Festivals, which attracts musicians from all over the country. Not only is the Raleigh-Durham area known as the Research Triangle and home to some of the country's top universities, it's also a popular retirement destination among active adults who are searching for an exciting atmosphere.
The area is full of active adult communities such as Regency at Brier Creek, a community nestled perfectly between downtown Durham and Raleigh. Retirees will find elegant ranch homes, with little to no maintenance and are just a couple miles outside both downtown regions that offer endless attractions and entertainment.
Charlotte
Much like Raleigh, Charlotte feels distinctly urban. As the most populous city in the state, Charlotte affords its residents the luxuries of big city life, with its fine dining, museums, professional sports leagues, and an eclectic mix of architectural designs. The Queen City region is perhaps its best-known neighborhood where residents can immerse themselves in world-class restaurants, art galleries, and museums including the notable Bechtler Museum of Modern Art.
The Charlotte area is also located in Central North Carolina, which has an exceptionally mild climate, making it easy for Charlotte residents to enjoy the outdoors. The city offers residents an amazing amount of green space where they can kick back and enjoy the beautiful weather, as well as a great selection of luxury golf courses in the area.
Sun City Carolina Lakes, a 3,160-home active adult community in Fort Mill, is quietly tucked into a private region of the Charlotte metro area. This region allows retirees to enjoy a vibrant lifestyle with great amenities nearby without the fuss of a big city environment.
Wilmington
For those looking for a more relaxed city to settle down in, Wilmington might be the perfect spot. This smaller, colonial-era city boasts a large historic district encompassing over 300 blocks, and several gorgeous beaches known for their excellent surfing. The sub-tropical climate makes for perfect beach weather nearly all year round.
Wilmington also offers an ever-expanding art and culture scene, including the Thalian Hall Center for Performing Arts, which has been in continuous use since 1858. Wilmington also offers two beautiful 55+ communities, Del Webb Wilmington and The Village at Motts Landing, that attract retirees looking for a relaxed, beach-style vibe.
Del Webb Wilmington is tucked right into the city, just a few miles outside the main business district, and offers endless options for socialization both inside and outside the community. For those seeking a community equally as sociable but a little closer to the water, The Village at Motts Landing is the perfect spot.
Asheville
Asheville is perhaps the most eclectic city in North Carolina. The city is largely known for its Art Deco and Beaux-Arts architecture, dozens of art galleries, and several local clubs and performing arts centers that offer live music in various styles ranging from bluegrass to classical to alternative rock. Asheville also boasts several local breweries that offer unique and well-crafted brews. Residents will also be surprised by Asheville's cool climate.
Located at a relatively high elevation, the city experiences all four seasons—making it the perfect retirement destination for varied outdoor activities, including hiking in the mountains, biking along trails, whitewater rafting, or horseback riding. The Great Smoky National Park is also just outside Asheville, making it an easy escape from the city for outdoor enthusiasts and nature lovers.
Asheville hosts a beautiful selection of 55+ communities perfect for the active adult lifestyle, including Biltmore Lake. The development is nestled next to a gorgeous lake of the same name and features picturesque cabin-like homes right on the lake. Ashville also offers two smaller communities: Pinebrook Farms and Bee Tree Village, which are smaller in size and provide a close-knit vibe.
Each city in North Carolina offers a wonderful combination of urban charm and outdoor space along with a great mix of arts and culture as well as a long list of active adult communities to choose from. With so much to offer, retirees should look no further than North Carolina when seeking their next retirement destination or adventure.