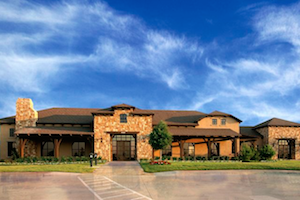 From traditional rodeos and live music festivals to charming shopping districts and local restaurants, Denton, Texas, has something to offer nearly any visitor. Active adults may especially love a visit to this diverse city, and those who choose to stay can find beautiful homes in amenity-rich communities.
Location
The City of Denton is located in Northern Texas, about an hour north of the Dallas-Fort Worth metro area. Together, these three cities are sometimes referred to as the "Golden Triangle of North Texas." Denton is the smallest of these cities, yet its proximity puts residents within easy reach of all the urban attractions throughout the metro area.
Climate
Denton has a humid subtropical climate that features hot summers and cool winters. Average daytime temperatures reach the mid-90s during the summer and only drop to the mid-50s in the coldest winter months. Of course, nights are cooler with winter lows in the mid-30s and Denton averages only 2.4 inches of snowfall per year.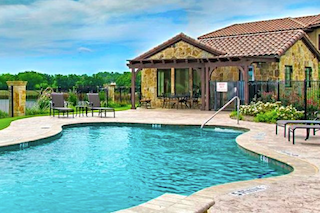 Tuscan Hills is an intimate sized 55+ community offering charming amenities and elegant homes.
Town Attractions
Two colleges are located in the city of Denton: The University of North Texas and Texas Women's University. This brings many students to the city along with the upbeat energy of a college town.
At the center of town, the historic Courthouse-on-the-Square offers charming local shops, restaurants, and businesses. Locals and visitors alike can browse antique stores and art galleries, have a casual lunch, get a drink with friends, and much more. National chain stores can also be found at newer centers such as the Golden Triangle Mall, Raznor Ranch, and Denton Crossing.
Fairs and Festivals
Along with its shopping districts and diverse restaurants, Denton offers a thriving art and cultural scene. Music is a particular interest, with many performance venues throughout the city. Each spring, music lovers are drawn to annual events including the Denton Arts and Jazz Festival and 35 Denton (formerly known as NX35).
For regional flair, Denton is also known for its cowboy culture. Since 1928, the city has held the annual North Texas State Fair and Rodeo. The event celebrates local food and music, in addition to the rodeo. Other popular festivals and events in the Denton area include the Denton Airshow, Fiesta on the Square and the Thin Line Documentary Film Fest.
Communities
Active adults who choose to settle in the area can choose from several great developments. Set in Denton, Robson Ranch Texas is an impressive, resort-style community that welcomes residents aged 40 or better. Denton is also home to smaller, open-age neighborhoods that appeal to active adults, such as the charming Tuscan Hills. There are appealing communities in nearby towns as well, such as Aubrey, Frisco, and Plano.
Whether planning a visit or looking for a place to retire, Denton features Texas-style along with a diverse mix of shopping districts and cultural attractions. It's a beautiful retreat for active adult retirees.