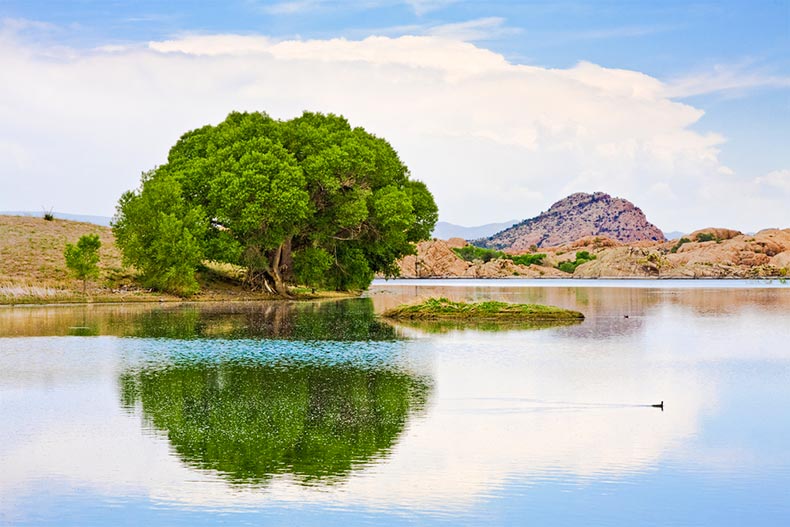 The most distinct regions in Arizona are Northern, Central, and Southern Arizona, and they're quite different. Most retirees head for the guaranteed sunshine and mild winters of Southern Arizona, but there are also many reasons to retire to Northern Arizona instead.
Reasons an active adult might choose to spend their $250k in Northern Arizona include cooler summers due to higher elevations, winter skiing opportunities, numerous golf courses at high elevations allowing for more comfortable golfing, and old mining towns like Prescott and Jerome that have been reinvented as thriving artistic communities.
The hotter summers further south can curtail outdoor activities during the summer months, restricting them to the early morning before the heat of the day rises to well over 100 degrees.
If you're looking forward to playing more golf, for example, then the average daytime temperatures from June to September in Prescott are from 80-90 degrees. In Phoenix, at a lower elevation, it's 100-106 degrees. These are average temperatures, so some days will be hotter, in both places.
So what kind of retirement community can the active adult expect to find with $250k to spend in Northern Arizona? The best options are all in or near Prescott. Prescott is at an elevation of about 5,300 feet, and is about an hour's drive off Interstate 17. The journey time from Prescott to Phoenix Sky Harbor International Airport is about two hours. In the opposite direction, just over two hours will have you at the South Rim of the Grand Canyon.
Prescott Lakes
Prescott Lakes is a gated community of 1,600 single-family, attached homes, and condos with no age restriction. It's about five miles north of downtown Prescott and its historic 'Whiskey Row.' Prescott is a former mining town with a population of about 40,000 and a popular tourist destination within Arizona.
Here, $250k will get you a two-bedroom, two-bathroom home, with a two-car garage, and about 1,190 square feet. Prescott Lakes has impressive amenities, including lakes, of course, an 18-hole golf course, hiking and biking trails, a library, and plots for gardens.
It also has the Prescott Lakes Athletic Club, providing residents with a 12,000 square-foot fitness center, an aerobics studio, indoor and outdoor pools, two tennis courts, and a basketball court. There are a number of social clubs, classes, and activities, including card and board games, gardening, dancing, hiking, and a travel group.
Hassayampa Village - Prescott
Hassayampa Village is also in Prescott and less than a five-minute drive from downtown. It's a gated community with no age restriction and containing 660 single-family and attached homes, and condos.
For $250k, Hassayampa Village will provide townhomes or condos at about 1,300 square feet comprising two bedrooms, two bathrooms, and a two-car garage.
The community's amenities include a 30,000 square-foot clubhouse, an 18-hole golf course, indoor and outdoor pools, a ballroom, a library, and tennis courts. Social clubs and activities include basketball, billiards, swimming, tennis, and volleyball.
Prescott Canyon Estates
Prescott Canyon Estates, a 55+ active adult community with 255 single-family homes, is a 10-minute drive from downtown Prescott. The location is fairly rural although a shopping mall with such stores as Home Depot and Target is only a minute away across the street.
Here $250k will buy you a detached home of up to about 1,700 square feet with up to three bedrooms, two bathrooms, and a two-car garage.
Amenities for residents include a clubhouse, an exercise room, library, indoor pool and spa, and a tennis court and shuffleboard court. Activities and clubs for residents cover such interests as billiards, card games, swimming, tennis, and dancing.
Victorian Estates
Victorian Estates is in the area of Prescott called Prescott Valley, in a more rural location a 20-minute drive northeast of downtown. It's named because homes here have Victorian exteriors, and there are views of mountains on the horizon.
It's a 55+ gated community of 178 single-family homes ranging in size from 1,020 square feet to 1,935 square feet. For $250k, buyers can find a detached home of about 1,500 square feet with two bedrooms, two bathrooms, and a two-car garage.
Amenities include a clubhouse which was originally a ranch house, a library, an exercise room, a sauna and hot tub, an outdoor pool, walking trails, and two parks. Social clubs and activities include billiards and various card games, and there's also a book club.