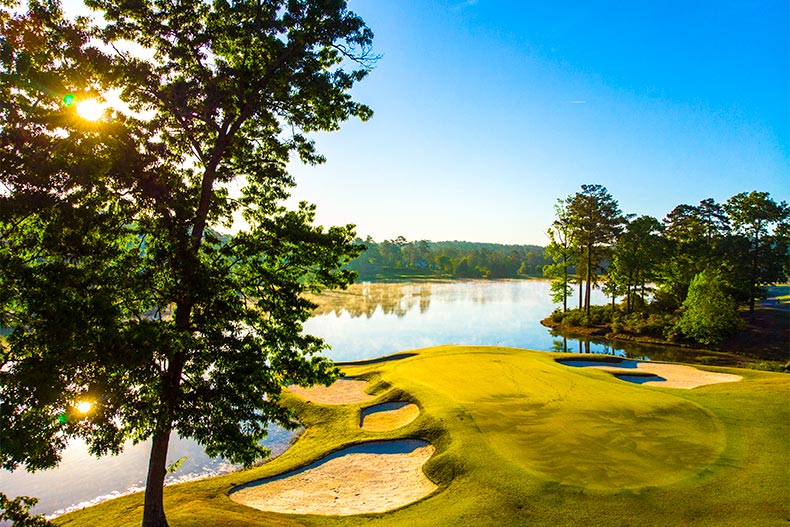 The large, gated community of Woodside is one of only 14 prestigious "Southern Living" Inspired Communities in the country, which were designed to celebrate life in the South and everything that makes it so unique.
The established community was originally built in 1986 and is made up of 2,500 single-family homes that are spread throughout six different neighborhoods that each have their very own charm and appeal. Woodside has both new construction and resale homes available for purchases with prices ranging from the mid $300s to the mid $500s.
Houses within the development have been built by a number of upscale builders, including Carolina Signature Homes, Designer Builders, and Woodside Development, giving potential homebuyers plenty of design options to choose from when picking their dream home.
Staying Active and Having Fun
From upscale dining options and award-winning golf courses to resort-style pools and on-site medical facilities, Woodside is full of premium amenities that make it virtually effortless for residents to live an active, low-maintenance lifestyle in Aiken.
Golf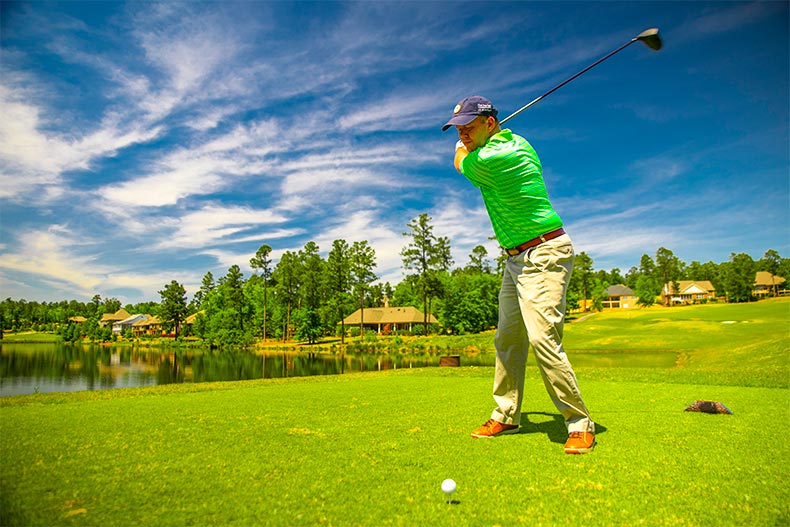 The community is home to four 18-hole golf courses with one designed by Jack Niklaus.
There's also no shortage of ways to stay physically active within Woodside. The community is a golfer's haven with four separate 18-hole championship golf courses to choose between—one of which was designed by Hall of Famer Jack Nicklaus and was named one of the top 10 new private courses by "Golf Digest" when it was built. Along with the courses there is a practice facility, driving range, golf shop, and even a golf league for members to join.
Fitness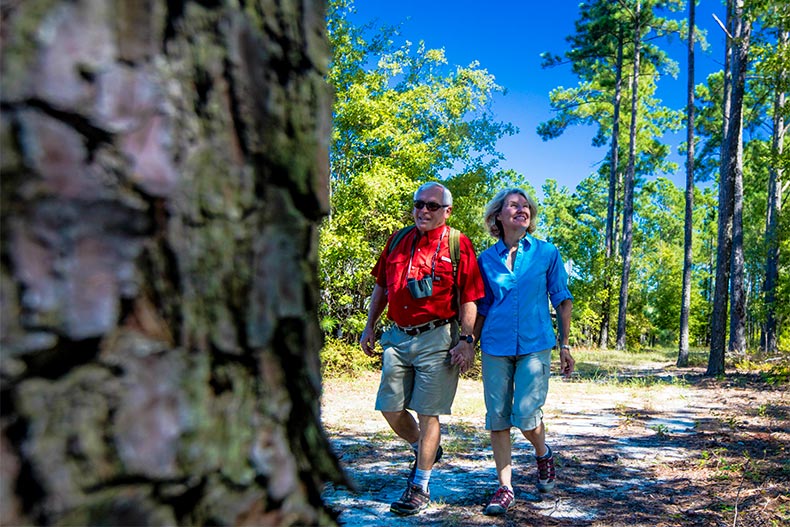 Indoors, the state-of-the-art fitness center boasts a great deal of cardiovascular and weight equipment, while outdoors, residents can work up a sweat and partake in a little friendly competition playing bocce, pickle ball, or tennis on one of the community's several courts.
The community's extensive system of walking and biking trails spans approximately 15 miles and is another a great option for an outdoor workout. The property's five lakes provide more than just scenery, they're also open for recreation, including fishing and water sports like kayaking or canoeing.
Relaxing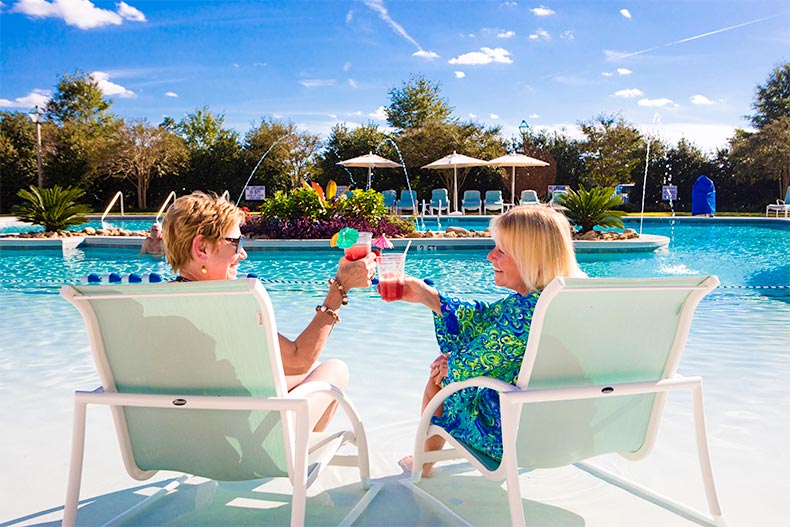 For residents looking for a more relaxing outdoor experience there's a large resort-style pool to take a dip in and a patio to sit back, relax, and soak up the sun on a warm day. When the weather isn't ideal the indoor pool is an excellent back up option for a leisurely swim or exercise laps.
Residents never have to leave Woodside to dine out with several on-site dining options conveniently located on the property that range from upscale dining to a small, intimate bistro. The Verandah at The Reserve Club is the ideal spot for dinner or a cocktail when the weather is nice, while the Reserve Sports Lounge is the perfect place for sports fanatics to catch a game and cheer on their favorite teams.
Clubs and Groups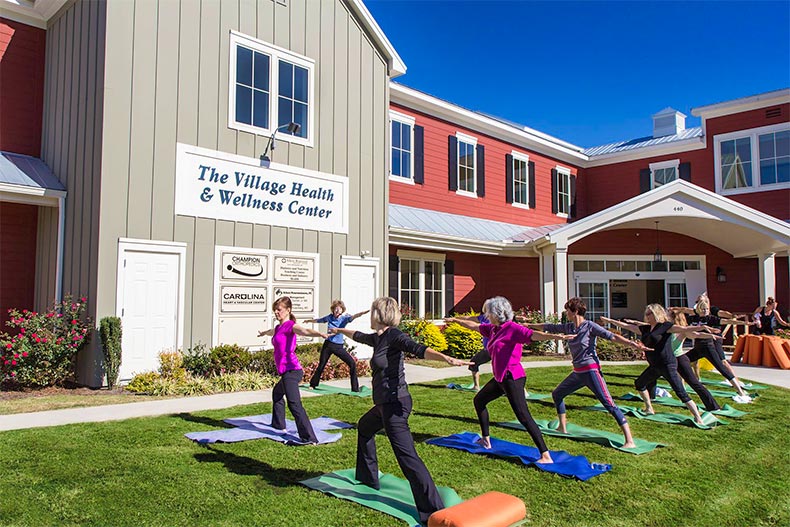 Staying active and social is extremely easy with more than 60 organized clubs and interest groups for homeowners to participate.
These clubs cover a wide range of activities and topics that are sure to suit almost anyone's interests, including bird watching, gardening, jewelry making, poker, fantasy football, and scrabble. Woodside also has several social events planned throughout the year including monthly dinners, a Village Grill 'N Chill, and cook-offs.
Another major perk to living in Woodside is The Village at Woodside, which is located right outside of the community and is home to an impressive health and wellness campus that has medical professionals on site. The Village also has a variety of shopping and dining options.
Experience Woodside
There is a three-day, two-night Discovery Package available for potential homebuyers who want to get the true Woodside experience before taking the leap and buying a home.
The package allows guests to stay at a local inn or hotel to get to know the Aiken area and take full advantage of the neighborhood's many amenities, including the golf course, fitness center, and resort-style pool. Guests will also get a private guided tour around the community and a dinner for two at the popular Reserve Club. A historic trolly tour around town is included in the package as well.
About the Area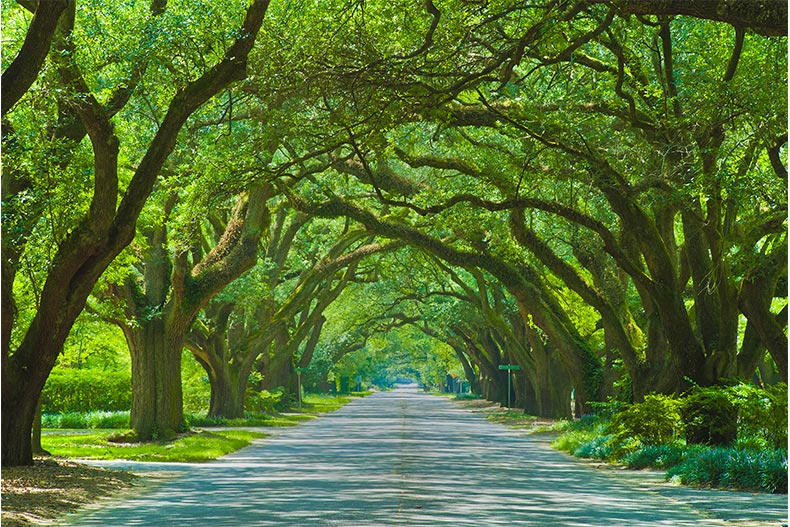 Woodside is just a short drive away from historic Aiken, South Carolina, which was recently named the South's Best Small Town by "Southern Living" magazine. The charming downtown area is extremely walkable and full of local boutiques, quaint cafes and coffee shops, upscale restaurants, and stately mansions.
Also known for its deep roots in the equestrian community, Aiken hosts a wealth of exciting events throughout the year including polo matches and steeplechases. Augusta, GA, home to the famous Augusta National Golf Club and home to the PGA's Masters Tournament, is less than 30 minutes away from Aiken.
And, the town is also centrally located between several larger cities, including Atlanta, Savannah, Charleston, and Columbia—all of which are less than two-and-a-half hours away.