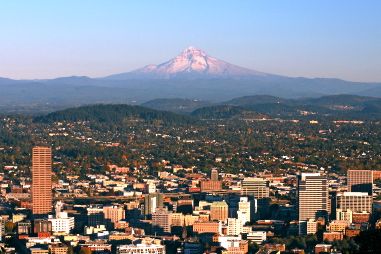 As one of the most eco-friendly cities in the world, Portland, Oregon, is a great destination for active adults who crave outdoor recreations and a green lifestyle. The city has parks and gardens intermixed with diverse urban attractions, including charming historic districts.
There are plenty of budget-friendly activities, and those who choose to relocate to the area will find several beautiful, affordable active adult communities.
Location
Portland is located in Northwestern Oregon, just 10 miles south of Vancouver, Washington. It is the largest city in Oregon and has been nicknamed the "City of Roses" for its numerous rose gardens, including the International Rose Test Garden. Each summer, the city also puts on its famous Portland Rose Festival.
Environmental Efforts
Portland is known for being one of the world's most environmentally friendly cities as well. Its public transit system and walkability help Portland promote a low-carbon environment. There are numerous parks and gardens throughout the city, as well as the popular Portland Farmers Market which operates from spring through fall. Additionally, Portland promotes green living through eco-friendly events organized by the Bureau of Planning and Sustainability.
Climate
While the Pacific Northwest may not have Florida's tropical weather, many active adults love Portland's lush beauty and mild climate. Summers are typically sunny and relatively dry with average daytime temperatures in the low 80s, yet occasional heat waves can make temperatures climb into the mid-90s. Winter temperatures are somewhat mild with daytime highs in the mid-to-high 40s. They are damp though, with quite a bit of rain and an occasional snowfall.
Attractions
Nature lovers particularly enjoy Portland's Washington Park, which includes attractions such as the Oregon Zoo, the Hoyt Arboretum, the World Forestry Center and the Portland Japanese Garden. Beyond gardens and parks, Portland is known for its wide variety of microbreweries.
Beer connoisseurs can enjoy touring and tasting at their favorites of the city's more than 40 breweries. They can also enjoy a local beer while rooting for one of the city's major league teams: the Portland Trail Blazers (NBA) and the Portland Timbers (MLS).
Like other large cities, Portland has a thriving arts and culture presence. Residents and visitors alike can enjoy performances of the Oregon Ballet Theatre, the Portland Opera and the Oregon Symphony. Well-known theaters include venues such as Portland Center Stage and Artists Repertory Theatre.
Other popular destinations for both entertainment and education include the Portland Art Museum, The Oregon Museum of Science and Industry, and Powell's City of Books—a new and used bookstore that takes up an entire city block.
Communities
Active adults who decide to settle in the Portland area will find several attractive age-restricted communities with affordable homes and desirable amenities. In nearby Woodburn, The Estates is a well-established resort-style community with 1,500 homes and a private 18-hole golf course. More intimate communities in the area include Salemtowne, in Salem, and Ceres Gleann, in Dallas.
Whether planning a vacation or considering a relocation, Oregon's Portland area has many features that will appeal to active adult retirees.