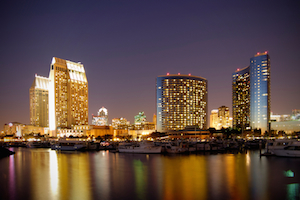 In Southern California, less than 20 miles north of the Mexican border, San Diego offers a dream retirement destination. The area features coastal beaches, sunny skies and fabulous recreational opportunities. The San Diego area is also home to a number of active adult communities where residents can enjoy resort-style amenities and country club living.
Location
San Diego is the second-largest city in California. It is located on the Southern California coast, just north of Mexico and about two hours south of Los Angeles. While the idea of San Diego may conjure images of sandy beaches, the region is also spread across deep canyons and hilly mesas. The area also provides many stunning views of the surrounding mountains.
Climate
According to the Farmer's Almanac, San Diego enjoys one of the top ten best climates in the country. Typically, the area includes dry, hot summers and mild winters. However, microclimates in the region can make the weather very different from one area to another. During the summer months, daytime temperatures typically peak in the mid-70s, although they can climb to the high 90s. Winter days are much cooler, yet still comfortable with average temperatures in the mid-60s.
Attractions
San Diego's downtown area provides all the attractions expected of a big city, including diverse shopping districts, restaurants and performance venues. San Diego has a growing number of craft breweries, which has led the city to be called "America's Craft Beer Capital." The area is also home to a number of popular tourist destinations, such as the San Diego Zoo, Balboa Park, Belmont amusement park, and SeaWorld San Diego.
A large number of annual festivals and special events mean that there is always something exciting happening in San Diego. Just a few of the popular events include San Diego Comic-Con, the Farmers Insurance Golf Open, the Street Scene Musical Festival, San Diego Pride, and the San Diego Black Film Festival.
Nature lovers can find a wide range of outdoor activities throughout the San Diego area. Beautiful beaches invite visitors and locals to swim, boat, surf or just soak up some sun. At Balboa Park, visitors can explore 16 different gardens, as well as the San Diego Zoo and a variety of museums and theaters. Visitors can also enjoy a trip to the San Diego Botanical Garden or to the nearby Cleveland National Forest.
Active Adult Communities
Active adults who choose to settle in the San Diego area can choose from a variety of amenity-rich communities. There are larger golf communities, such as Oceana or Ocean Hills Country Club, as well as smaller neighborhoods like Emerald Lake Village.
Whether you are planning a California vacation or looking for a place to relocate, consider a trip to sunny San Diego. You may just find your dream retirement destination.