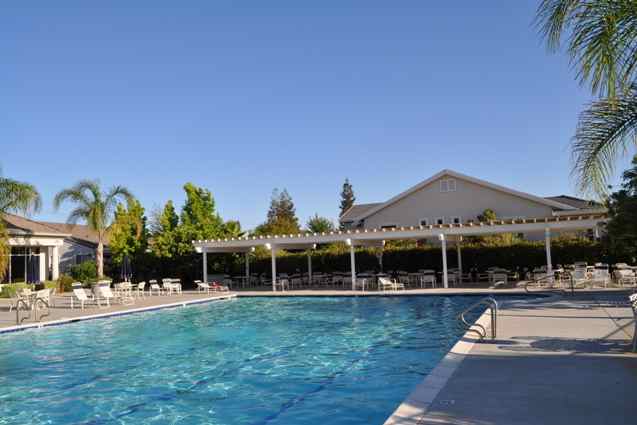 Active adults who retire in the San Francisco Bay Area can find a spectacular home in the community of Summerset. This 1,000-acre golf development offers just over 2,000 homes spread across four age-restricted communities. Numerous amenities cater to residents' interests and social activities help them turn neighbors into friends.
Built between 1994 and 2005, Summerset includes four distinct communities: Summerset, Summerset Palms, Summerset Vista, and Summerset Orchards. The residences in these communities include both single-family and attached homes which were constructed by multiple builders, offering many choices for potential homebuyers.
Residences
With multiple builders and a construction period of over 10 years, Summerset now consists of homes with many different floor plans. Construction on the original Summerset portion of the community began in 1994 and lasted over a period of several years. It now has 471 homes with 14 different floor plans ranging in size from 964 to 2,311 square feet. Most of the homes have two bedrooms, though the largest has four.
The Summerset Palms and Summerset Vista portions of the community each include the same twelve single-family and two duplex floor plans. These homes range in size from 964 to 2,652 square feet. They include designs for two bedrooms, two bedrooms and a den, or three bedrooms. Garages range from one to three-car allowing for plenty of room for multiple vehicles, a golf cart, or an outdoor work area.
Summerset Palms was started in 1998 and now has 431 homes, while Summerset Vista was started in 2000 and now has 464 homes. The final development phase, Summerset Orchards, was built by Del Webb between 2002 and 2005. This portion of the community includes 647 homes with nine different floor plans. These homes range from 1, 253 to 2,571 square feet. They have two bedrooms or two bedrooms and a den, two or two-and-a-half bathrooms and two to three-car garages. They also feature popular design elements such as open floor plans, fireplaces, hardwood floors, and attached garages.
Amenities
Those who choose a home in Summerset can enjoy many resort-style amenities including a challenging 18-hole golf course. Each of the four communities in Summerset has their own clubhouses, and residents are able to use the amenities within their own neighborhood. While each community has its own facilities, homebuyers will find amenities such as swimming pools, fitness centers, hobby and game rooms, and multipurpose ballrooms.
Summerset is an age-restricted community with resort-style amenities and a variety of single-family and attached homes. It's an exciting option for active adults who want to live among their peers and enjoy the beautiful California Bay Area.