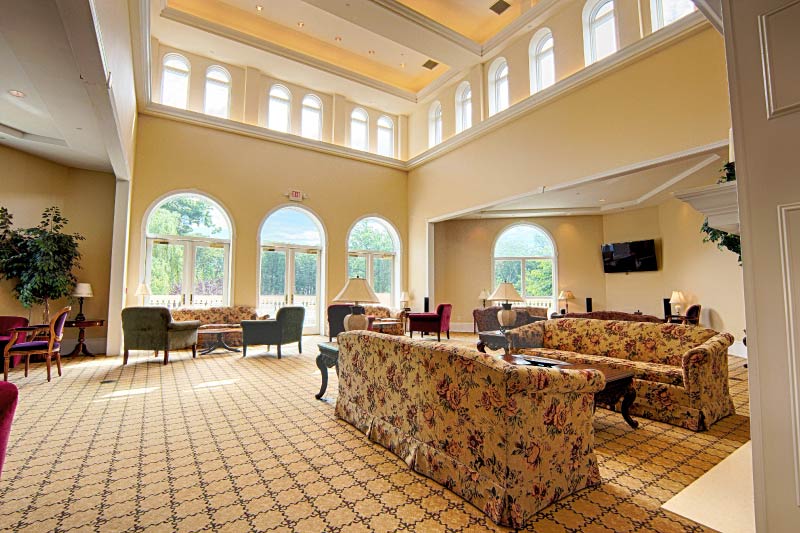 Once called "The Military Capital of the American Revolution," Morris County is now one of the fastest-growing counties in New Jersey. It's located about 30 miles from New York City, and though it's close to this metropolis, active adults in the area enjoy the natural beauty, historic tradition, and lovely suburbs.
The homes for sale in Morris County have price points that reflect its proximity to the Big Apple, but retirees can find affordable ones starting in the mid $200s. The perks of living close to NYC are endless; aside from being able to attend Broadway shows and concerts at Madison Square Garden, some of the world's top restaurants and shops are here. You'll also find some of the world's best hospitals, including New York Presbyterian and Mount Sinai.
Getting in and out of the city is easy once you get used to it, but Morris County itself has more than its fair share of excellent medical care, recreation, and modern conveniences. Charming small towns like Boonton and Morristown have enticing downtown areas with cool shops and restaurants while golf clubs like Flanders Valley offer beautiful scenery and challenging courses.
Morris County has its own top-tier hospitals, concert halls, upscale shopping, farmers markets, and more. Here are four reasonably priced active adult communities for your consideration:
Greenbriar at Fox Ridge - Rockaway
With 336 resale condos built from 2008 to 2018 by Lennar Homes, this must-see, gated 55+ neighborhood is perfect for downsizing. One of the standout features is its 16,000-square-foot clubhouse, which has a fitness center with an indoor pool, spa, sauna, and aerobics studio.
There are also activity and meeting rooms, plus an internet café. Outdoors, you can make use of a second pool, tennis and bocce courts, and a pavilion. The clubhouse is also used for group activities like holiday parties, yoga classes, poker, and Mah Jongg games.
Greenbriar at Fox Ridge has seven condo models, which are housed in three-story buildings with elevator access. The floor plans range from 979 to 1,997 square feet with one to two bedrooms, one-and-a-half to two-and-a-half baths, and underground garage parking. Features like breakfast nooks, oversized balconies, and well-appointed master suites make these condos comfortable and amenable to low-maintenance lifestyles.
Greenbriar is less than three miles from the Rockaway Townsquare shopping mall, and there's also a movie theater, coffee shops, and other specialty stores in this area.
Fox Hills - Rockaway
Also in Rockaway, Fox Hills is only about a mile from Greenbriar. The two have much in common, although Fox Hills is a bit more established, as it was built from 2000 to 2003. It's also gated, but it's larger, with 672 resale condos.
The clubhouse at Fox Hills is bigger too, at 26,000 square feet, with a modern fitness center that includes a sauna, steam room, and indoor pool. It also features an expansive ballroom, a TV lounge, a library, plus an outdoor pool and sports courts. Popular groups and activities include ceramics, book club, water aerobics, and the Red Hat Club.
There are ten floor plans, from a cozy 820 up to a spacious 2,935 square feet. They offer one to three bedrooms and one to two-and-a-half bathrooms, dens, balconies, and assigned garage parking. Some models may include soaking tubs and breakfast nooks.
The closest golf club to Fox Hills is Picatinny, which is less than three miles away. Other nearby attractions include the Wildcat Ridge Wildlife Management Area and concert performances by the Baroque Orchestra of New Jersey in Dover.
Nolan's Ridge - Mount Arlington
Located 45 miles west of NYC, Nolan's Ridge is a quiet suburb of Mount Arlington and a prestigious 55+ neighborhood with 156 condo and single-family homes built from 2008 to 2014 by Brookland Partners.
Its impressive clubhouse features an outdoor pool, tennis and bocce courts, an exercise room, locker rooms, an arts studio, a great room, a catering kitchen, and wine lockers. Friends gather here and elsewhere for holiday parties, the lunch box book club, fundraisers, lectures, and trivia nights.
The 96 condo units are housed in four secured elevator buildings, and they come in eight floor plans. These are sized from 1,482 to 1,867 square feet with two bedrooms, two bathrooms, balconies or patios, and assigned parking spots in the underground garages. The 60 single-family homes come in seven floor plans, sized from 1,861 to 2,598 square feet with two to three bedrooms and bathrooms, granite countertops, ten-foot ceilings, and two-car garages.
Nolan's Ridge is in an enviable location outside of Berkshire Valley Wildlife Management Area, a pristine 2,000-acre wildlife preserve. It's also close to Lake Hopatcong (boating, fishing, restaurants), and several state parks.
Horizons at Mount Arlington - Mt. Arlington
Our final entry on this list is Horizons at Mount Arlington, a distinctive active adult community of 144 resale condos. It was completed in 2005 and offers tastefully designed homes and resort-like amenities. Its private clubhouse has an exercise facility, meeting and activity rooms, plus tennis courts, bocce, and a relaxing outdoor pool. There are also walking trails on the property, and well-attended clubs and events like brunches, ice cream socials, Irish nights, water volleyball, and golf outings.
The condos range from 1,467 to 1,867 square feet with two bedrooms, two baths, and underground garage parking. Upgrades may include granite countertops, hardwood floors, attractive cherry wood cabinets, dens, patios, and breakfast nooks.
There's a convenient shopping center about five miles away, where residents head to pick up supplies at Walmart, Petsmart, Lowes, and other stores. Several restaurants can also be found here, along with salons, discount stores, and grocery stores.