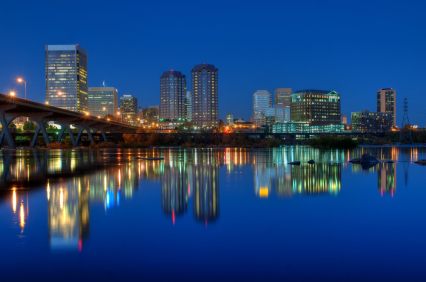 If Virginia is for lovers, Central Virginia may best be called the heart of it all. This picturesque region is rich in both American history and scenic beauty. The area boasts historic and modern entertainment with attractions ranging from Thomas Jefferson's Monticello to Kings Dominion amusement park. Central Virginia also includes the state capital, Richmond, which offers urban attractions and several lovely suburban communities.
The history of Central Virginia dates back to early settlers arriving in 1617 and includes stories of well-known Native Americans such as Pocahontas who grew up in an area that is now preserved as Henricus Historical Park. Central Virginia was also a key area during the Civil War and history buffs can explore many sites including battlefields, The American Civil War Center at Historic Tredegar and the Appomattox Court House.
Entertainment
Those who prefer historic homes can tour Thomas Jefferson's Monticello, James Madison's Montpelier, and James Monroe's Ash Lawn-Highland. For more modern entertainment, locals and visitors alike can enjoy the races at the Richmond International Raceway, cultural attractions like the Virginia Museum of Fine Arts or the thrilling rides at Kings Dominion Theme Park. As the state capital, the City of Richmond offers a wide range of urban entertainment, including eclectic shopping districts, memorable restaurants, and varied performing arts venues.
Climate & Outdoor Recreation
The climate in Central Virginia includes four seasons, yet it is relatively temperate with hot summers and mild winters. Average daytime temperatures during the summer months climb to the high 80s to low 90s, while winter days tend to be in the mid-to-high 40s. The weather is about five degrees colder as you move into the Blue Ridge Mountains and five degrees warmer as you head east toward the Chesapeake Bay.
With such a comfortable climate, Central Virginia has many diverse outdoor recreations. The Richmond area alone boasts 14 public and 18 private golf courses, with additional courses spread throughout the region. Central Virginia includes seven state parks, as well as campsites, gardens, hiking trails and riding stables. There are also more than 50 vineyards and wineries where wine lovers can enjoy tours and tastings.
Communities
Active adults who settle in Central Virginia often choose homes in the Richmond area, where they can enjoy suburban communities as well as easy access to urban attractions. In Glen Allen, CrossRidge is a mid-sized 55+ development where residents can enjoy diverse amenities and numerous community events. Those who desire a smaller, more intimate age-restricted community may prefer a charming neighborhood like Rock Creek Villas in Quinton. Whether planning a visit or looking for a great retirement destination, the Central Virginia area includes many features that appeal to a diverse mix of active adult retirees.