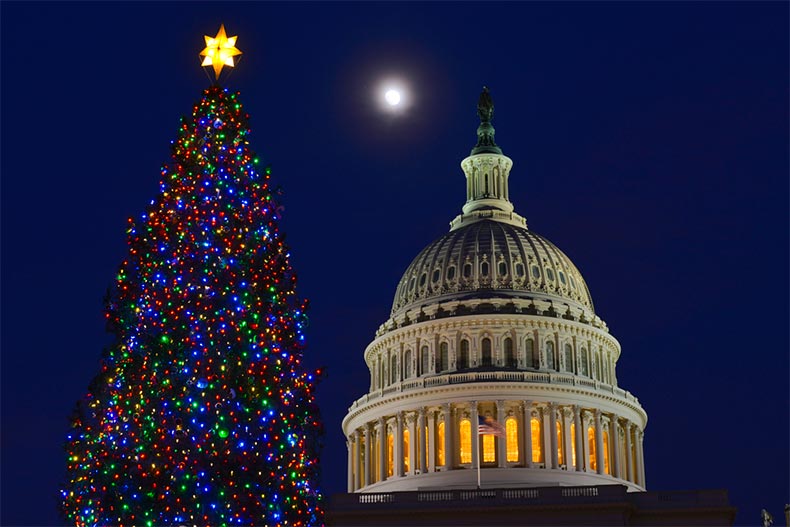 It's official: the holidays have arrived. Throughout the Washington, D.C. area, active adults can find lots of ways to celebrate and enjoy the holiday season. Whether you want to be outside or inside, shop or spend time with family, the region offers a variety of activities. Here are three kinds of holiday events to check out.
Holiday Markets & Craft Fairs
Almost everyone and every organization offer some type of holiday market. The diversity of the region also means a lot of fun ethnic and cultural fairs and markets. Baltimore's Inner Harbor hosts an authentic German Christmas market, while the Kris Kringle Market in Southern Maryland also boasts a German flavor. The Swedish Women's Education Association puts on a Swedish Christmas Market on the first Sunday of December at the House of Sweden.
The Downtown Holiday Market in the heart of Washington, D.C. hosts over 150 artisans and runs until December 23rd. Visitors can enjoy musical performances, holiday treats, and great food. The Sugarloaf Craft Festival makes a stop at the Chantilly, Virginia expo center. Although not exclusively a holiday market, the festival has artisans from around displaying their goods and live demonstrations. The Del Ray Artisans Fine Art & Fine Craft Holiday Market is a free weekend craft market in Alexandria, Virginia. It runs for three weekends and features different artists each weekend.
Ice Skating
With the colder weather arriving, parks and community spaces erect outdoor ice skating rinks across the region. The most well-known ice skating rink in the area is the National Gallery of Art Sculpture Garden rink. Right on the National Mall, the rink is a great spot for locals and visitors to enjoy a fun winter activity surrounded by the Smithsonian Museums. In Maryland, active adults (and grandkids too!) can visit the small rinks in downtown Silver Spring or Rockville Town Center. Northern Virginia residents can enjoy skating at Reston Town Center and Pentagon Row.
Winter Lights
The early sunsets that come with the winter months make seeing winter light displays a great holiday activity. Throughout the area, parks and gardens set up winter lights for visitors of all ages. Active adults who want to explore on foot will find beautiful displays at Brookside Gardens in Wheaton Regional Park (which also includes a model train display popular with kids), ZooLights at the National Zoo in Washington, D.C., and the Winter Walk of Lights at Meadowlark Botanical Gardens in Vienna, Virginia.